VMware vSAN vs. SAN: What are the differences?
VMware vSAN differs from a traditional SAN in a few crucial ways, including pooled vs. isolated storage, access management and optimization for different types of environments.
A traditional storage area network is a dedicated high-speed network that partitions storage resources from a centralized storage array, whereas VMware's software-defined virtual SAN -- vSAN -- logically pools storage resources across the servers in a network and runs on a vSphere hypervisor. It enables you to define storage requirements, including performance and availability, for an entire cluster, and automatically administers and maintains these policies.
These differences and several others mean that a traditional SAN and VMware vSAN can create vastly disparate storage networking experiences for administrators.
What is a storage area network?
A traditional SAN works by moving storage resources off the common network and onto an independent, high-performance network so that each server can more easily and efficiently access shared storage. Organizations often use SANs for distributed applications that require fast local network performance, but a traditional SAN also improves application performance, consolidation of resources, data protection and business continuity strategies. For example, a SAN can help improve workload availability by enabling a different server on the network to access the same storage as a failed server or one that is offline for maintenance. It can run in many different types of data centers and can work with both bare-metal and virtualized environments.
When a host must access a SAN storage device, it first sends out a block-based access request. That request is packaged according to the rules of Fibre Channel protocol, and the host bus adapter transmits the FC request to the SAN. One of the SAN switches then receives the request and sends it to the storage processor, which then sends it on to the storage device and grants the host access.
How does a vSAN differ from a traditional SAN?
A vSAN enables a storage manager to turn unused storage capacity in a network's virtual servers into a SAN. It acts as a logical partition in a SAN and can isolate traffic within specific portions of a SAN. Essentially, it boosts the capabilities of a traditional SAN through virtualization.
A vSAN is an Ethernet-based block-I/O platform. It simplifies administrative work and lowers costs compared to a nonvirtual SAN but can be difficult to scale. It uses a logical unit number system of virtual disks with a server-based file system.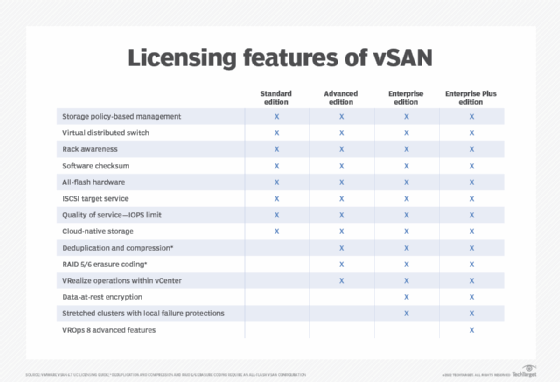 How does VMware vSAN differ from traditional SAN technology?
VMware vSAN is a unique storage virtualization product from VMware -- not simply a vSAN designed by VMware -- that runs in a VMware vSphere environment. VMware vSAN differs from a traditional SAN in several key ways. Rather than segregating storage like a traditional SAN, VMware vSAN allows administrators to keep storage distributed across servers and logically pools those resources. VMware vSAN integrates with the vSphere hypervisor, and you can manage it through the vSphere Web client.
VMware vSAN pools hard drives and flash storage from a cluster of ESXi hosts as a data store for VMs. VMware vSAN runs independently of other SANs, which adds both security and stability.
Organizations can use VMware vSAN with their preexisting storage -- so long as that storage is on VMware's hardware compatibility list -- without buying additional hardware, which can make VMware vSAN more cost-effective if organizations have servers with local storage. All VMware vSAN requires by way of hardware is a server with at least a 1 Gb Ethernet network interface card and either a serial-attached SCSI adapter or a RAID controller with at least one flash disk. VMware vSAN can use solid-state drives for read/write caching and hard disks for primary storage.
However, data centers that use multiple hypervisors, such as KVM and Hyper-V, can't access the clustered storage VMware vSAN creates, because it's designed to work specifically with vSphere. Organizations running a multi-hypervisor environment might struggle to implement VMware vSAN to handle all their storage needs.
Dig Deeper on VMware ESXi, vSphere and vCenter