7 leading storage area network products and vendors
Before selecting a SAN product, learn which features seven market-leading storage vendors provide organizations of all sizes and how they distinguish their products.
Choosing a storage area network can be a daunting task when comparing products and trying to understand their differences. IT decision-makers must consider a range of factors, including scalability, performance, availability, management and data protection.
Here, we examine the following storage area network products:
Dell EMC PowerMax and PowerStore
Hewlett Packard Enterprise (HPE) Primera and Nimble
Hitachi Vantara Virtual Storage Platform (VSP)
IBM FlashSystem
Infinidat InfiniBox
NetApp All Flash FAS (AFF)
Pure Storage FlashArray
These storage devices target organizations of various sizes and support a wide range of workloads. Although this isn't an exhaustive list of storage area network vendors or products, it provides a good starting point for understanding many of the enterprise storage issues to consider when evaluating SANs.
Note that none of the vendors profiled here provide pricing or licensing information. Contact the vendor or reseller directly for more information.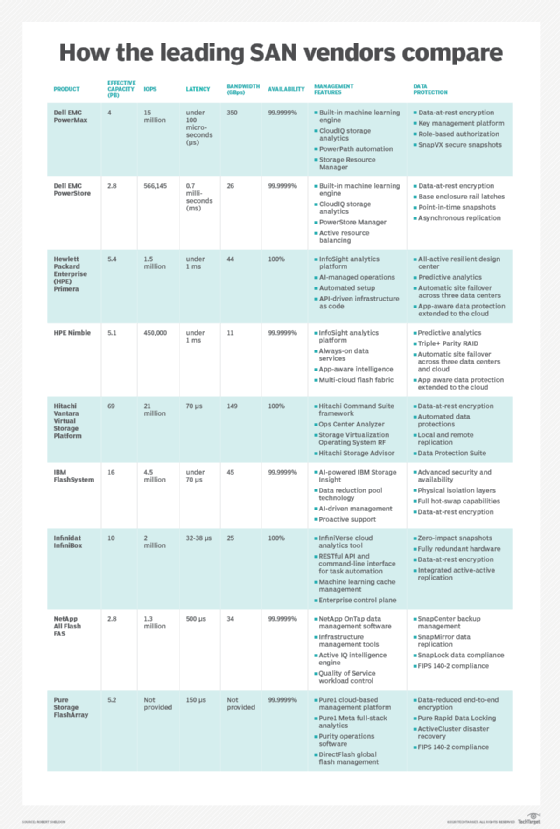 Dell EMC PowerMax and PowerStore
PowerMax provides high-end data storage that targets midmarket and enterprise customers. It can scale up to 4 PB of effective capacity and deliver up to 15 million IOPS, with read response times under 100 microseconds (μs). PowerMax supports storage class memory devices, along with 32 Gbps NVMe-oF.
To complement the PowerMax line, Dell EMC also offers PowerStore, a newer line of storage products that target the midrange market. These tools provide up to 2.8 PB of effective capacity and deliver more than 566,000 IOPS, with latency running about 0.7 millisecond (ms).
Both PowerMax and PowerStore guarantee 99.9999% availability. They include built-in intelligence and offer data protection such as snapshots, proactive monitoring and data-at-rest encryption. Both product lines provide deduplication and compression, with PowerMax at a 5:1 efficiency rate and PowerStore at 4:1. In addition, they include components for integrating with systems such as VMware, Kubernetes and Ansible.
Dell EMC offers its On Demand flexible payment program, which includes consumption-based and as-a-service options. Organizations looking for additional storage options might also consider the Dell EMC Unity or XtremIO storage platforms.
Hewlett Packard Enterprise Primera and Nimble
Primera is based on a multinode active-active architecture that targets tier 0 enterprise workloads. A Primera system can scale up to 1.3 PB of raw capacity and 5.1 PB of effective capacity and perform up to 1.5 million IOPS, with less than 1 ms latency and 44 GBps bandwidth. The platform guarantees 100% availability and includes intelligent software that protects against silent data corruption, provides end-to-end data integrity and supports autonomous operations.
Nimble offers intelligent, self-managing storage that provides Triple+ parity RAID for data protection. The platform also guarantees 99.9999% availability. An all-flash Nimble system can support up to 1.1 PB of raw capacity and 4.1 PB of effective capacity. Both all-flash and hybrid models can achieve single-controller performance of about 450,000 IOPS in an active-standby controller architecture, while offering sub-millisecond latency and 11 GBps bandwidth.
HPE offers its GreenLake consumption-pricing program, which provides elastic scale and pay-as-you-go subscription options. Organizations might want to also consider 3PAR, which is another popular HPE storage product.
Hitachi Vantara Virtual Storage Platform
The VSP platform includes several product lines that target midrange to enterprise customers, supporting workloads from DevOps to AI applications to mainframe computers. The most powerful of these is the 5000 Series, which are all-flash storage systems that can scale up to 69 PB of raw capacity, while delivering 21 million IOPS and 70μs latency, with a bandwidth of 149 GBps. The F Series and G Series can scale up to 34.6 PB of raw capacity and deliver 2.4 million IOPS at a bandwidth of 41 GBps.
All VSP systems guarantee 100% availability and include the Hitachi Command Suite, an integrated set of products for operating and monitoring storage environments. VSP systems also include built-in data protection such as replication and at-rest encryption and provide REST APIs for integrating with third-party management tools. In addition, VSP systems include Pentaho data integration, which enables organizations to ingest and cleanse data from any source in any environment.
Hitachi's EverFlex program provides customers with purchase, lease and consumption options.
IBM FlashSystem
The FlashSystem family of storage area network products includes entry-level, midrange and high-end systems to meet a wide range of workload requirements. A high-end clustered system can scale up to 32 PB of usable capacity and deliver up to 18 million IOPS, with 70μs latency and 180 GBps throughput. An individual system can support up to 16 PB of effective capacity and 4.5 million IOPS. The FlashSystem platform promises 99.9999% availability and provides centralized administration and AI-driven insights that use predictive analytics to optimize storage.
FlashSystem storage includes intelligent software and a unified set of tools and APIs, along with hybrid cloud capabilities that extend to third-party storage systems. FlashSystem can integrate with systems such as IBM Cloud Private, Kubernetes, Docker and VMware vSphere. FlashSystem also includes data protection such as snapshots, replication, Federal Information Processing Standard Publication 140-2 (FIPS 140-2) Level 1 encryption and support for physical isolation layers.
IBM offers multiple payment options, including loans, leasing, project financing and certified preowned systems as well as long- and short-term subscription options. Organizations that are looking for high-performing, high-capacity systems might also consider the IBM DS8000 series.
Infinidat InfiniBox
The InfiniBox line includes multiple models to meet varying data storage and workload requirements. The most powerful of these can scale up to 10 PB of effective capacity and process 2 million IOPS with 25 GBps throughput. Service-level agreements guarantee 100% availability.
InfiniBox incorporates a fully integrated, self-healing architecture with a redundancy design that enables rapid recovery.
InfiniBox systems come with InfiniVerse, a cloud-based analytics tool that provides insights into the Infinidat estate and predicts how storage infrastructure changes will affect application performance. InfiniBox also includes Neural Cache, a caching management algorithm that uses machine learning to correlate I/O history. For data protection, the storage systems include such features as N+2 redundancy, zero-impact snapshots and data-at-rest encryption. Infinidat provides a comprehensive RESTful API and command-line interface for automating complex tasks. These systems also provide a HTML5 GUI interface, InfiniMetrics, for management and reporting; a fully featured toolkit, Infinidat Host PowerTools; and a set of fully featured Container Storage Interface APIs.
Infinidat offers the InfiniBox FLX program, an all-inclusive, pay-as-you-go subscription model that can scale up or down as needed.
NetApp All Flash FAS
The AFF family of storage area network products includes entry-level, midsize and enterprise-scale systems to accommodate organizations of all sizes. Depending on the model, a scale-out cluster can provide more than 700 PB in effective capacity or deliver up to 11.4 million IOPS at 1 ms latency. An individual A Series model can support up to 2.8 PB of effective storage and 1.4 million IOPS. One system claims a latency rate under 500 μs and throughput of up to 34 GBps. NetApp also offers its SolidFire line as another option for all-flash storage.
The AFF systems provide 99.9999% availability and come with SnapCenter Backup Management, SnapMirror Data Replication and SnapLock Data Compliance data protection. The systems also comply with FIPS 140-2 Levels 1 and 2 and support self-encrypting drives. In addition, they provide REST APIs and cloud integration and are pre-integrated with business applications such as SQL Server, MySQL, SAP and Oracle.
NetApp offers Keystone Flex Pay, which includes traditional financing and leasing, and Keystone Flex Subscription, which offers pay-as-you-grow subscriptions for a cloud-like experience. The Keystone program will soon include the Flex Utility option, which aligns costs with actual usage.
Pure Storage FlashArray
The FlashArray line of storage area network products includes the FlashArray//X series, which targets high-performing tier 0 and tier 1 workloads, and the FlashArray//C series, which is designed for tier 2 applications. The X series can scale up to 3.3 PB of effective capacity and the C series can scale up to 5.2 PB, with both series delivering 150 μs latency. FlashArray storage also offers 99.9999% availability and includes DirectFlash, intelligent software that implements global flash management such as error correction, garbage collection and I/O optimization.
The Pure1 cloud-based data management platform and Pure1 Meta, an AI-based service that enables self-driving storage, support the FlashArray line. In addition, FlashArray systems include the Purity software, which provides an operating environment and software-defined engine for delivering data services. Purity also includes REST APIs to enable drive automation. In addition, FlashArray systems meet the FIPS 140-2 security standard and include ActiveCluster for business continuity and disaster recovery.
Pure Storage supports the Pure as-a-Service program, a consumption-based pricing option that provides on-premises storage as a service. Pure Storage also offers its Evergreen Storage subscription program, which delivers seamless upgrades and expansion without disruption.