by_adr - Fotolia
Pure Storage FlashArray//C set sights on hybrid flash market
Pure Storage FlashArray//C incorporates QLC NAND-based SSDs in the vendor's DirectFlash modules. The arrays are positioned as an alternative to hybrid flash for backup and DR.
Pure Storage wants to offer data centers an all-flash alternative to hybrid solid-state drive arrays.
The effort centers around a revamped Pure Storage FlashArray//C block system equipped end to end with low-cost quad level cell (QLC) NAND SSDs and NVMe connectivity. Pure incorporates QLC media in its DirectFlash drive technology.
DirectFlash U.2 NVMe-connected cards are available in 18.3 TB capacities. The new FlashArray//C is available now with 24.7 TB DirectFlash modules. Pure said a 49 TB QLC DirectFlash product is in the works. Up to eight DirectFlash modules can be placed in the chassis. Raw storage on the latest FlashArray//C ranges from 197 TB to 392 TB.
"Pure is building its own SSDs and sizing them based on what a customer needs," said Steve McDowell, a senior analyst at Moor Insights & Strategies.
Other storage vendors use QLC as capacity drives inside hybrid systems that also include faster, more expensive NVMe drives for performance. Pure argues its all-QLC systems can provide performance for many applications while meeting capacity needs of bulk storage.
QLC NAND stores four bits of data per flash cell, making them cheaper but with less write endurance than other types of SSDs that store fewer bits. FlashArray block storage is the Pure Storage flagship platform. The FlashArray//X systems are engineered for applications that require highest performance. Projected use cases for FlashArray//C include backup, data protection, testing and development and workload consolidation.

The Purity OS operating system manages QLC endurance at the die level via DirectFlash software. Pure claims its Smart Endurance feature prolongs flash life by reducing the need to overprovision. Adaptive quality of service ensures fastest access to blocks for consistent latency.
"We have direct access to every single bit of capacity available, so we control the reads and the writes," said Scott Baker, vice president of product marketing at Pure Storage.
The birth of Pure Storage FlashArray//C
Pure introduced FlashArray//C last year and said it would be optimized for QLC NAND. But the first models shipped with triple-level cell (TLC) SSDs, which have greater write endurance but cost more than QLC drives. Like other array vendors, Pure experienced issues with the flash supply chain in the wake of COVID-19, which caused NAND prices to spike in 2020.
McDowell said FlashArray//C signifies how Pure is expanding its market reach.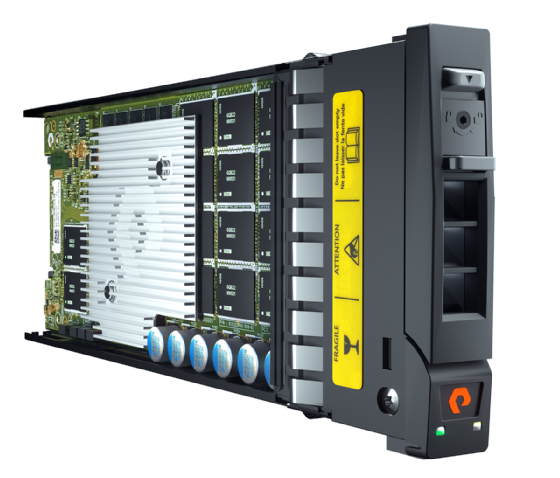 "There is still a place for hybrids, but the reality is that TLC flash is more expensive than hybrid. From a price perspective, adding QLC is great for customers who otherwise would buy a hybrid array. But you are sacrificing performance and there are some endurance concerns with QLC," McDowell said.
Pure sales shifting to subscriptions
The launch of Pure Storage FlashArray on Tuesday coincided with the vendor's quarterly earnings, which showed an uptick in on-demand licensing as overall revenue remained flat. For the quarter that ended Aug. 2, Pure total revenue of $404 million grew two percent from last year. It was the lowest year-over-year revenue growth in the company's history, although its subscription revenue increased 37% year-over-year to $134 million. Subscriptions now make up one-third of Pure's revenue.
Pure executives said the global pandemic fueled growth in subscription revenue and changed buying patterns.
"I will say that customers have been perhaps a bit more demanding in the COVID period," Pure CEO Charles Giancarlo said during his company's earnings call with analysts.