Pure Storage flash arrays juiced up with QLC, Intel Optane
Pure Storage flash splash scales FlashBlade to 150 blades and 8 PB in one namespace, with Intel Optane storage class memory. Pure FlashArray//C is a new block array.
AUSTIN, Texas -- The Pure Storage flash portfolio expanded this week with the launch of a denser FlashBlade scale-out NAS system and a new FlashArray SAN model that supports quad-level cell solid- state drives.
The product lineup revamp came at the annual Pure Accelerate user conference. The Mountain View, Calif., flash vendor's new products include storage class memory (SCM) and storage for AI and DevOps along with the QLC NAND SSDs.
Another Pure Storage flash upgrade includes DirectMemory storage class memory cards to facilitate read caching in FlashArray. DirectMemory modules are based on dual-ported Intel Optane SSDs, which incorporate 3D XPoint nonvolatile memory technology. Hewlett Packard Enterprise also uses Optane SSDs as a read cache on its 3PAR all-flash array. Dell EMC PowerMax SAN arrays recently added Optane SSDs to handle reads and migrate hot traffic from NVMe flash.
Adding DirectMemory Optane cards is an important first step for Pure flash customers, said Steve McDowell, a senior analyst for Moor Insights and Strategy, based in Austin.
"If you look at enterprise workloads, the majority are read-oriented, sequential and fragmented. Databases, key value stores … anything where you're not doing a lot of random IO traffic, this is going to be a win," McDowell said
Accelerate also christened the official launch of Pure Storage Cloud Block Store, a service for running FlashArray as a virtual storage appliance in Amazon Web Services.
Doubling up on FlashBlade
Pure Storage FlashBlade is massively parallel array engineered to handle file and object data. The scale-out architecture is sold as a standalone product, and also forms the basis for Pure Storage AIRI, which combines FlashBlade storage with supercomputers from Nvidia.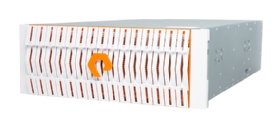 The latest FlashBlade is in direct availability now, allowing multi-chassis scaling up to 150 blades, or about 8 PB in one namespace. That's twice the 75-blade capacity of current FlashBlade models.
While Pure Storage FlashArray used standard SSDs, the FlashBlade systems integrate Pure's custom DirectFlash custom NAND flash modules on a single chip. FlashBlade also uses software-defined Gigabit Ethernet networking connectivity.
The higher density FlashBlade is part of Pure's plan to provide an AI data hub, McDowell said.
"You need a consistent view of data across the enterprise, and you have to be able to meet different service levels for the different consumers of that data. That's the density play Pure is making here with FlashBlade," he said.
Old and new FlashArray
Intel Optane-based DirectMemory SSDs are available for insertion in Pure FlashArray//X70 and FlashArray//90 arrays. Pure claims the combination of non-volatile memory express (NVMe) flash and storage class memory provides up to 40% faster reads and up to 6 Gbps of additional bandwidth. The DirectMemory modules are available in increments of four or eight drives, or respective configurations of 3 TB and 6 TB.
FlashArrray//X use cases include analytics, building a hybrid cloud and optimizing production databases.
The new FlashArray//C combines Pure DirectFlash NVMe flash modules with support for QLC NAND SSDs. FlashArray//C is available in raw capacities of 366 TB, 878 TB and 1.4 PB. Pure said FlashArray//C is geared to provide flash performance for all workloads at the cost of spinning disk.
Unlike the performance-oriented FlashArray//X, which is for production storage, Pure FlashArray//C is billed as a target for primary and secondary workloads, including flash-based backup. Pure said its FlashArray//M model is being phased out, but it plans to support existing customers in the near term.
QLC flash stores four bits of data per cell. Although QLC drives are commercially available, storage vendors have yet to fully embrace them because, while they slightly reduce the price compared to triple-level cell NAND SSDs, TLC drives perform better and have better endurance. Kenney said Pure flash engineers made a number of optimizations to the DirectFlash software stack to support QLC.
"The integrations we built resolved a lot of the resilience issues with QLC," Kenney said. Even so, he said initial FlashArray//C modules will be based on TLC NAND.
Pure teased its Cloud Block Store on AWS earlier this year. That product has moved out of beta and is generally available. It allows customers to buy Pure Storage capacity and deploy it as a virtual appliance in the AWS cloud, paying only for consumed capacity. Cloud Block Store is a dual-controller architecture that enables users to consume Amazon Elastic Block Storage capacity and Amazon Elastic Cloud Compute capacity for persistent data.
Also on the cloud front, Pure CloudSnap portable snapshots today expanded to include Microsoft Azure as a target. CloudSnap previously was available only with AWS.