Pure Storage cloud arrays add flash to Rackspace Service Blocks
Rackspace data centers have the option to buy Pure Storage FlashArray//X as a consumable service on a dedicated array to facilitate running block storage in clouds.
Citing specific customer demand, managed hosting provider Rackspace has teamed with Pure Storage to provide NVMe all-flash cloud arrays as a consumable service.
The Ultra-Fast Performance Rackspace Block Storage is based on Pure Storage FlashArray//X arrays and the Purity Operating Environment OS software. The setup allows a single tenant to buy Pure Storage cloud capacity directly from Rackspace. The companies declined to disclose the revenue split.
Rackspace said the Pure Storage cloud arrays will help support its packaged Service Blocks that data centers buy to phase SAN-based data to a hybrid cloud.
"We have had customers ask us for Pure by name," Rackspace senior vice president and GM Prashanth Chandrasekar said. "We have some very prominent customers and prospects that have expressed interest."
Fast block storage in the cloud
For all the advantages of cloud, implementing cloud-based block storage can be daunting. Stumbling blocks include consistent network connectivity and the speed required to run block storage applications.
Jack Hogan, Pure Storage vice president of technology strategy, said the FlashArray//X includes a high-speed PCIe backplane that provides the "adjacency and on-ramp" that avoids those performance issues.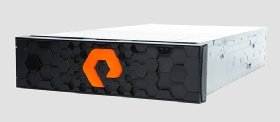 "The key is about driving business outcomes and letting customers consume storage in a cloudlike way," Hogan said.
The Rackspace partnership is Pure's second public cloud initiative in recent months. The Pure Storage Cloud Block Store was introduced last quarter for sending FlashArray-based snapshots and FlashBlade unstructured data to Amazon Web Services. Cloud Block Store is in beta, with general availability expected later this year. Pure Cloud Block Store also provides data reduction capabilities.
Pure Storage launched in 2012 with all-flash systems based on SAS and SATA SSDs. The vendor has been trying to remake itself as a software and cloud vendor that sells fast flash storage hardware to enterprises and, increasingly, to hyperscale data centers. Evergreen Storage Service is Pure's offering in utility-priced managed cloud services.