Pure Storage buys Compuverde, expands file storage
Pure Storage's second acquisition builds on its unstructured data focus, as Compuverde's file system software runs in virtual NAS or hyper-converged modes.
All-flash pioneer Pure Storage moved deeper into unstructured data storage by acquiring Swedish file system software startup Compuverde.
Pure will use Compuverde's unstructured data file system to turn its flagship FlashArray into a unified storage system, said Chadd Kenney, vice president of products at Pure Storage, based in Mountain View, Calif.
Pure did not reveal the purchase price when it disclosed the deal on Tuesday, but said it expects the acquisition to close in April. This is the second acquisition for Pure in seven months, following its buy of data deduplication software startup StorReduce for $20.5 million in August 2018.
Pure sells two all-flash array families: Its FlashArray SAN system launched in 2012, with a FlashBlade array for unstructured data following in 2016.
File capabilities for unstructured data
As with the StorReduce deal, Compuverde expands Pure's file capabilities. But, this time, Pure will add the unstructured data capability to FlashArray. StorReduce's data reduction capabilities were integrated into FlashBlade, giving it the ability to do rapid restores and using it for the ObjectEngine//A270 cloud backup target, which launched in February.
Kenney said a unified FlashArray would target use cases such as enterprise file sharing, VMware over NFS and databases over NFS or SMB file protocols. FlashBlade will remain Pure's product for use cases such as AI, machine learning, large-scale analytics, high-performance computing and data protection. FlashBlade serves as the underlying storage for the Pure AIRI platform, which incorporates Nvidia DGX GPU-based supercomputers to handle AI workloads.
"We realized there was a use case in the midrange that we weren't satisfying with customers," Kenney said. "Customers were looking for unified protocols, unified data services and unified cloud management."
That's the market Pure will go after with its unified FlashArray. Kenney said Compuverde brings a "fully proven, mature enterprise file protocol stack" that supports NFS and SMB file protocols. All major storage vendors sell multiprotocol storage arrays, but he said competitors' unified storage systems are often block storage added onto file storage or file gateways bolted onto block systems. These types of systems may require separate management domains and scale block and file storage independently.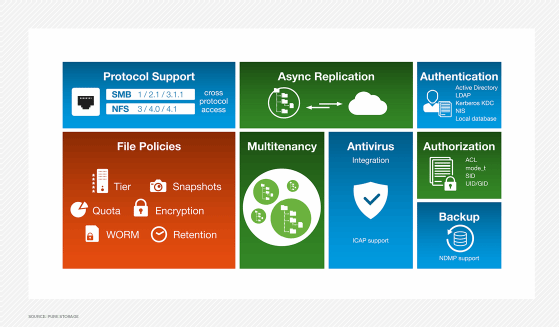 Unified data services promised
Kenney said Pure's goal is to create a unified system for enterprises by mid-2020. He wouldn't say how deeply Compuverde's file system would be integrated into Pure's Purity OS, but he vowed that data services, such as deduplication and compression, will be unified.
Integrating OSes from acquisitions can prove difficult. For instance, NetApp needed a decade to fully integrate the clustered NAS system it acquired from Spinnaker Networks in 2003 into its OnTap OS to form Clustered Data OnTap.
Pure sells a version of FlashArray running Microsoft Windows Server file services, but it lacks enterprise scale for unified storage.
"We knew we needed some maturity on top of FlashArray" for files, Kenney said.
The unified FlashBlade will serve as latency-optimized, scale-up storage, supporting as much as 4 PB of storage with microseconds of latency for tier 1 applications, Kenney said. He called FlashArray bandwidth-optimized, scale-out storage, scaling to 10 PB with milliseconds of latency.
Arthur Johnson, Pure's vice president of corporate development and strategic planning, said all of Compuverde's 20 employees will be offered jobs with Pure. The Compuverde team will stay in Sweden.
He said Pure looked at several startups with file systems after deciding it would be better to buy one than develop file storage internally.
"We said, 'Can we find a way to accelerate that via acquisition?' We talked to a bunch of companies, but these guys [Compuverde] were at the top of our list because of their mature stack of file protocols," Johnson said. "We think they have the best tech and best talent out there."
Compuverde vNAS software provides a clustered file system that spans commodity servers and clouds, and it can run in hyper-converged mode with VMware ESXi, Microsoft Hyper-V, KVM and Xen hypervisors. IBM Spectrum NAS includes Compuverde software through a joint venture. Johnson said Pure would continue Compuverde's partnership with IBM, a rival of the all-flash vendor. Pure will also support Compuverde's current customers, he added.
Flash goes mainstream
Mike Matchett, principal IT analyst at Small World Big Data, said the acquisition and Pure's product plans show that flash is becoming the mainstream storage media. It is no longer just an alternative to hard disk drives for performance-hungry applications. It now fits across all primary storage use cases.
Matchett said Pure is "recognizing maybe that people are just going to buy flash as the media now, whatever type of storage is running on top of it. There is a subtext here that recognizes that flash storage is commoditizing already. People are using flash because it's cheaper than HDD for capacity storage and file systems."
Although Pure has never had a profitable year and lost $178 million last year, the company had $463 million in cash and equivalents at the end of January. Johnson said Pure will continue to look for acquisitions that can complement its internal product development.