JumalaSika ltd - Fotolia
Compuverde helps German university consolidate storage
German university licenses more than 1 PB of Compuverde software-defined storage to consolidate an unknown number of NAS systems from NetApp and smaller vendors.
For years, individual departments at Ostwestfalen-Lippe University of Applied Sciences have stored data on their own, often under desks, without protections such as uninterrupted power supplies and backups.
Now the infrastructure team at the German state technical university is reining in the departmental NAS sprawl that includes at least 50 boxes from Synology and likely other brands. The project includes replacing the end-of-life NetApp storage the OWL IT team has used for home directories, mail, webpages, eLearning, financial and human resource data with software-defined storage from Compuverde.
Martin Hierling, leader of the university's five-member infrastructure team, said his group wants no part of NAS or Fibre Channel SAN systems moving forward. Hierling said he was the only member of his team who knew how to manage FC. So two years ago, OWL switched from FC-based NetApp storage to Ethernet-based NAS and Tintri Hybrid-Flash Arrays for VMware workloads.
In 2019, the infrastructure team will eliminate what remains of the NetApp MetroCluster, with its two FAS3240 NAS heads, and focus on software-defined storage.
"With Compuverde, we have only servers. Everybody can handle a server," Hierling said. "There's Linux on it. And they deliver a Windows program for administration and statistics. Everybody on my team can handle this. It's very good for the team and for the university that more than one person can handle the storage system."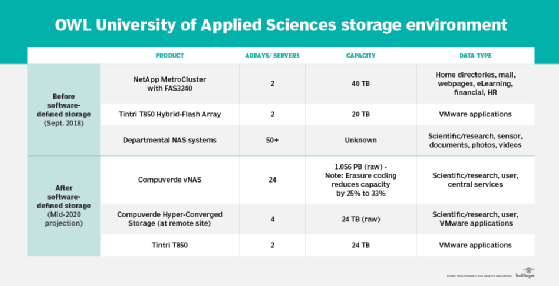 Flexible and hardware-agnostic
Hierling also likes the flexibility the Compuverde vNAS software brings. The team can add a server to the cluster as needs arise and choose any brand of hardware. OWL University stores about 180 TB of data in Hewlett Packard Enterprise (HPE) ProLiant servers running Compuverde vNAS, but the team could swap out the boxes at any time because software-defined storage has no dependencies on the underlying hardware.
It's very good for the team and for the university that more than one person can handle the storage system.

Martin Hierlingleader of the infrastructure team, OWL University of Applied Sciences
OWL runs 10 Compuverde nodes at its main Lemgo campus with plans to deploy a five-node cluster at each of its Detmold and Höxter locations, connecting the systems via WAN. Each HPE server has an 8-core Intel CPU, 128 GB of RAM, two 1.6 TB solid-state drives for metadata and read-and-write caching, and six 6 TB hard disk drives (HDDs) for general storage.
Hierling said the infrastructure team will add two HDDs to each server in the Lemgo cluster in April, and another four Compuverde vNAS nodes and four Compuverde Hyper-Converged Storage nodes around mid-2019. He estimated that OWL would store more than 300 TB of data in Compuverde's software-defined storage by mid-2020 and an additional 200 TB within four years.
Virtual NAS and hyper-converged options
The Compuverde software supports file, block and object storage and gives customers vNAS and hyper-converged deployment options. But Hierling said he expects to use only the NFS and SMB/CIFS file options and possibly Amazon S3-based object storage.
The university's hyper-converged deployment will target a new off-site precision farming department conducting agricultural research. Hierling said the Compuverde hyper-converged option would serve as VMware storage, running on a leased line with slow internet connectivity. Compuverde Hyper-Converged Storage installs in virtual machines.
OWL first learned of Compuverde through a system integrator, EUROstor. Founded in 2008 and based in Karlskrona, Sweden, Compuverde's technology is used in IBM Spectrum NAS software.
The German university began testing Compuverde software in late 2017 and purchased 840 TB of vNAS for its initial installation. Hierling noted that OWL gives up 25% to 33% of the capacity with its 6+2 erasure coding. But the setup enables the system to sustain the loss of two nodes or disks without impact to data availability.
Along with Compuverde, OWL also uses Tintri storage. When OWL eliminated its FC-based NetApp about two years ago, the infrastructure team migrated to a Tintri T650 system in one data center and NetApp NAS in a second data center. The university subsequently purchased T850 Tintri Hybrid-Flash arrays to replace them, and shifted more than 300 virtual servers with web, voice over IP, database, VMware Horizon, finance, HR and Apache Tomcat applications.
OWL was still testing the T850's new metro cluster functionality in 2018 when Tintri filed for bankruptcy. So Hierling was happy to see DataDirect Networks come to the rescue and finalize a $60 million deal for Tintri last September. He said he also plans to keep a copy of data from important virtual servers on the Compuverde systems to avoid relying on a single vendor for its VMware storage.
Hierling said OWL considered IBM Spectrum Scale and new NetApp storage to replace the aging NetApp systems, but Tintri was simpler to set up and use. He characterized Tintri as "basically plug and play."
"You put it in the network, say share to [VMware] vCenter, and it's up and running," Hierling said.
He said Compuverde was also easy to install, with no need for special Fibre Channel switches or failover setups. Hierling said the software-defined storage is easy to run, with a limited number of functions compared to full-featured enterprise storage arrays. Compuverde's feature set includes Active Directory support, tiering, snapshots and backup, with asynchronous replication on the roadmap.
OWL's infrastructure team is also looking into cloud storage, but Hierling expects to use on-site storage for at least five more years. He said one reason for keeping data on premises is the GDPR requires organizations to store personal data inside Germany.
"The cloud stuff is coming. We can't run on site for the next 100 years, so we will have to get involved with the cloud," Hierling said. "But perhaps the universities in Germany will build their own cloud, and we can jump in there."
Performance question
One question hovering over OWL's Compuverde deployment is its performance under a heavy load. The university has about 6,700 students and 700 professors and employees. Although the infrastructure team has been testing a cluster inside VMware, it likely won't know for some time how well Compuverde can handle 3,000 or so clients hitting the system.
But Hierling said he isn't worried. He said Compuverde's support has been good so far, providing ample assistance in setting up and testing the software-defined storage.
"If we have performance problems, we can scale out. We can add more nodes. Or, we can add more network speed or more disks in the system," Hierling said. "I think we can handle that, instead of let's say a NetApp system where perhaps the [NAS] head is the bottleneck. If we get problems, we'll ask Compuverde support how we can troubleshoot."