Definition
vendor neutral archive (VNA)
A vendor neutral archive (VNA) is a technology that stores medical images in a standard format and interface, making them accessible to healthcare professionals regardless of what proprietary system created the images.
VNAs are among the most niche medical technologies around, yet their influence is strong given that imaging switched from film to digital media, which in turn brought the opportunity to run analytics on stored files. Performing analyses on these files will be a large part of the transition to value-based care.
What a vendor neutral archive is used for
VNAs enable healthcare organizations to consolidate, standardize, and archive images and data from different picture archiving and communication systems (PACS) into a single, easily accessible and interoperable repository.
The trademark of VNAs is exchanging image information from various PACS regardless of the vendor; by comparison, PACS do not exchange data with each other well.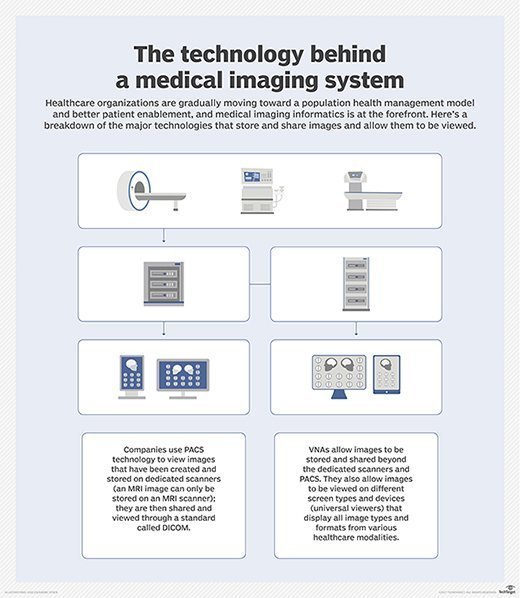 VNAs reduce isolated groups of storage dedicated to individual PACS and instead promote cross-enterprise document sharing and exchange. Some of the benefits provided by a VNA include:
the freedom to access big data from different PACS, and to change a PACS without requiring complex data migration methods;
effective control of image data;
improved clinical and data workflows; and
easier integration of new imaging applications, including those not supplied by a provider's current PACS vendor.
How a VNA works
Medical images are often stored in DICOM formats. DICOM stands for digital imaging and communications in medicine, and it was originally a standard communication approach for radiology images. As medical imaging technology use has spread to other departments, such as neurosurgery, DICOM now includes extensions for other care areas.
Different PACS vendors use different syntaxes within DICOM, which makes it difficult for data from one system to work in another vendor's setup. VNA technology deconstructs data from the originating PACS and then migrates the data to the new system under the proper syntax, enabling data integration, according to a 2012 piece in the Indian Journal of Radiology and Imaging.
To perform these actions rapidly, VNAs sit between images formats and PACS and use algorithms to query the incoming data. The system also modifies the tags associated with DICOM in order to make them more compatible.
Some modern clinical images are not in DICOM format, which has led to a new standard recognized by VNAs called cross-document sharing, or XDS. An extension known as XDS-I handles imaging content.
VNAs must also interface with data from electronic health records (EHR), clinical reports and other sources through the Health Level Seven International (HL7) standards. HL7 formats data exchange.
Explaining VNA, PACS relationship
Medical imaging expert Michael Gray discusses how VNAs coexist with PACS.
In terms of VNAs versus PACS, hundreds of healthcare organizations have moved to vendor neutral archives as a logical step to manage medical image access. However, VNAs will not completely supplant PACS, particularly in smaller health systems, due to cost and complexity.
Major features
VNA features vary among vendors, but common options include the following:
a dual-site configuration, ideally across two data centers, to protect against failures in one system;
an intuitive user interface;
support for external data, such as DICOM, non-DICOM hardware and universal viewers;
the ability to recover from accidental data deletion; and
logging and security options that IT can easily manage.
Project planning and implementation
As with any software or hardware rollout, an organization must establish its goals with a new VNA by outlining the planned uses of the technology. Then, the healthcare site must determine the necessary technical requirements before drafting a request for proposal.
You may need an open architecture for your VNA if your organization acquires other health systems and needs to integrate existing medical imaging systems.
In the vendor license, the healthcare organization should request direct access to the necessary data migration tools and the VNA data dictionary. The organization should also lock in pricing for the data migration with the VNA vendor.
VNA market and top vendors
The global VNA and PACS market is estimated to hit $3.86 billion by 2021, according to research firm Market Data Forecast.
Among the leading VNA sellers are the following:
Agfa HealthCare
Ambra Health
Carestream Health
Conserus
Fujifilm
Merge Healthcare
Sectra
Siemens
Future trends
As the medical field progresses toward population health goals -- in other words, the idea of diagnosing and treating groups of patients rather than individuals -- VNAs stand to lend a significant hand. Medical imaging informatics of stored data can provide clues for effective diagnosis and treatment. With value-based care becoming more prominent, analysis of all types of patient data is becoming more important.
EHRs don't always have the ability to let users view clinical images. Connecting electronic records to vendor neutral archives enables physicians and nurses to view images directly from an EHR without having to launch a separate application. PACS can also provide this access, but they may not be able to enable viewing of non-DICOM images.
Further, VNAs have the ability to help patients access their own clinical images, which enables patients to pass along image access to other providers and improves interoperability.
As with other healthcare information, there is reticence on the part of the providers to upload medical images to the cloud, partially because of bandwidth concerns, and also because of security worries. Hybrid cloud remains a popular choice for medical image management if an organization wants to enjoy the benefits of cloud storage, while also maintaining an on-premises hold on images.
This was last updated in
February 2018
Continue Reading About vendor neutral archive (VNA)
Dig Deeper on Healthcare IT systems and applications