IBM
New IBM storage products key on NAS, cloud, NVMe over Fabric
IBM launches new and updated Spectrum software-defined storage products, including a new NAS option, and commits to broadened end-to-end NVMe over Fabrics support by the third quarter.
IBM launched a massive Spectrum storage software rollout, with additions and upgrades across the portfolio, including a new NAS product and cloud data management. The vendor also pledged NVMe over Fabrics support across its flash storage platform.
IBM Tuesday introduced a software-only, general-purpose Spectrum NAS product designed to run on industry-standard servers. Spectrum NAS complements IBM's high-end Spectrum Scale block-based parallel file system and Cloud Object Storage products for unstructured data.
Spectrum NAS is a joint venture with Compuverde. IBM did not name Compuverde in its press release or blogs on its website, but an IBM spokesman confirmed the partnership.
"IBM Spectrum NAS is a specific build of this [Compuverde] software stack built to IBM specifications," he said.
IBM has not sold a general-purpose NAS product since it discontinued an OEM relationship with NetApp in 2014. IBM rebranded NetApp file storage as its N series arrays.
Spectrum is IBM's storage software umbrella brand. Other upgraded products include the following:
Spectrum Protect and Spectrum Protect Plus data protection software;
Cloud Object Storage;
Spectrum Virtualize storage management; and
Spectrum Connect for managing IBM storage in containers, VMware and Microsoft PowerShell.
End-to-end NVMe on IBM storage products' roadmap
Eric Herzog, chief marketing officer for IBM storage and software-defined infrastructure, said IBM storage products will support the latest nonvolatile memory express and NVMe over Fabrics (NVMe-oF) technologies. NVMe-based PCI Express-based solid-state drives can boost performance and lower latency over the SAS and SATA SSDs that most flash storage systems use. NVMe-oF can extend the performance and latency benefits across network fabrics, such as Ethernet, Fibre Channel and InfiniBand.
Herzog said IBM would support end-to-end NVMe from the application servers to the storage arrays for various transport options by the third quarter of 2018.
Until then, IBM will have an NVMe over InfiniBand option with the FlashSystem 900 this month, according to Herzog. The vendor previewed an IBM Power9 Systems server and IBM FlashSystem 900 using InfiniBand-based NVMe-oF at the AI Summit in December in New York. Herzog said IBM would first support only x86 servers until the Power9 starts shipping in the second quarter.
IBM also will offer systems that are ready for Ethernet- and FC-based NVMe-oF while the necessary software is under development. IBM will sell 25 Gigabit Ethernet (GbE) iSCSI network interface cards (NICs), with support for remote direct memory access over converged Ethernet and internet wide area RDMA protocol, as well as 16 Gbps FC host bus adapters (HBAs) for application servers to eventually connect to NVMe-oF-ready storage systems.
"The idea here is you can buy a system for [NVMe over] Fabrics and, a little bit later in the year, we will offer support and all you have to do is upgrade the software," Herzog said. "You won't have to touch the hardware. The 25 Gig NICs or the Fibre Channel HBAs would be inside of the servers."
The IBM FlashSystem V9000, Storwize V7000 and SAN Volume Controller will need updated Spectrum Virtualize software to enable Ethernet- or FC-based NVMe-oF. The IBM FlashSystem A9000 and A9000R will need an update to its Spectrum Accelerate software to facilitate the migration to NVMe over FC.
"Everyone has got NVMe support, and that's almost a no-brainer. The interesting thing is the NVMe over Fabric," said David Floyer, CTO and co-founder of Wikibon. "NVMe over Fabric really brings about new architectures that can be done and absolutely change the fundamental capability of a clustering system."
IBM also disclosed plans to offer customers a nondisruptive way to migrate from its disk-based XIV Gen3 Systems to its FlashSystem A9000 and A9000R by using its free Hyper-Scale Mobility software. Customers previously had to take down the system to do the upgrade, Herzog said.
Spectrum NAS fills gap
IBM's new Spectrum NAS, which is due to become generally available in March, will target home directories and general-purpose file serving. It supports NFS and SMB file protocols.
"This has been a gap since IBM stopped offering the N series, which was OEM'd from NetApp," Evaluator Group analyst Randy Kerns wrote in an email. "Now, IBM has a scale-out NAS solution that is positioned below Spectrum Scale and covers the usage areas where more general file serving is used."
Spectrum NAS isn't tied to specific hardware. IBM will provide a hardware compatibility list for resellers and customers to use. Spectrum NAS will compete with Dell EMC's Isilon scale-out NAS, analysts said. IBM will also continue to sell its Spectrum Scale software that targets high-performance compute clusters, big data analytics, and backup and restore.
Steven Hill, a senior storage analyst at 451 Research, said scale-out NAS capabilities have largely become "table stakes" for software-defined storage platforms.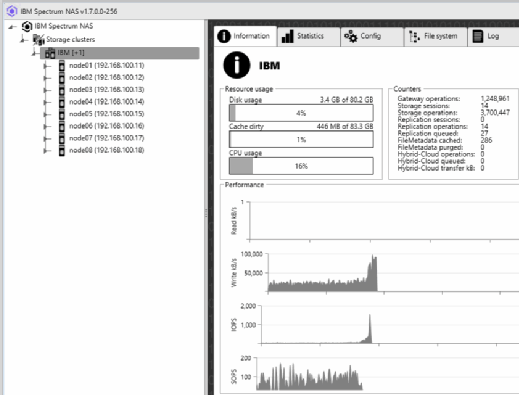 Spectrum data protection news
IBM Spectrum Protect Plus software for virtual environments launched in 2017. The latest update focuses on improved availability with Vsnap cloning, greater resiliency with Oracle Real Application Clusters, new hardware blueprints, and faster recovery with item-level restores from SQL and Oracle databases.
IBM said it will offer Spectrum Protect Plus at no additional charge as part of its Spectrum Protect Storage Suite and its smaller Spectrum Protect Suite. Herzog said buying the suite is 40% less expensive than buying all the applications separately.
IBM will also sell Spectrum Protect Plus through the IBM Cloud marketplace. Herzog said he expects other cloud service providers would offer Spectrum Protect Plus, as well, because more than 300 service providers use IBM's older Spectrum Protect backup product.
The Spectrum Protect software also got a refresh. The 8.1.5 update adds automated data change tracking to help spot potential ransomware problems and more tracked metadata points and fields to improve auditing of individual data, in support of IBM's broader vision to assist customers with General Data Protection Regulation compliance.
New starting point, pay options for object storage
IBM reduced the entry point for its Cloud Object Storage from 250 TB to 72 TB, and it is available on premises through utility-based pricing. The utility pricing allows customers to pay based on usage, rather than making a capital expenditure.
"We're trying to expand the market into more conservative shops where you've got to start small and grow," Herzog said.
Updates to additional IBM storage products
IBM's Spectrum Connect software was formerly known as IBM Spectrum Control Base Edition (SCBE). IBM Storage Enabler for Containers (SEC) was part of SCBE and is now part of Spectrum Connect.
Spectrum Connect is free for all IBM storage clients. The software supports containers, VMware, storage automation plugins for PowerShell, IBM storage systems and storage arrays from other vendors through Spectrum Virtualize.
IBM is also updating its Spectrum Virtualize software first in its storage arrays and later in 2018 in the software-only option. The 8.1.2 release supports the SCSI UNMAP command to deallocate and reclaim unused storage capacity, improves compression throughput through log-structured pool implementation, increases the number of compressed volumes from 5,000 to 10,000, and offers options to improve bandwidth for data-intensive applications with 25 GbE NICs.