Fotolia
IBM storage products get another NVMe booster shot
IBM bolstered support for NVMe technologies across its storage portfolio with its latest round of product updates, which also adds new Spectrum Discover data management software.
IBM dropped its quarterly wave of storage products this week, focusing mainly on latency-lowering NVMe technologies and managing growing volumes of unstructured data.
IBM followed through on its roadmap to broaden support for end-to-end NVMe from application servers to storage arrays with the launch of a new Storwize V7000 system. The Storwize V7000 is the first IBM midtier system to add support for NVMe-oF, offering a Fibre Channel (FC) option.
Other IBM storage products launched or upgraded include Spectrum Virtualize, Spectrum Discover, Storage Insights, IBM Cloud Object Storage, a FlashSystem A9000R array and a TS1160 enterprise tape drive.
"This is just another example that we're in the year of NVMe," said Scott Sinclair, an analyst at Enterprise Strategy Group. "Storage vendors are embracing the benefits of NVMe technology to provide higher storage performance and more efficient data access."
Eric Burgener, an IDC analyst, said it's important for IBM to extend NVMe support across its portfolio. IDC research predicts that, by 2021, systems that use NVMe rather than SCSI as a foundation technology will generate at least half of external primary storage revenue.
"We've had all this infrastructure modernization going on and the new workloads that need to be managed include a lot of real-time big data analytics that you just really can't run on SCSI," Burgener said. "There are workloads that absolutely have to have NVMe in the mix."
IBM's FlashSystem 900 enabled NVMe over InfiniBand early this year, and the FlashSystem 9100 shipped in August with end-to-end NVMe support.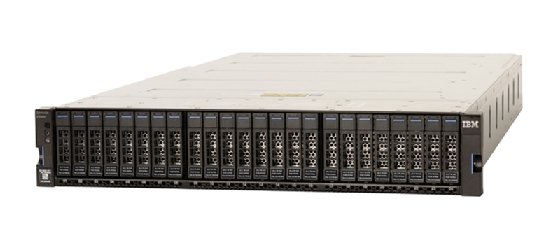 NVMe over Fibre Channel support
IBM now supports the NVMe over FC transport option in storage products that use its Spectrum Virtualize software, including the new Storwize V7000. Customers that purchased IBM's SAN Volume Controller, FlashSystem 9100 and V9000 or Storwize V7000F after September 2016 can enable NVMe over FC through a nondisruptive update of the IBM Spectrum Virtualize code. IBM plans to add support for NVMe over Ethernet through Spectrum Virtualize in 2019, according to Eric Herzog, chief marketing officer and vice president of worldwide storage channels at IBM.
Like many IBM storage products, the new Storwize V7000 ships with Spectrum Virtualize software to deliver enterprise data services to IBM and third-party storage systems. These services include snapshots, replication, at-rest encryption and artificial intelligence-based data tiering.
The Storwize V7000 now includes hardware-based compression and encryption to minimize the performance impact of those functions. Herzog said IBM uses extra processor chips in its new FlashCore Modules to enable the hardware-based at-rest data encryption and compression.
A new NVMe-based 19.2 TB FlashCore Module also serves to boost the density of the Storwize system. The all-flash Storwize V7000 offers a maximum raw capacity of 461 TB per control enclosure and as much as 32 PB in a four-way cluster. Flash drive capacity options are 4.8 TB, 9.6 TB and 19.2 TB, and IBM claims it can deliver 5-to-1 data compression.
Enabling off-the-shelf NVMe SSDs
Storwize ships with IBM's new 2.5-inch FlashCore Modules by default, but customers can choose industry standard NVMe-based SSDs or add HDDs from third-party vendors. Herzog said IBM's FlashCore Modules offer higher performance, lower latency and a longer seven-year warranty than open-market SSDs that are typically guaranteed for three to five years.
Burgener said IBM's shift to enable the use of off-the-shelf NVMe SSDs "basically shows that they don't feel there's that much of a performance difference associated with custom hardware anymore."
"If you want to run inline data services, like compression and encryption, you can do that with lower latencies on those FlashCore Modules. But if you're not interested in that, then the NVMe SSDs are actually a less expensive option. That, to me, is their future direction," Burgener said.
Also among new IBM storage products is a new 18 TB custom flash module that can double the maximum capacity of its FlashSystem 900. A new 15.36 TB flash module boosts storage density in IBM's high-end DS8880F arrays targeting the Unix, Linux and mainframe markets. A new DS8880 zHyperLink card improves latency.
IBM also added an entry-level configuration of the FlashSystem A9000R system designed for cloud storage.
Spectrum Discover product aimed at 'data oceans'
IBM's new Spectrum Discover product is designed to automate the cataloging of unstructured data through standard metadata and newly created custom metadata to facilitate data analytics, governance and storage optimization. The software deploys as a VMware virtual appliance and includes an API to enable data analytics, compliance and other applications to access the metadata.
"Forget data lakes. You've now got oceans of data. How are you going to leverage that ocean of data to get value out of it?" Herzog said.
Using custom metadata tags, Spectrum Discover can help to speed the data scanning process, especially with compliance applications that need to search through potentially billions of files, Herzog said. With analytics workloads, data scientists often must work with storage administrators to prepare the data, and Spectrum Discover could automate and streamline the process, he added.
"The fastest array in the world won't help if you don't know what your data is," wrote Steve McDowell, an analyst at Moor Insights & Strategy, in an email. "IBM's Spectrum Discover will solve real-world problems in data management. I think we'll see others emulating IBM on this front."
Spectrum Discover is based on technology from IBM Research and supports unstructured data in IBM Cloud Object Storage System and IBM Spectrum Scale. IBM plans to add support for Dell EMC Isilon next year.
More updates to IBM storage products
An update to IBM's free cloud-based Storage Insights resource management tool adds capabilities to create and schedule customized reports and diagnose SAN bottlenecks. AI technology can detect storage network gridlock, triggering an alert for an IBM support technician to contact the customer. The first version of Storage Insights became generally available last February.
IBM's pay-for-what-you-use Storage Utility Offering can now enable dual-system high-availability configurations at a starting monthly rate that's only 20% more than the cost to lease a single system. The IBM Storage Utility Offering also added support for a data protection product, the TS7760 virtual tape library.
Updates to IBM storage products aren't restricted to flash. The new entry-level TS1160 enterprise tape drive improves performance; supports write once, ready many (WORM) for users in regulated industries; and boosts capacity to 20 TB, a doubling of the prior TS1150 model. IBM's TS3500 and TS4500 libraries support the new tape drive.
IBM Cloud Object Storage also adds new WORM capability for low-cost mirrored and concentrated dispersal mode configurations. The product also supports more concurrent use cases with a 50% increase in the maximum number of support vaults per system.
Next year, IBM plans to support NVMe in its Cloud Object Storage, as the supported servers that run the software add NVMe-based flash drives. NVMe over Ethernet support is on IBM's 2019 roadmap for Spectrum Accelerate, with the FlashSystem A9000/R, and Spectrum Virtualize.
FlashSystem A9000/R is also expected to use AI technology to automate data deduplication and ease capacity management next year.
Also in 2019, IBM plans to expand its AI reference architectures with an Nvidia option, building on the Power AI reference architecture the company unveiled in June.
The latest updates to IBM storage products also included SAP HANA certification for its FlashSystem 9100 and new Storwize V7000, Spectrum Protect, Spectrum Copy Data Management and Spectrum Virtualize. IBM certified FlashSystem 9100 with Epic electronic healthcare records management software this year and plans to add support for Meditech next year. IBM also expects to extend solutions support to blockchain next year.