Pei Ling Hoo - Fotolia
IBM Storage folds Storwize arrays into FlashSystem line
IBM merges Storwize and FlashSystem platforms to simplify its storage portfolio on updated Spectrum Virtualize software; adds Optane and Samsung Z-SSD options.
IBM Storage unified its Storwize and FlashSystem lines with updates that add software features, boost performance in higher end models, and introduce 38.4 TB FlashCore Module and storage class memory options.
The entry-level and midrange Storwize storage arrays will now use the FlashSystem brand name. Despite the rebranding, IBM plans to continue to sell the systems in all-flash models and hybrid configurations that combine hard disk and solid-state drives (SSDs).
"We're seeing simplification of the brand across the industry," said Steve McDowell, a senior analyst at Moor Insights & Strategy. "Dell is renaming everything and consolidating under Power. You're going to see a huge portfolio collapse much like IBM is doing now."
McDowell was referring to Dell EMC using Power in its branding for recent product rollouts, including its PowerMax storage arrays and PowerProtect data protection.
The IBM Storage upgrades extend to the new FlashSystem 9200, the successor to the FlashSystem 9100 family. IBM redesigned the storage subsystem to cut out cost and added faster array controllers to increase performance. The company claims FlashSystem 9200 improves throughput and bandwidth by 20% per four-way cluster over the prior model, to 18 million IOPS and 180 GB per second. The new 9200 also reduces latency by 30%, to 70 microseconds, according to IBM.
IBM will offer a new rack-scale FlashSystem 9200R model that it will deliver, assemble, install and configure for customers, with Brocade or Cisco Fibre Channel switches for the cluster interconnection. IBM Lab Services can assist with setup and deployment.
IBM Storage software updates
The Storwize and FlashSystem arrays already used the same IBM Spectrum Virtualize software to provide enterprise data services. A new Spectrum Virtualize update will bring new capabilities such as three-site replication, support for Red Hat's Ansible provisioning and configuration management tool, and Container Storage Interface (CSI) snapshot support for Red Hat OpenShift and Kubernetes. Spectrum Virtualize for the Public Cloud adds support for data reduction in AWS.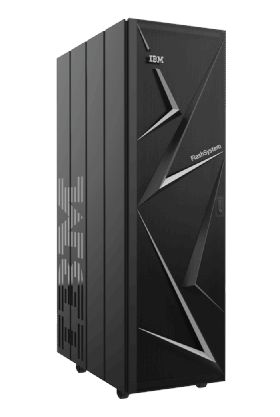 "IBM focused correctly, I think, in simplifying their offerings to the customer with the FlashSystem family all built on the mature Spectrum Virtualize software," said Randy Kerns, a senior strategist and analyst at Evaluator Group. "It gives a great deal of flexibility to their business partners and to customers. They have a common feature set and capabilities across multiple products and can choose which one fits without having to make tradeoffs."
IBM will also extend support for its Storage Insights monitoring, AI-based alerting, reporting and management software to the entry-level FlashSystem 5010, 5030, 5100 and the midrange FlashSystem 7200.
The midrange FlashSystem 7200 -- formerly Storwize V7000 Gen 3 -- is getting a new 2U FlashSystem chassis with more powerful array controllers, different processors and a redesigned subsystem. But the entry-level Storwize V5010E, V5030E and V5100 -- now rebranded as FlashSystem 5010, 5030 and 5100 -- will use the same 2U Storwize chassis, storage subsystem and processors they had in the past.
Eric Herzog, chief marketing officer and channel VP of IBM Storage, said the array controllers, power supplies and midplane are different in the entry FlashSystem 5010, 5030 and 5100 models than in the midrange FlashSystem 7200 and high-end 9200 and 9200R. But all FlashSystem models use a two-rack-unit form factor and support 24 2.5-inch storage drives. Herzog would not comment about future plans for the entry-level FlashSystem hardware.
The new IBM FlashSystem 7200 (formerly Storwize V7000) and FlashSystem 5100 (formerly Storwize V5100) will support the same 38.4 TB FlashCore Module and faster Intel Optane SSD and Samsung Z-SSD "storage class memory" (SCM) options that the high-end FlashSystem 9200 and 9200R offer.
The Optane SSDs, available at capacities of 375 GB and 750 GB, use 3D XPoint memory that Intel developed with Micron to fill the performance gap between DRAM and NAND flash. The Samsung Z-SSDs, at 800 GB and 1.6 TB, use single-level cell (SLC) 3D NAND flash and build in custom logic to drive down latency over standard NVMe-based PCIe SSDs.
IBM Storage injects QLC flash
The IBM-built 38.4 TB FlashCore Module uses quad-level cell (QLC) 3D NAND flash that can store four bits per cell to improve density over prior options with triple-level cell (TLC) memory chips. IBM joins Pure Storage in custom-building QLC-based drives for their respective enterprise storage systems.
SSD manufacturers often recommend QLC for read-intensive workloads because of its write limitations over NAND flash that stores fewer bits per cell. But IBM said it would place no restrictions on use cases for its QLC-based FlashCore Module.
"IBM's Flash endurance guarantee applies regardless of how a client uses any of our flash," said Chris Saul, product marketing manager of IBM Spectrum Storage. "IBM FlashCore Modules contain proprietary technology that extends the life of QLC to a point where it is comparable with TLC, so there is no need to restrict client use in any way."
Eric Burgener, a research vice president at IDC, said the new 38.4 TB FlashCore Module will "move the bar on storage density superiority" because the other enterprise vendors use drives that don't go beyond 15.4 TB.
"The SCM support is interesting and puts them in the same ballpark with NetApp and Pure," Burgener added. "NetApp rules the roost in terms of lowest latencies with its MAX Data offering, which is really persistent memory using a DDR4 interface, rather than storage class memory, which uses the block-based NVMe interface. None of those vendors are selling much of that, but it does serve as a bit of a differentiator."
IBM plans to begin shipping the newly updated FlashSystem line on March 6. Herzog said IBM lowered list prices due to the new FlashCore modules and design changes to the storage subsystem hardware. Pricing starts at $16,000 for the FlashSystem 5010.
Kerns said the performance improvements to the higher end FlashSystem 7200 and 9200 are "very impressive" in view of the cost reduction. "And you get the highest end enterprise functionality from the FlashSystem 5100 and above. So IBM is a significant competitor for everybody else," Kerns said.