Fotolia
Dell EMC PowerMax SAN arrays meld NVMe, storage class memory
The Dell EMC PowerMax flagship is a high-performance SAN designed for NVMe over Fabrics. The latest product update injects Intel Optane SSDs to improve bandwidth and IOPS response.
Dell EMC has injected Intel Optane storage class memory in its flagship PowerMax all-flash block array, adding a tier of persistent memory to buttress the NVMe over Fabrics-enabled block storage.
Dell EMC PowerMax is the first array to ship with non-volatile memory express (NVMe) SSDs and dual-ported Intel Optane DC 4800X SSDs resident on the same data plane. The Optane appears as a persistent tier and the dual ports provide redundancy needed by most modern data centers. Dell's AI predictive engine automatically shifts high-value data between the tiers to eliminate overhead.
Intel Optane drives are based on Intel 3D XPoint non-volatile memory, billed as a cross between dynamic RAM and NVMe flash. Dell was a co-development partner with Intel on the dual-ported Optane SSDs. (Intel also makes Optane technology available in smaller capacities as a dual inline memory module form factor.)
The vendor also introduced NVMe fabric modules for Dell EMC PowerMax, after teasing the componentry earlier this year. Dell said it has qualified host bus adapters for its PowerEdge servers and launched 32G Fibre Channel I/O modules and Connectrix switching gear, with updated PowerPath multi-path management software.
NVMe and SCM in tandem
Non-volatile memory express is a next-generation flash media that is widely believed will supplant SCSI storage. Unlike traditional networked storage, NVMe relies on PCI Express to transmit communication traffic, including commands, from applications to storage.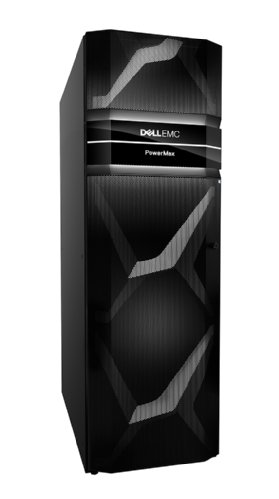 A single Dell EMC PowerMAX systems spans from two to 16 controllers. A 10U entry PowerMax 2000 costs about $150,000, with 13 TB of usable storage in a single brick. There is no cost premium for adding NVMe and SCM, either individually or in combination. Dell said customers may opt for a PowerMax system with SCM only, although the relative newness of SCM would likely lead to higher overall purchase price.
Based on internal testing, Dell EMC PowerMax 8000 with NVMe and storage class memory (SCM) delivered 50% lower latency than Dell EMC's VMAX 950F with SAS SSDs. The vendor rates PowerMax for 15 million IOPS, 350 Gbps throughput and read latency below 100 microseconds.
"I see this release as the fulfillment of the promise when PowerMax came out," said Scott Sinclair, a storage analyst with Enterprise Strategy Group, an IT consultancy based in Milford, Mass. "The PowerMax is all based on NVMe, which eliminates the bottlenecks that held flash back, and it also enables the [integration] of SCM."
Machine learning on Dell EMC PowerMax provides storage analytics on optimal data placement. The analysis moves hot data to Optane storage and back to NVMe when it is no longer in demand. Dell EMC said PowerMax analyzes 40 million data sets in real time, driving about 6 billion decisions on data per day.
I see this release as the fulfillment the promise when PowerMax came out.

Scott SinclairStorage analyst, Enterprise Strategy Group
This enables PowerMax users to take advantage of the next generation of media, without creating an additional storage administration burden on the IT team, a Dell spokesperson said.
Automated provisioning has been added to PowerMax via integrated Ansible Playbook modules for hosts, networking and storage. Dell EMC also added a VMware vRealize Orchestrator plugin and a Container Storage Interface plugin to provision persistent storage for workloads in Kubernetes.