kentoh - Fotolia
Awaiting NVMe flash surge, Pure Storage preps FlashArray//X
Pure FlashArray//X NVMe flash array will be generally available starting in July. It packs 1.1 PB of raw storage in 3U, and 15 PB in a standard 42U rack.
Pure Storage is showing off FlashArray//X, the next generation of its flagship array designed with proprietary nonvolatile memory express (NVMe) flash modules.
Pure formally launched the NVMe flash system today and is taking orders, although it won't be available before July. While previous versions of the FlashArray SAN platform -- such as its FlashArray//m flagship -- used off-the-shelf SSDs, FlashArray//X incorporates DirectFlash software-defined flash modules built for Pure's FlashBlade system for unstructured data. DirectFlash places raw flash directly on blades that connect via PCI Express (PCIe) to chip-based controller software.
Pure prewired the FlashArray chassis for NVMe and SAS when it introduced the SAN array in 2015. FlashArray//X supports multiple DirectFlash capacity "data packs" and Pure's x70 controller enables communication between the midplane and chassis.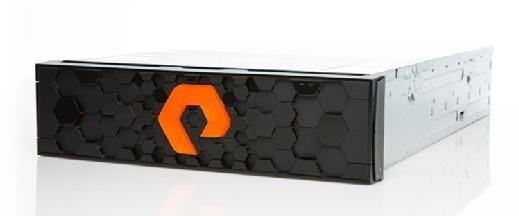 Users are presented with a single pool of NVMe flash that is globally managed by the DirectFlash software.
"The DirectFlash module does one super simple thing: It connects a bunch of flash over NVMe to our system," said Matt Kixmoeller, Pure's vice president of products. "Every ounce of flash within [each] DirectFlash module is visible."
'Dumb' DirectFlash modules offload flash management to Purity OS
DirectFlash data packs come in 2.2 TB and 9.1 TB capacities, sold in blocks of 10. Pure Storage said an 18.3 TB data pack will be available when the NVMe flash product is generally available.
The DirectFlash module does one super simple thing: It connects a bunch of flash over NVMe to our system.

Matt Kixmoellervice president of products, Pure Storage
FlashArray//X supports 20 DirectFlash modules for 366 TB of raw flash in 3U. Effective capacity scales to 1.1 PB using Pure's presumed 5:1 data reduction. Capacity scales to 15 PB of usable storage in 42U, or 14 arrays in three racks.
Use cases for FlashArray//X include consolidation of webscale cloud workloads and as a top-of-rack replacement for server-based flash cards.
Pure has used off-the-shelf commodity-priced SAS SSDs in FlashArray since the platform launched in 2011. Using conventional SSDs keeps costs down, but it also makes flash management more complex. Each SSD reserves a portion of flash that is allocated to garbage collection, wear-leveling and related management. That's the problem DirectFlash was created to solve.
DirectFlash software provides adaptive I/O scheduling, garbage collection and wear-leveling for endurance, and predictive block-level telemetry to monitor flash resilience. The vendor's Purity OS handles data reduction, encryption, high availability, RAID management, replication and snapshots.
"Pure has designed its own flash modules, which are dumb and don't do any of that work. All the overprovisioning is managed centrally for the operating system. You don't have to spare any flash, so you get better utilization than with conventional flash drives," said Tim Stammers, a senior analyst for storage at 451 Research in New York City.
All-NVMe flash arrays are the next industry wave
Existing FlashArray//m customers can expand capacity by upgrading to the x70 controller. They have the option to move flash to a SAS shelf and fill the chassis with NVMe, consolidate only on DirectFlash, or mix and match SAS and NVMe drives.
Startups Apeiron Data Systems, E8 Storage, Excelero, Mangstor and Pavilion Data Systems sell all-flash NVMe arrays that integrate their respective software-defined storage on commodity server hardware. But Pure Storage is the first major all-flash vendor to design a branded all-flash NVMe array from scratch. Dell EMC recently discontinued its NVMe-based DSSD D5 as a stand-alone all-flash system but intends to use that technology in other products.
"Pure's major rivals are still using SAS or SATA disk protocols, but there is universal consensus that the industry is heading to PCIe NVMe (drive support)," Stammers said. "This puts Pure on top of the technology curve, if not ahead."
Eric Burgener, a research director for storage at IT analyst firm IDC, said all-NVMe flash will start to supplant SCSI-based SSD arrays within five years.
"All the custom flash modules on the market have better reliability, storage density and throughput than SSDs. But they are more expensive on a dollar-per-gigabyte basis for raw storage," Burgener said. "Most applications today are fine with the performance of a SCSI-based flash array. By 2020 to 2021, the mainstream block-based flash array is going to be end-to-end NVMe PCIe, and most of that stuff will be off the shelf."
Pure did not disclose FlashArray//X pricing.
Next Steps
Explore the basics of NVMe flash
Newcomer Excelero joins NVMe flash ranks
Get ready for NVMe and NVMe over Fabrics devices