Kirill Kedrinski - Fotolia
SSD and NAND flash prices will decline through start of 2021
NAND flash and enterprise SSD prices that spiked in early 2020 will continue to fall through the end of the year and into 2021 as demand weakens, industry analysts predict.
NAND flash prices spiked in early 2020, but they are now trending downward in a trajectory that industry analysts predict will stretch at least into the first quarter of 2021.
At least five market research firms agree that weakening demand will cause NAND flash prices to fall, in contrast to the diverging projections they issued a year ago. They may not concur on the exact percentages, but their forecasts all indicate price decreases stretching into next year.
While the trend may not bode well for flash manufacturers, it should benefit the companies that buy NAND chips to make flash-based solid-state drives (SSDs). The NAND price drops also could translate to savings for server and storage OEMs that buy SSDs, because the chips represent a significant portion of a flash drive's cost.
SSD prices to drop 10% to 15%
Gartner expects enterprise SSD prices to decline 10% to 15% between the third and fourth quarters of 2020 and continue to slide through the first half of 2021. But Joseph Unsworth, a research vice president at Gartner, cautioned that the SSD price reductions could be slower to trickle down to IT organizations.
"It takes time to translate into savings for IT pros," Unsworth said. "First the enterprise SSD customers get the savings, but there is a lag when those lower prices truly get passed on to end customers."
First the enterprise SSD customers get the savings, but there is a lag when those lower prices truly get passed on to end customers.

Joseph UnsworthResearch vice president, Gartner
Unsworth's most recent estimates project NAND flash chip prices will sink by 23.7% in 2021 compared to 2020.
The per-gigabyte (GB) spot price for NAND flash chips rose from 5 cents a year ago to 6.7 cents in January and 8.4 cents in March before slumping to its current 7.2 cents, according to Jim Handy, general director and semiconductor analyst at Objective Analysis, a semiconductor market research firm in London. Handy expects NAND flash prices to hit 6 cents per GB by year's end and continue to decline slowly or possibly flatten in 2021.
"It's selling close to cost," Handy said. "That's kind of par for an oversupplied market."
NAND flash prices can soar considerably higher during the periodic cycles of undersupply that generally occur at two-year intervals. A chip shortage that started in 2016 and extended into 2018 saw prices level off at 25 cents per GB before collapsing in 2019 as the flash supply caught up to the demand, Handy said.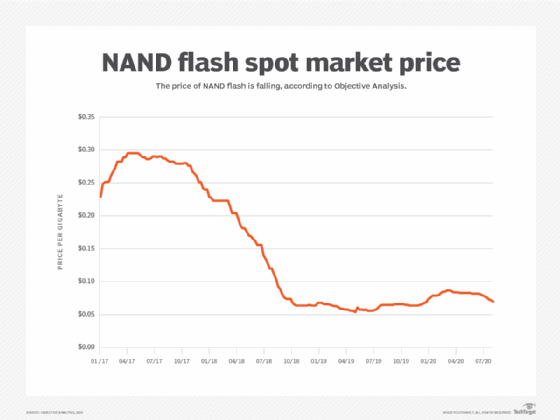 Impact of trade war threat, COVID-19
Handy attributed the 2020 NAND flash price increase primarily to Chinese hyperscalers and cloud providers building up inventory out of concerns over trade wars making it difficult for them to purchase SSDs and DRAM. Flash prices started to slip when the COVID-19 pandemic hit and mobile phone sales plummeted in China.
But Handy said NAND prices didn't collapse, as they did in 2019, because web service providers were beefing up their infrastructure to handle the stay-at-home users flocking to online applications such as video conferencing, movies and games. PC sales also saw an uptick in the spring, boosting demand for client SSDs, he said.
Data center customers represent just over a third of the flash market, mobile phone buyers take up a third, and manufacturers of devices such as USB drives and camera cards comprise the rest, according to Handy.
Weakening demand
Industry analysts and flash vendors now forecast weakening flash demand, especially from major data center customers that are now digesting the inventories they built up in the first half of 2020. Western Digital, which sells NAND chips and flash and hard disk drives, recently ratcheted down its revenue guidance for the upcoming quarter but declined during its earnings call to provide details on the areas of the business that would be most affected. With respect to NAND flash, Western Digital CEO David Goeckeler said the company is seeing "pricing implications" of a drop in demand that comes with a recession, and CFO Bob Eulau said WD expects the average selling price will be down this quarter.
In addition to hyperscalers digesting their inventories, businesses that had to cut their IT budgets due to the COVID-19 pandemic could also factor into the slowdown in enterprise SSD shipments through the rest of this year and the start of 2021, said Greg Wong, founder and principal analyst at Forward Insights, a semiconductor consultancy in North York, Ont.
Demand for enterprise SSDs exceeded pre-COVID-19 forecasts in the first half of 2020 as companies accelerated transitions to the cloud and focused on essential IT infrastructure investments, according to Jeff Janukowicz, a research vice president at IDC. Janukowicz said the market further tightened when some data center customers bought enterprise SSDs to mitigate potential COVID-19-influenced supply chain disruptions.
Mobile market demand weakens
But the increase in per-GB enterprise SSD prices from the first half of 2020 will reverse in the second half as the mobile market weakens and overall IT spending falls, Janukowicz said.
Typically slow first-quarter PC sales could also lead to lower SSD prices in 2021, said Don Jeanette, a vice president at Trendfocus Inc., a data storage market research firm in Cupertino, Calif. Jeanette advises server and storage OEM customers to either stop buying SSDs now or purchase them at increasingly attractive pricing and carry the inventory.
"Strap in. It's going to be an interesting ride heading into next year," Jeanette said.
Jeanette predicts that NAND flash demand won't start to rebound until the second quarter of 2021.
Objective Analysis' Handy originally predicted a 30% decline in NAND flash prices in 2020 would extend through 2021, as a new Chinese NAND manufacturer, Yangtze Memory Technologies Co. (YMTC), ramped up production. He now expects prices could eventually flatten in 2021 because YMTC is not producing the NAND volume he anticipated.
Handy is taking a "wait-and-see" approach on detailed forecasts because he said it's hard to tell where the pandemic is heading. He also remains worried that a global economic collapse could materialize, and prices would collapse.
In the meantime, Handy advises OEM and IT customers to expect moderate changes in the market during the coming year. He said they have no reason "to do a panic buy" or "sell off their inventory."
"Stay the course," Handy recommended.