NAND flash pricing drop slows; experts disagree on forecasts
Weighing global supply and demand trends, industry analysts disagree on the direction of NAND flash prices and their impact on storage systems over the next few years.
NAND flash pricing is in flux, and any buyers hoping for a consensus with market forecasts to help them plot out future purchases will be disappointed.
Industry analysts disagree about short- and long-term predictions for NAND flash pricing. They've all noted a slowing of the dramatic price collapse of the past year. But, as one prominent analyst continues to project price drops, albeit at a lower rate, others see the potential for a price increase.
Jim Handy, a semiconductor analyst at Objective Analysis, predicted the decline in NAND flash pricing would slow from an annual rate of 60% to 30% in the fourth quarter now that chips are selling for close to manufacturer's cost. He estimated prices would continue to fall at least through 2021, until demand catches up with the NAND oversupply in 2022.
Periodic cycles of shortage and oversupply generally last about two years each in the NAND flash industry and cause prices to rise and fall. For instance, a chip shortage that started at the end of 2016 stretched into 2018, as manufacturers struggled with yields while transitioning from planar 2D flash to denser 3D NAND. Prices leveled off at around 25 cents per GB in 2016 and 2017, and started to collapse in 2018, eventually sinking to the current spot price of about 5 cents per GB, according to Handy.
"Nice prices" for customers
"For now, there's no reason that prices won't follow cost for at least another year," Handy said, adding that would mean "no profits for the NAND flash makers, but nice prices for their customers."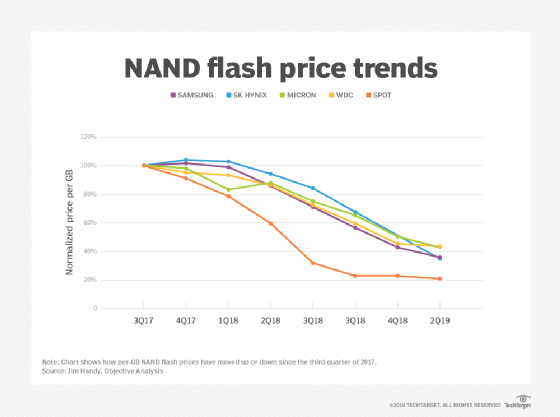 Handy attributed the latest oversupply to manufacturers' huge capital spending in 2017 and 2018 when profits were high, as well as more efficient 3D NAND production. He predicts the oversupply will extend through 2021 if a new Chinese manufacturer, Yangtze Memory Technologies Co., becomes an important supplier by the end of 2020. Handy anticipates that volume and demand will achieve balance in 2022, unless a trade war causes a global financial collapse and lengthens the oversupply period.
But other analysts think the gap between supply and demand could narrow sooner and change the trajectory of NAND flash pricing. Contributing factors include a June power outage that interrupted production at a Toshiba Memory factory in Yokkaichi, Japan, and a trade war between Japan and South Korea that could affect Korean NAND output.
Aaron Rakers, a senior analyst at Wells Fargo Securities, pointed to NAND flash industry spending cuts and reductions in wafer capacity in disagreeing with Handy's bold predictions. He also noted positive signs of bit demand elasticity and vendor comments about strengthening SSD attach rates in notebooks and moves to higher capacity drives.
Rakers linked "the big inflection point in the NAND industry supply-vs.-demand equation" to the ramp from planar 2D NAND to 3D NAND. He asserted that 3D-to-3D transitions are "not nearly as significant from a capacity-per-wafer perspective."
Analyst predicts price stabilization
Greg Wong, founder and principal analyst at Forward Insights, expects NAND flash pricing to increase through the rest of the year and become relatively stable in 2020 as inventory levels normalize. He predicted that the June power outage at Toshiba's Yokkaichi factory and a rebound in demand will help to reduce inventory levels.
Wong said NAND flash suppliers are unprofitable at current pricing levels, which could prompt them to raise prices.
Joseph Unsworth, a research vice president at Gartner, predicted the NAND flash oversupply will end, followed by a modest shortage in the fourth quarter and through 2020. He said many flash customers expect prices to stabilize or even go up, depending on the market segment.
TrendForce, a Taiwan-based market research firm, forecasts the average sale price for NAND will trend flat or slightly up in the fourth quarter, as supply and demand reach equilibrium, according to TrendForce research director Alan Chen. But Chen said TrendForce expects NAND flash prices will fall during the next three years.
NAND cost only part of array price picture
Although NAND chips represent a significant part of the cost of the solid-state drives (SSDs), flash pricing declines don't necessarily translate to savings for all enterprises buyers.
Businesses that buy raw flash in bulk to make their own SSDs were likely in a position to negotiate better prices during the NAND oversupply period. Wong said OEMs and datacenters that purchase SSDs can also take advantage of lower prices.
But Wong said enterprise IT customers benefit less because list prices for flash storage systems don't fall in tandem with the reduction in NAND component costs. Storage vendors consider many factors, including competitive pressure and market conditions, when setting array prices.