Getty Images/iStockphoto
Volatile times for non-volatile memory as NAND sales decline
All the major NAND vendors are seeing poor earnings as the demand for flash storage has dried up over the last two quarters.
NAND manufacturers are still struggling to regain their footing after a surge in demand for consumer storage devices has faltered.
The trends for supply and demand of the non-volatile storage technology have always been cyclic -- the price of NAND has seen a steady decrease since April 2022. But experts point to a confluence of factors that are causing this particular cycle to stand out, including the effects of COVID-19 and the recent rise in inflation. Today, NAND makers including Samsung, SK Hynix and Micron are reporting low earnings, while reports of rising prices and mergers surface.
Consumer demand during the pandemic, which sent workers into home offices outfitted with laptops, created a boom for the NAND market, according to Joe Unsworth, research vice president at Gartner. But with the current macroeconomic environment, notable oversupply and uncertainty around rising inflation have changed buying behavior.
There has been a demand implosion.

Joe UnsworthResearch vice president, Gartner
"There has been a demand implosion," Unsworth said.
Manufacturers produce NAND for various storage devices, from smartphones to computers to server SSDs. The decline in client sales drove the overall slowdown for these companies, Unsworth said.
Losses and layoffs
Samsung Electronics Co., the largest maker of NAND globally, posted its fourth-quarter and year-end earnings for fiscal year 2022 on Tuesday, showing a 69% drop in operating profit compared with the fourth quarter from the year before. Investors expected the low earnings, as Samsung had released a preview earlier in January of what was to come.
Samsung executives pointed to consumer spending as the main driver of the decline, saying that "the business environment deteriorated significantly in the fourth quarter due to weak demand amid a global economic slowdown."
For its memory business specifically, Samsung saw a decrease in demand that it attributed to inventory adjustments based on economic uncertainties.
The second-largest maker of NAND, Western Digital (WD), announced that it has decreased supply bit growth for both flash and HDDs. WD reported better numbers than others owing to its consumer line of SSDs, although it expects enterprise SSD demand to be reduced. WD lowered wafer starts in January 2022 to better align supply and demand.
Korea-based SK Hynix Inc., which bought Intel's NAND business in 2020, also posted fourth-quarter earnings for fiscal year 2022 Tuesday. It reported a quarterly operating loss ratio of 22%, marking its first quarterly loss in 10 years. SK Hynix is also suffering due to the drop in prices and will continue with the 50% reduction in investment and a reduction in overall production that it announced in October 2022. The company will continue to mass produce its DDR5 DRAM and 238-layer 4D NAND, it said.
Micron Technology Inc.'s first quarter of fiscal year 2023, which ended Dec. 1, saw a revenue drop of 47% year over year. The vendor reported a net loss of $195 million. Micron announced a workforce reduction of 10% through a combination of voluntary attrition and personnel reductions, and a suspension of bonuses through 2023.
"The industry is experiencing the most severe imbalance between supply and demand in both DRAM and NAND in the last 13 years," CEO Sanjay Mehrotra said in Micron's earnings report.
Micron has reduced wafer starts by 20% for both DRAM and NAND, and will reduce bit supply growth in 2023 and 2024, resulting in an approximately 40% reduction year over year.
Kioxia's earnings were last reported in November 2022 for its second quarter of fiscal 2022; the company is scheduled to report next week. Meanwhile, reports that Western Digital and Kioxia are holding merger talks have resurfaced. Both companies have declined to comment, but one of WD's investors, Elliott Investment Management, recommended that WD split its SSD and HDD business in May 2022.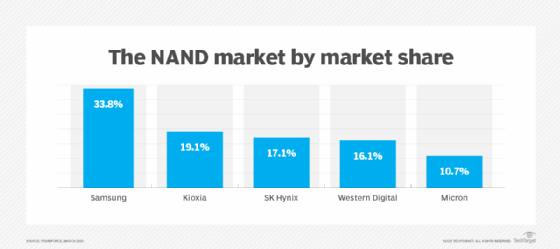 NAND manufacturers struggle
The decline in NAND sales isn't just affecting consumer devices, but sales are slipping in the enterprise market as well, according to Jeff Janukowicz, an analyst at IDC. The server business and cloud service providers are also seeing reduced demand for SSDs.
"As a result, we are seeing some pretty aggressive price erosion," Janukowicz said.
One reason for the decline has to do with an oversupply of storage. During COVID-19, companies shifted away from just-in-time inventory management to carrying excess supply due to supply chain issues -- including storage components, Janukowicz said. Customers such as hyperscalers are now digesting their oversupply.
Now that employees are returning to the office and companies are hosting fewer virtual meetings and conferences, enterprises don't need as much storage, according to Jim Handy, general director and semiconductor analyst at Objective Analysis.
"As a result, data centers don't need to grow as much as they have over the last few years," Handy said.
Anytime spending slows, it creates an oversupply, and prices for commodity products such as drives decline, he said.
Handy said it is hard to say when things will turn around. His firm, for example, is forecasting a negative 19% growth for semiconductors in 2023.
"It is highly dependent on the data centers," he said, adding, "I know that they are laying people off in droves, so it is not looking too good in the short term."
Vendors remain hopeful that market conditions will start to improve in the second half of 2023.
"Industry experts do not expect an increase in supply of memory chips as market players are planning to reduce investments and production, which will lead the inventories to peak within the first half," SK Hynix said.
Micron said finding a better balance between supply and demand will help the market recover -- a process that could last the year.
"We believe that negative year-on-year calendar 2023 industry DRAM bit supply growth and flattish year-on-year calendar 2023 industry NAND bit supply growth will accelerate this recovery," Mehrotra said in the earnings report.
Adam Armstrong is a TechTarget Editorial news writer covering file and block storage hardware and private clouds. He previously worked at StorageReview.com.