itestro - Fotolia
NAND flash shortage has SSD supply, pricing impact
Flash shortage could slow price declines and constrain SSD supplies through the end of 2017 as manufacturers make difficult transition from 2D/Planar to 3D NAND technology.
A NAND flash shortage that began last year shows no sign of ending and could slow price declines and constrain...
Continue Reading This Article
Enjoy this article as well as all of our content, including E-Guides, news, tips and more.
SSD supplies.
The shortage comes as manufacturers wrestle with a challenging transition from 2D to denser 3D technology. The 3D NAND flash manufacturing process requires more steps than 2D, or planar, NAND does. And flash vendors have yet to figure out cost-effective ways to produce yields sufficient enough to meet the rising demand for the data storage technology, according to market analysts.
"It's anybody's guess as to when that problem's going to be solved," said Jim Handy, general director and semiconductor analyst at Objective Analysis in Los Gatos, Calif. "What typically happens in the industry is one company solves the last problem, and then everybody else learns about the solution through their tool providers."
A sampling of manufacturer's comments during January earnings calls indicated the NAND flash shortage could stretch through 2017.
"Supply and demand conditions are expected to remain tight throughout the year," said Sewon Chun, senior vice president of memory marketing at Samsung Electronics. He cited "the industry's 3D NAND supply condition" as a key variable, noting that "3D NAND ramp-up delays" had led to the industry's failure to meet demand last year. Samsung is the earliest and leading producer of 3D NAND, which it calls Vertical NAND (V-NAND).
The end of the shortage keeps pushing out in my internal models, and I would not be surprised to see it last through the entire year.

Walter Coondirector of NAND flash technology research, IHS Markit
Western Digital CEO Steve Milligan said that if his company experienced "demand spike in any regard," it would struggle to fully meet it. Western Digital's SanDisk division produces NAND with joint venture partner Toshiba. Milligan said he expects the tight NAND situation to last for all of 2017.
SK hynix was slightly more optimistic, forecasting the supply shortage could ease in the second half of 2017. But some industry analysts said the NAND flash shortage could extend into 2018.
"I am saying the middle of 2018, but I don't have any crystal ball," Objective Analysis' Handy said.
3D NAND woes
Handy said 3D NAND has proven to be "a bear to get working," with a dozen or more processes that have never been used to build a semiconductor in the past.
NAND manufacturers are shifting to 3D technology as they reach the limits of shrinking 2D memory cells to increase the density and lower the cost per bit. Planar NAND uses a single layer of memory cells, whereas 3D NAND technology stacks cells vertically in layers, like the floors of a building.
Walter Coon, director of NAND flash technology research at IHS Markit, predicts other suppliers should start to cut into Samsung's lead in producing 3D NAND this year. He forecasted that manufacturers would have almost half their wafer output on 3D NAND by the end of 2017.
"Early 2017 is looking tight, but there is potential for oversupply in the second half," Coon wrote in an email. "The end of the shortage keeps pushing out in my internal models, and I would not be surprised to see it last through the entire year."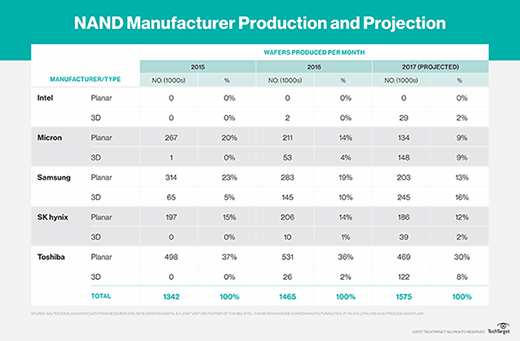 Flash demand on the rise
Meanwhile, NAND flash demand has been strong, especially in the second half of 2016. Market analysts noted growing flash densities in smartphones and tablets, and healthy demand for flash in notebook PCs and enterprise storage systems.
During Hewlett Packard Enterprise's earnings call today, CEO Meg Whitman said the tight NAND supply and SSD supply constraints had an impact on the company's storage and compute sales. She claimed HPE's 29% all-flash storage growth would have been "considerably higher" if the company had more SSD supply.
But, Hu Yoshida, CTO at Hitachi Data Systems (HDS), said the commodity market is experiencing the brunt of the impact from the NAND flash shortage. Because the enterprise SSD market has higher margins than other segments, Yoshida said he expects NAND vendors to provide adequate support.
HDS makes its own flash module drives (FMDs). Yoshida said because HDS has "the buying power" to secure the components it needs, he expects to see little impact to the company's FMD sales this year.
Other enterprise storage vendors, including those that purchase SSDs from third parties, make similar claims of strong relationships with suppliers.
For instance, during last week's earnings call, NetApp CEO George Kurian expressed confidence the company would be able to meet customer demand. Kurian said the priority has been supply guarantees over specific pricing agreements. If the price of NAND rises unexpectedly, he said, NetApp could offer customers hybrid storage arrays combining SSDs and HDDs.
Tegile CEO Rohit Kshetrapal said his startup gets flash allocations when it needs them because Western Digital's SanDisk division is a strategic investor. But Kshetrapal noted an upward trend in pricing, in contrast to the drops they were accustomed to seeing.
"We get premier supply preferences and cost preferences because of the investment," he said. "It is short, but we have allocations when we need them. But we are seeing a change in price in an upward trend. For a long time flash was dropping price, and now we're seeing an increase in price."
NAND prices
In 2016, the price per gigabyte (GB) for NAND flash increased approximately 4% in the third quarter and about 2% in the fourth quarter, according to IHS Markit's Coon. He noted that NAND represents the majority of the SSD cost.
Still, the overall per GB price of enterprise SSDs declined by more than 30% in 2016, according to IDC. IDC forecasts an annualized price drop in the low 20% range in 2017.
But Jeff Janukowicz, an IDC research vice president for SSD and enabling technologies, cautioned that price discounts would likely be limited until the 3D supply is available more broadly across the industry. He also advised customers looking at flash storage to work with vendors to ensure their orders can be filled within requested lead times.
Greg Wong, founder and principal analyst at Forward Insights, said storage vendors have had to adjust their product mixes "according to what they can get their hands on. Their sales people would basically have to steer customers to the storage capacities where they do have some availability."
Marc Staimer, president of Dragon Slayer Consulting, said he knows of cases where storage vendors, and in turn buyers, had to wait on product. But he expects only "spot" -- not major -- shortages this year. He said some users might not even see price hikes, if their system vendors elect to absorb any cost increases associated with the NAND flash shortage.
But Staimer said anyone hoping for a price decrease "will be out of luck this year."
(Dave Raffo contributed to this story.)