by_adr - Fotolia
Kioxia expects fab fire will have no flash production impact
Kioxia's NAND flash production will not be affected by fire this week at its fabrication facility in Yokkaichi, Japan, company says; analysts expect no impact to supply, prices.
Kioxia expects no impact to NAND flash production in the aftermath of a fire this week at its Fab 6 semiconductor manufacturing facility in Yokkaichi, Japan, a company spokesperson confirmed today.
Kioxia -- formerly Toshiba Memory Corp. -- notified customers that the fire took place on Jan. 7 at about 6:10 a.m. local time. Firefighters contained the blaze to a single piece of machinery at the Fab 6 plant, and all machines other than the damaged one are now operating, according to the company spokesperson.
Western Digital, Kioxia's joint venture (JV) partner, issued a statement confirming a "small fire" that "local firefighters quickly extinguished." The company said that no employees sustained injuries.
"We are working closely with our JV partner to promptly bring the fab back to normal operational status. We expect any supply impact to be minimal," Western Digital stated.
Analysts predict no supply, market impact
Don Jeanette, a vice president at Trendfocus, a data storage market research and consulting firm, met this week with multiple Kioxia employees. He said they told him the impact would be minimal, and the fire affected only a small portion of a clean room at the Fab 6 plant, which produces 3D NAND flash.
Likewise, Greg Wong, founder and principal analyst at Forward Insights, said his checks confirmed the impact was small, and there should be no market impact and no major disruptions in NAND flash supply to customers.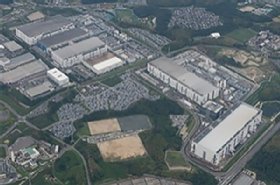 "Most NAND suppliers continue to carry above normal inventory levels," Wong said.
Unrelated NAND flash prices increase
NAND flash prices have been on the rise. But Joseph Unsworth, a research vice president at Gartner, attributed the price increase to strong demand for solid-state drives (SSDs) from hyperscale and PC markets and lean supply due to fab delays and 3D NAND technology transitions. He said the NAND price increase has no relationship to the Kioxia fire or a recent Samsung power outage.
Samsung's semiconductor facility in Hwaseong, Korea, experienced a power outage on Dec. 31, 2019. A Samsung spokesperson said power was "immediately restored," and the facility resumed normal operation.
Jim Handy, general director and semiconductor analyst at Objective Analysis, said he has seen no market impact from the recent Samsung power outage and he expects none from this week's Kioxia fire. He said a June power outage that interrupted production at Toshiba's Yokkaichi plant also had "almost no impact."
"We're in a big oversupply right now," Handy said. "The prices have gone up a little bit because there is an inventory build going on. Some Chinese NAND buyers are worried that the trade war is going to cut off their source of supply, so they've been building a little bit of a stockpile. And that's given the illusion of a shortage. But when you compare real demand against real supply, there's still an oversupply."
Handy said he views the current NAND price increase as a temporary blip, and he predicts prices will follow costs and remain low this year. Handy expects the price trend will extend through 2021, thanks to new Chinese manufacturer Yangtze Memory Technologies Co. coming online and causing the NAND oversupply to continue.