jules - Fotolia
New NVMe Western Digital SSDs target cloud, hyperscale and edge
Western Digital adds two new enterprise NVMe SSDs as the enterprise and cloud markets shift from SATA SSDs to faster NVMe. The new drives include 64-layer 3D NAND.
Western Digital is adding two NVMe SSDs designed for read-intensive workloads in public and private clouds, hyperscalers and edge deployments.
The enterprise-class Western Digital SSDs launched today are the first in the vendor's NVMe data center product line with denser, 64-layer 3D NAND flash technology and new, internally developed controller technology. The 2.5-inch Ultrastar DC SN630 SSD will ship at capacities ranging from 960 GB to 7.68 TB, and the lower end CL SN720 is available from 256 GB up to 2 TB in a gumstick-shaped M.2 form factor.
The latest Western Digital SSDs arrive as the HDD giant tries to increase its share of the enterprise SSD market. Western Digital shipped less than 10% of the NVMe SSDs in 2018, while industry leaders Samsung and Intel combined for 69% of the market, according to Jeff Janukowicz, an IDC analyst.
Janukowicz said the ultralow-latency NVMe technology represented the majority of the SSD capacity shipped into enterprise data centers in the second half of 2018. NVMe has moved into the mainstream after starting out in niche environments or high-performance applications, he said.
NVMe-based PCI Express (PCIe) SSDs accounted for about 40% of the enterprise SSD market in 2018, with slower SATA SSDs at 31% and SAS SSDs at 29%, according to market research firm Forward Insights. Forward Insights forecasts that NVMe-based PCIe SSDs will command 60% of the market by early 2019, with SAS at 25% and SATA at 15%.
Forward Insights analyst Greg Wong said hyperscale data centers are replacing SATA drives with NVMe SSDs, and OEMs are also moving to NVMe drives. He predicted that new all-flash arrays would gradually transition to dual-ported NVMe SSDs in place of SAS SSDs.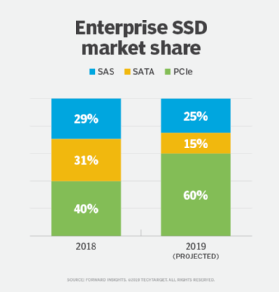 Driving the transition from SATA to NVMe is the shift from traditional applications to scale-out, cloud-based applications that have millions of users accessing them, said Clint Ludeman, Western Digital's senior product marketing manager for data center devices.
"All of a sudden latency is important. You don't want to wait when you go on the web. You want the response to be more instant. And you've got thousands of users at a time wanting it to be instant, so you have to be able to scale," he said.
Ludeman said HDDs were fine for applications with small data sets, delivering milliseconds of latency, but the new cloud-based applications handling billions of transaction require microsecond latency. NVMe SSDS offer four or five times the throughput of 6 Gbps SATA SSDs and 12 Gbps SAS SSDs, he said.
New Western Digital SSDs boost performance
Western Digital claims its new 1.92 TB Ultrastar DC SN630 NVMe SSD can boost IOPS by more than three times over legacy SATA SSDs with mixed workloads of roughly 70% data reads and 30% writes. The SN630, which is due to be broadly availability in April, also offers higher performance than its predecessor SN620 model that used 2D NAND flash, Ludeman said.
The SN630 targets both mixed and read-intensive workloads, including software-defined and object storage applications, virtualization using hyper-converged infrastructure, hyperscale and cloud services, NoSQL databases, media streaming and IoT use cases.
The SN630 SSD will support two drive writes per day (DWPD) at capacities ranging from 800 GB to 6.4 TB for mixed read/write workloads. With more heavily read-intensive workloads, the SN630 will support 0.8 DWPD at capacities ranging from 960 GB to 7.68 TB.
"You trade off endurance for capacity," Ludeman said.
Western Digital labels the lower end CL SN720 as a "very read-intensive" SSD at 0.3 maximum DWPD. Ludeman said the M.2 SSD would perform better with sequential rather than random writes. The SN720 SSD is designed to boot server operating systems and store data in edge servers, content delivery networks, cloud gaming and IoT platforms and gateways.
The gumstick-shaped SN720 SSD in the low-power M.2 form factor holds fewer NAND flash chips than the U.2-based SN630 SSD that can store more data and fit into the same drive bays as standard 2.5-inch SAS and SATA HDDs and SSDs.

The portfolio of NVMe-based Western Digital SSDs also includes the DC SN200 at 1 to 3 DWPD for caching and compute-intensive workloads and the DC ME200 Memory Extension Drive at 10 or more DWPD for write-intensive workloads, such as in-memory databases, ERP systems and financial applications.
But the new M.2 SN720 and the U.2 SN630 are the only enterprise NVMe-based Western Digital SSDs to use in-house controller technology. Ludeman said the development of the new controllers -- which are different for each of the two drives -- shows Western Digital's long-term commitment to the NVMe SSD category and would ease the addition of new features in future products.
"We're able to control those features because we control the entire stack," he said.
Because Western Digital produces its own flash chips, firmware and controllers, Ludeman said, it would be able to quickly transition from 64-layer 3D NAND to denser 96-layer 3D NAND and new SSD form factors such as ruler-shaped drives. Ruler-shaped enterprise and data center small form factor drives will have the advantage of being hot swappable, unlike the smaller, more power-constrained M.2 SSDs, Ludeman said.