Getty Images
Western Digital OptiNAND stretches HDD capacity, performance
Western Digital unveiled a new storage drive architecture for hard drives that improves capacity, performance and reliability via an embedded flash drive to store metadata.
Western Digital's new OptiNAND storage infrastructure puts a lot of capacity on one platter.
Unveiled at today's HDD Reimagine virtual event, OptiNAND combines Western Digital's hard disk drive and flash technologies to squeeze more out of its hard drives. The new architecture stores hard drive metadata in an embedded flash drive instead of in DRAM, which translates to greater storage capacity per platter, faster performance in write cache disabled mode and reduced data loss during a sudden power-loss scenario.
Western Digital also launched its first product to use OptiNAND: a nine-disk, 20 TB hard drive. The vendor expects to be able to produce a drive with 50 TB capacity before 2030.
Every business across all verticals is experiencing data growth, and all that data needs to be physically stored somewhere, said Siva Sivaram, president of global technology and strategy at Western Digital. Although businesses may offload data to the cloud, that data still goes to the data center of a cloud provider or a hyperscaler. Denser drives mean cloud providers and hyperscalers can minimize their data center footprint, Sivaram said.
We talk about data in the cloud and in virtual machines in an abstract way, but at the end of the day, a bit has to be flipped somewhere.

Siva SivaramPresident of global technology and strategy, Western Digital
"We talk about data in the cloud and in virtual machines in an abstract way," Sivaram said. "But at the end of the day, a bit has to be flipped somewhere."
OptiNAND integrates HDD with iNAND flash, but it is not a hybrid drive. The embedded flash drive within an OptiNAND HDD doesn't store data and is instead devoted to holding metadata critical to hard drive operations such as information and instructions for the drive's actuator arm. As HDDs fill up, they generate gigabytes of metadata that essentially perform "housekeeping" functions.
Offloading the metadata to flash provides customers with a few benefits. First, there is more space on the disk itself for user data. Second, retrieving metadata from flash is faster than from HDD and doesn't impose any demand on the hard drive itself. Third, the flash drive provides a 100MB cache to flush data to during a sudden loss of power, minimizing data loss.
Western Digital competes with other storage manufacturers such as Seagate and Toshiba, and its product lineup consists of both HDDs and solid-state drives. OptiNAND technology will be used in all Western Digital HDDs going forward.
A milestone, but not a big differentiator
OptiNAND is a milestone for Western Digital in what it has achieved with its flash and hard drive capabilities, said Eric Burgener, research vice president at IDC. Among its capacity, performance and reliability benefits, there is little performance difference between write cache-enabled and disabled modes with OptiNAND, making the latter practically obsolete. This removes the balancing decision a storage administrator has to make between latency and potential data loss, Burgener said.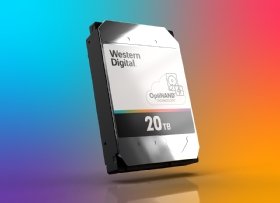 The only potential downside to using an embedded flash drive instead of DRAM for metadata is longevity, Burgener said. DRAM is volatile, but it has a practically infinite lifespan when it comes to writes. Flash, however, degrades with every write. Western Digital planned for this and claimed most of the solid-state storage in OptiNAND is single-level cell (SLC) flash, which has the highest endurance.
Every hard drive manufacturer is aiming for high-capacity hard drives, so while OptiNAND is a technological milestone, it doesn't give Western Digital a significant market differentiation from its competitors, Burgener said. Toshiba already has a 20 TB hard drive on its roadmap, he pointed out.
The differences lie in the technology the vendors use to achieve greater HDD density, and these differences will hardly matter to customers, Burgener said. Instead, they will evaluate products on latency, reliability and cost, and Western Digital's OptiNAND drives don't provide significant advantages compared with its competitors, Burgener said.
"It's not as big a difference as, say, horse and buggy versus car," Burgener said.
Johnny Yu covers enterprise data protection news for TechTarget's Storage sites SearchDataBackup and SearchDisasterRecovery. Before joining TechTarget in 2018, he wrote for USA Today's consumer product review site Reviewed.com.