Getty Images
Western Digital releases dual-actuator HDDs
WD has quietly released a dual-actuator HDD, bringing dense drives with higher transfer rates, but customers can't reap the full benefits just yet.
Western Digital quietly released its first dual-actuator HDD that brings faster read/write speeds to higher-capacity drives for the data center.
The WD Ultrastar DC HS760 is a 20 TB HDD that comes with two actuators to grant faster data transfer rates and rebuild times compared with a single actuator. It doubles sequential throughput, increases random performance 1.7 times and improves the IOPS-to-watt ratio for power efficiency, according to the vendor. Its release comes shortly after Seagate expanded its line of dual-actuator HDDs, also quietly.
The market for multi-actuator technology is small but significant, according to Ed Burns, an analyst at IDC. Individual cloud service providers, for example, have workloads that require low-latency and high-capacity hard drives to meet service-level agreements (SLAs).
"The service providers can still take advantage of hard drive costs while meeting SLAs," Burns said.
Multi-actuator HDDs can be an economical option for these types of workloads, providing an upgrade in performance compared with single-actuator drives, but at a cheaper price tag than buying the same capacity in flash storage.
Sales of dual-actuator drives are lower than the bulk single-actuator HDDs sold to hyperscalers. WD didn't list the price, but the price per TB of enterprise HDDs from the major vendors is low, in part due to supply and demand.
"It's going to be a little bit more expensive than a conventional HDD on a dollar-per-terabyte basis," Burns said.
OptiNAND for capacity bump over competition
Based on WD's previous, single-actuator Ultrastar DC HC560 HDD, the HS760 brings the same areal density, or the amount of data that can be stored on a disk, to 2.2 TB per disk, compared with Seagate's 1.8.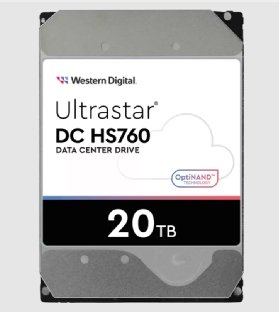 To do this, WD uses OptiNAND technology, an architecture first rolled out in 2021 that combines flash and HDDs with embedded iNAND. OptiNAND boosts capacity per disk because it allows for better caching of the data to get lower error rates when writing data, Burns said.
"[OptiNAND helps] WD to get to 2.2 TB per disk by allowing them to lay tracks closer together," he said. OptiNAND's ability to cache helps the drives avoid adjacent track interference and, in turn, leads to higher areal density.
Aside from higher capacity, internal NAND leads to better data access by storing metadata, according to Thomas Coughlin, president of analyst firm Coughlin Associates. Storing the metadata also takes some of the data off the disks.
New hardware for upcoming use cases
While there are immediate performance benefits, dual actuators could be more impactful in the future, Burns said. As capacity increases, current transfer speeds will be insufficient to read or write all the data needed.
"One actuator doesn't have the ability to reach everything needed in such large drives quick enough," Burns said. But multi-actuator technology could keep up with capacity increases.
In addition to faster read/write times, higher-capacity drives create limitations around rebuild times, according to Coughlin.
"If you've got the capacities too high and don't increase your data rate, at some point it can be so high you couldn't fully write or read to it during its lifetime," he said.
High-capacity drives could take a month to rebuild, whereas dual-actuator drives would cut that rebuild time in half because they double the bandwidth, Coughlin said.
Adam Armstrong is a TechTarget Editorial news writer covering file and block storage hardware and private clouds. He previously worked at StorageReview.com.