pixel - Fotolia
Kioxia gives hyperscalers new custom flash drive options
Kioxia's software-enabled flash aims to provide greater host control over storage, data placement and data access to hyperscalers that optimize SSDs for specific workloads.
New software-enabled flash technology from Kioxia aims to give hyperscale developers and architects greater control over the way their drives store data -- and leave the storage device building to the flash manufacturers.
Kioxia said it designed software-enabled flash (SEF) to address hyperscalers' needs for more efficient flash storage to work with high-performance applications such as the RocksDB embedded database and Firecracker virtual machine monitor. But Kioxia expects the SEF technology would become more broadly useful as those types of applications move into traditional data centers.
Some major cloud providers and hyperscalers make their own flash drives, often using the Open Channel SSD specification, to better address their workload and data center needs. But Kioxia says Open Channel SSD efforts require too much host overhead and involvement with low-level media characteristics.
Kioxia demonstrated new software-enabled flash technology at the Open Compute Summit this month that it claimed would provide greater host control over the solid-state storage, data placement and data access. The technology removes the need for developers to manage the flash media.
"It is our intent to enable the hyperscalers to focus on their higher value-added work and let the flash manufacturers supply the storage devices," said Scott Stetzer, a senior director in the memory and storage strategy division at Kioxia America (formerly Toshiba Memory Corp.).
Jim Handy, general director and semiconductor analyst at Objective Analysis, said hyperscalers and other sophisticated flash users that want to "eke out every last bit of performance" out of their flash investments turned to the Open Channel SSD architecture to offload many SSD housekeeping functions onto the host. But they also had to cope with chips that could behave differently depending on the manufacturer or the flash generation.
"The host-based software had to be reconfigured every time a new flash chip was used," Handy said. "This is an untenable situation."
Handy said Kioxia's SEF approach would abstract the flash performance through a common API and make the chipmakers responsible for translating the API commands to their particular flash chip's behavior. That would allow users to move from one vendor to another and from one generation of flash chip to the next in a host-managed system without having to change the application host software, Handy said.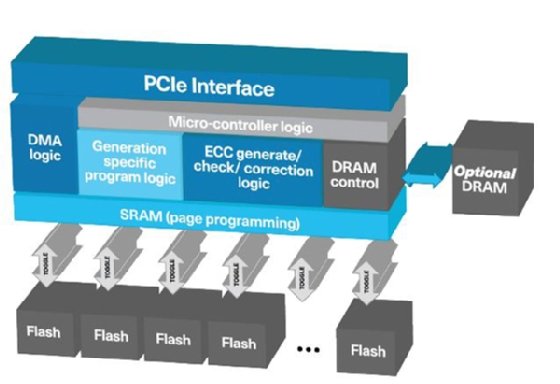 SEF consists of an application programming interface (API), software libraries and sample code that Kioxia plans to release this summer. The vendor will manage development through an open source project. Kioxia also plans to deliver an API instruction and software development kit to show developers how to implement the API with working code they can use, modify or reference.
In addition to software components, SEF requires customized hardware flash modules with a purpose-built controller. Kioxia is developing a prototype SEF hardware unit. Other manufacturers could also build the SEF units based on the open-source SEF API and develop their own controller or buy it from a vendor such as Marvell, Stetzer said.
Eric Burgener, a research vice president at IDC, sees Kioxia's SEF initiative furthering the trend to customize and add features to flash. He said few established enterprise storage vendors are satisfied with the firmware in commodity, off-the-shelf SSDs. But large vendors such as Dell EMC, Hitachi Vantara and Hewlett Packard Enterprise (HPE) can get SSD manufacturers to produce customized firmware that adds the capabilities they want. IBM and Pure Storage went farther, making their own flash devices with custom firmware, Burgener said.
Hyperscalers such as Amazon, Facebook, and Google developed much of their own web-scale infrastructures using off-the-shelf hardware and software they wrote in-house, Burgener noted. He said the logical next step for them was building their own custom storage devices.
Now Kioxia is providing a toolkit that makes it easier for hyperscalers to build storage devices tailored to their specific requirements. Burgener said he would not be surprised to see other flash memory suppliers -- Intel, Micron, Samsung, SK Hynix and Western Digital -- follow with similar toolkits.
What customers get out of it is that it makes it easier and faster, and presumably less expensive, to produce custom devices.

Eric BurgenerResearch vice president, IDC
"What Kioxia gets out of it is that the hyperscalers will buy flash media from Kioxia if they do this," Burgener said. "What customers get out of it is that it makes it easier and faster, and presumably less expensive, to produce custom devices."
Burgener predicted demand for SEF will eventually filter down from the hyperscalers to other large internet-based businesses and perhaps even to large enterprises that have internal development capability and ample market power.
"I don't ever see midrange enterprises doing this," Burgener said. "But if an end user customer is large enough, buys enough storage devices and has the requisite internal development expertise, and there are meaningful benefits that they can accrue from doing this, then I could see it getting to the very large enterprises."