Andrea Danti - Fotolia
Western Digital Ultrastar DC ME200 optimizes memory storage
Western Digital extends its Ultrastar SSD line, adding a software-defined layer for fast in-memory computing. An onboard hypervisor mounts the storage capacity as usable memory.
Western Digital Corp. jumped into in-memory computing this week, launching a memory drive combined with hypervisor and DRAM-optimization software.
The Ultrastar DC ME200 Memory Extension Drive, unveiled Monday, includes an onboard hypervisor that maps NAND flash storage to byte-addressable server memory. The Western Digital Ultrastar memory drive is available as an NVMe U.2 or PCI Express add-in card. Western Digital claimed the drive and its software provide performance comparable to DRAM at a lower price.
Western Digital is targeting in-memory database applications, such as Apache Spark, Memcached and Redis, and large MySQL deployments with the new Ultrastar drive.
The Western Digital Ultrastar DC ME200 can be dropped into most x86 servers without requiring software changes. The drive software "acts like a bare-metal hypervisor" to virtualize NVMe flash as memory, said Eddie Ramirez, senior director of product management for enterprise SSDs at Western Digital, based in San Jose, Calif.
Ultrastar DC ME200 helps expand memory pools up to eight times the capacity of available DRAM, Ramirez said.
"We don't replace the entire DRAM in a system. The software acts as a memory management unit to make sure we're actively prefetching data from the SSD into DRAM space," he said.
The thrust behind the new drive is enhanced memory, rather than high-capacity storage. The drives are available in 1 tebibyte (TiB), 2 TiB and 4 TiB capacities. According to Western Digital, Ultrastar DC ME200 can expand a typical server by as much as 24 TiB.
"We refer to them as software-defined capacity points," Ramirez said.
Creating artificial capacity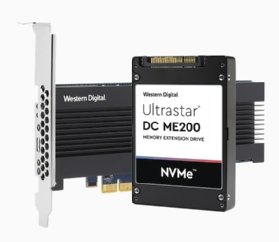 Western Digital expanded its flash portfolio in recent years with the acquisitions of HGST and SanDisk. Ultrastar encompasses the Western Digital line of enterprise and data center devices. Before it was part of Western Digital, HGST originated the Ultrastar branding for a line of SAS SSDs.
"The entire system uses a low-level hypervisor that spooks the system into believing it has an additional bank of memory that can then be used to host your in-memory database," said Ashish Nadkarni, an IDC analyst.
Nadkarni said Western Digital software "glues system capacity with the artificial capacity it is creating," and it initially runs only with a hosted hypervisor, such as an open source kernel-based virtual machine.
"The success of this product is going to [rest] squarely on how many other environments they can qualify," he said.
While gaining momentum, storage for in-memory computing is limited by two factors: relatively high DRAM costs and the finite capacity of DRAM in servers. Software wedges between the server BIOS and the operating system to mount the Western Digital Ultrastar drive as part of the memory pool.
The DC ME200 SSD is based on Western Digital's Ultrastar DC SN200 NVMe drive, which is rated to handle up to 1 million random-read IOPS. The drive is paired with intelligent algorithms to examine data access and then prefetch data from the SSD into memory space.
"The heart of this is that we have intelligent prefetching algorithms behind the scenes to reduce the number of cache misses," Ramirez said.
Ramirez said Western Digital Ultrastar Memory Extension Drives are sampling with customers.