jules - Fotolia
Western Digital launches 15 TB enterprise SAS SSD
Western Digital's 15 TB Ultrastar SAS SSD has twice the capacity of its previous version, but only half of the capacity of Toshiba's 31 TB whopper.
Ultrafast, NVMe-based PCI Express solid-state drives may represent the future of enterprise storage technology, but drive vendors still see a future in SAS SSDs.
Western Digital this week said it is shipping samples of its highest-density enterprise SAS SSD to OEMs. The new 2.5-inch Ultrastar DC SS530 can store up to 15.36 TB, doubling the capacity over the prior SS300 model, thanks to denser 64-layer 3D NAND flash that can help lower costs. The SS530 is due to be production-ready at the end of this quarter.
"There's a lot of excitement around NVMe [nonvolatile memory express]. But SAS is still a very trusted, reliable interface. It's an interface that lets you mix HDDs and SSDs," said Eddie Ramirez, senior director of product management for enterprise SSDs at Western Digital, based in San Jose, Calif.
SAS SSD demand remains strong in enterprise storage arrays, and on the server side, growth is coming from hyper-converged infrastructure that combines compute, storage and virtualization resources in the same box, Ramirez said. SAS SSDs might serve as the caching layer in front of SAS HDDs, he added.
"For things like hyper-converged infrastructure systems, it's still a very effective interface, particularly if you want to do hybrid arrays where you're using both SSDs and HDDs within the same server," he said.
The Ultrastar DC SS530 enterprise SAS SSD uses 64-layer 3D NAND flash that stores 3 bits of data per cell, known as triple-level cell (TLC). The prior model, SS300, used 32-layer 3D NAND, with TLC in a lower-endurance model and multi-level cell flash that stores 2 bits of data per cell in the higher-endurance options.
Ramirez said Western Digital can use TLC for all of its one-drive, three-drive and 10-drive writes per day (DWPD) SKUs. The one DWPD model targets read-intensive workloads, and the higher-endurance options are designed for caching and write-intensive workloads.
New SAS SSD boosts performance
Western Digital and Intel jointly developed the Ultrastar DC SS530. It improves random write performance by 60% over the prior model, delivering up to 320,000 IOPS in the 10 DWPD SKU. Random read performance is up by 10% to a maximum of 440,000 IOPS.
The new enterprise SAS SSD supports a data transfer rate of 12 Gbps. Western Digital's roadmap calls for 24 Gbps enterprise SAS SSDs, but Ramirez declined to disclose the timetable.
Samsung's 31 TB SAS SSD
The Ultrastar DC SS530 is Western Digital's first SSD with a higher capacity than any of its HDDs. The company's highest-capacity enterprise HDD is 14 TB. The SS530 is available at capacities ranging from 400 GB to 15.36 TB. But Samsung has Western Digital beat for capacity with its 30.72 TB SAS drive that uses 64-layer TLC 3D NAND flash, which the vendor calls V-NAND.
Ramirez said Western Digital will consider a 31 TB drive in its next-generation product, but "we don't quite see the market adoption at that high a capacity at this point."
Western Digital's new Ultrastar DC SS530 enterprise SAS SSD is dual-ported, in contrast to the single-ported 12 Gbps SAS SSD that rival Toshiba introduced in June. Toshiba's RM5 SAS SSD is designed as a SATA replacement and targets server-based applications, including software-defined storage and hyper-converged infrastructure. Toshiba claimed the single-port SAS SSD is close in price to SATA SSDs, which max out at 6 Gbps and are typically less expensive than SATA SSDs.
The Western Digital Ultrastar DC SS530 SSD can run in single-port mode, but dual-port SSDs provide redundancy and a performance boost, in some cases, Ramirez said.
"Currently, we feel the market in SAS is still very much looking at dual-ported capability," Ramirez said. "Typically, in a SAS storage array, you're using an HBA [host bus adapter] to talk to multiple drives, and you don't want that HBA to be a single point of failure."
Ramirez declined to disclose pricing for the SS530 other than to say there's no difference in the cost per gigabyte in comparison to the prior SS300 model.
Enterprise SAS SSD market
Western Digital is third in the enterprise SAS market, behind Samsung and Toshiba in units and exabytes shipped, according to storage research firm Trendfocus.
Don Jeanette, a vice president at Trendfocus, based in Cupertino, Calif., said Toshiba leads the market, with more than 40% of the units shipped, followed by Samsung with 30% and Western Digital with 23%. Samsung leads in exabytes shipped, with 49% of the market, trailed by Toshiba at 35% and Western Digital with 12%.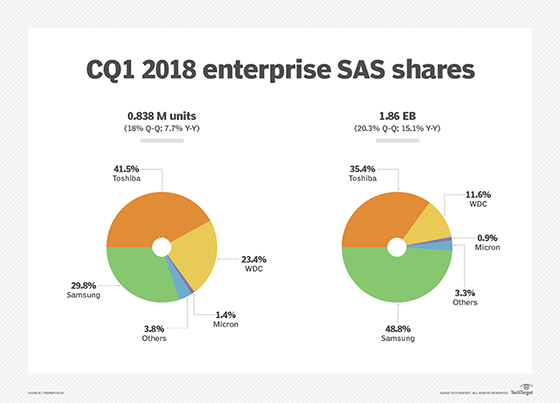 Western Digital had close to half of the market three years ago in units and exabytes, Jeanette said. Samsung came on strong with an aggressive roadmap to pass Western Digital, he added. Western Digital entered the SAS SSD market with the acquisition of Hitachi Global Storage Technologies in 2012.
Jeanette said there's still a strong market for SAS SSDs, which have more than double the average capacity of PCIe and SATA SSDs.
"There are very few SSD vendors supporting SAS," Jeanette said. "Everyone's trying to move to PCIe. SATA's a legacy protocol out there. But for the ones that did enter SAS a decade ago, they're going to find that they will have healthy business for a number of years to come."