Definition
PCIe SSD (Peripheral Component Interconnect Express solid-state drive)
What is a PCIe SSD (Peripheral Component Interconnect Express solid-state drive)?
A PCIe SSD (Peripheral Component Interconnect Express solid-state drive) is a high-speed expansion card that attaches a computer to its peripherals. PCIe is a serial expansion bus standard.
PCIe slots come in five different sizes: x2, x4, x8, x16 and x32. The number after the "x" corresponds to the number of lanes each card has for bidirectional data transfer.
How PCIe SSDs are used and why
The PCIe interface is used to connect various components to a computer system, including graphics processing units (GPUs), add-in cards and storage devices.
PCIe SSDs offer certain benefits to server-based Serial Advanced Technology Attachment (SATA) drives, including improved compatibility, speed and storage capacity. PCIe SSDs transfer data on multiple lanes, thus improving bandwidth. By contrast, a SATA connection has one lane.
PCIe SSDs are used for components like graphics cards and are often favored by users who require fast storage performance and low latency.
PCIe SSD storage is an alternative to a server-side flash deployment based on serial-attached SCSI (SAS) and SATA SSDs. PCIe provides the underlying transport layer for data on graphics cards or add-in cards. PCIe SSDs integrate flash directly on a server motherboard and a PCIe interface. Each PCIe device connects to the host through its own serial link, eliminating the need to share a bus. Known as point-to-point architecture, this design lowers latency and boosts data transfer speeds between servers and storage.
PCIe technology
PCIe is one of four SSD form factors. In general, PCIe-based solid-state storage has better performance than SATA, SAS or Fibre Channel SSDs.
Format specifications for PCIe-based devices are developed and maintained by the PCI Special Interest Group (PCI-SIG). The forthcoming release, PCIe 7.0, is set for targeted release to PCI-SIG members in 2025 and is expected to deliver 128 gigatransfers per second and up to 512 gigabits per second, based on a PCIe x16 configuration.
PCIe 7.0 maintains pulse amplitude modulation with four levels of signaling. It ensures backward compatibility with earlier versions. The new design is expected to enhance channel parameters and power efficiency as well.
By contrast, PCIe 4.0 is the standard most widely used in GPUs and SSDs. At its top end, PCIe 4.0 devices deliver about 4 gigabytes per second (GBps) using an eight-lane PCIe card. Vendors are starting to bring PCIe 5.0 SSDs to market.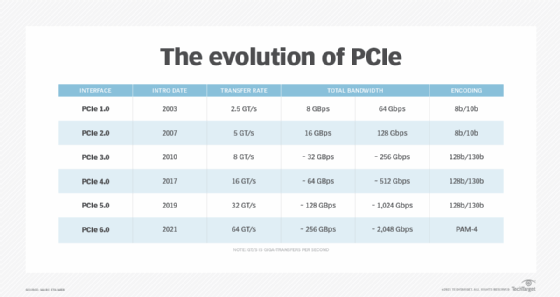 How much speed is needed?
The non-volatile memory express (NVMe) communication protocol is designed specifically to work with flash media via the PCIe interface specification. NVMe has emerged as the dominant interface for SSDs. The NVMe protocol provides an optimized command set for accessing a PCIe SSD. NVMe exploits the parallelism of PCIe standards to accelerate performance. An NVMe SSD connects through a PCIe bus or M.2 or U.2 connectors.
PCI-SIG also authored standards for M.2 SSDs, which provides PCIe connectivity for small form factors and is designed for internally mounted expansion cards. The M.2 specification replaced the mini SATA form factor. An M.2 PCIe SSD uses NVMe to enhance speed and performance.
With the release of PCIe 6.0 in 2022, a PCIe M.2 NVMe SSD with four lanes is rated for a theoretical throughput of 64 GBps. Even taking overhead into account, that is a high level of performance, albeit one that most organizations probably do not yet need.
Even so, industry forecasts project staggering data growth will continue for the foreseeable future. That growth, coupled with demand for extreme performance of storage and applications, is driving ongoing development of PCIe technologies.
Enterprise uses for PCIe flash include applications with read/write access measured in tens of microseconds. Data centers use PCIe flash to meet the intensive input/output requirements of workloads that must have low latency and extreme performance, such as the following:
Data analytics.
Graphics rendering.
In-memory database applications.
Machine learning.
Online transaction processing and data warehousing.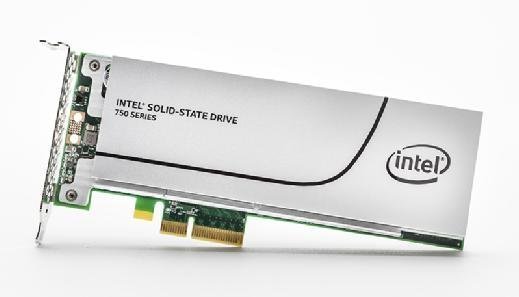 Differences between PCIe SSD and SATA SSDs
As previously discussed, PCIe-attached SSDs avoid the bottlenecks associated with SATA- or SAS-attached SSDs. The number of PCIe lanes per SSD determines the data transfer speed. A 16-lane device built on the PCIe 3.0 specification can support approximately 32 GBps. By contrast, SSDs built with a SATA III controller provide a maximum transfer rate of about 600 megabytes per second (MBps).
The SATA v3.2 specification defines SATA Express connectors for host and device connectors that simultaneously support SATA and PCIe protocols. SATA SSDs have much better hardware capabilities than PCIe, but PCIe generally delivers superior performance. While SATA SSDs offer speeds of 600 MBps, they are not nearly as fast as speeds offered by PCIe SSDs.
If maximum performance for frequent file transfers is needed, PCIe is likely the most efficient option. But, if budget is a concern, SATA is much more cost-efficient. PCIe SSDs cost more per gigabyte than SATA SSDs.
PCIe SSD drawbacks
The PCIe multipurpose bus carries varied data to the processor. Despite its inherent performance benefits, PCIe SSDs have a higher cost per gigabyte than traditional SSDs.
The lack of standard storage commands is another drawback. PCIe SSD device makers are required to write and qualify a custom software driver for OSes.
PCIe SSDs also tend to have a much shorter battery life. However, if someone is browsing the web, sending emails or doing something that may be CPU- or RAM-intensive, they may not notice much of a difference between SATA and PCIe SSDs.
PCIe SSD cost and market
Moderating flash prices have contributed to NVMe adoption, which, in turn, has made PCIe SSDs a viable option for more and more enterprises.
Pricing for PCIe SSDs differs by brand and available model sizes. The following list is representative of the various PCIe storage options available -- while most of the listed drives are intended for enterprises, some vendors also sell high-performance PCIe storage for gaming and other consumer uses:
Adata, a fabless chipmaker in Taiwan, has previewed its branded XPG PCIe 5.0 SSD with up to 8 terabytes (TB) of NAND flash.
Hewlett Packard Enterprise sells PCIe 4.0 NVMe SSDs that range from 1.92 TB to 15.36 TB capacities, intended for use with HPE-supported servers and storage.
Intel Corp. claims the P3700 Series of its Solid-State Drive Data Center family aids consolidation by providing the performance of up to seven SATA SSDs.
Kingston Technology offers a range of enterprise NVMe SSDs, including the KC3000 PCIe 4.0 M.2, the NV2 for smaller form factor devices and the DC1500M U.2 four-lane PCIe 3.0 for mixed workloads.
Toshiba spinoff Kioxia introduced the CD7 Series 5.0 PCIe SSD designed on Enterprise and Data Center Standard Form Factor (EDSFF). Kioxia's XD Series EDSFF are PCIe 4.0 drives, geared to hyperscale data centers. In May 2023, Kioxia unveiled the BG6 Series, a Gen4 PCIe lineup based on the company's BiCS 3D NAND flash.
Micron Technologies sells NVMe SSDs under its Crucial branding. The Crucial P5 Plus is PCIe 4.0 storage for high-performance computing, while the Crucial P3 Plus is aimed at data-intensive applications.
The Samsung PM1743 is the South Korean vendor's first Gen5 PCIe drive and rated for 13,000 MBps of throughput, double that of its predecessor, the PM1733.
The 2 TB Samsung Pro PCIe 4.0 NVMe SSD retails for about $160, the 1 TB version for $59.99 and the 500 GB version for $49.99. Samsung's 970 EVO M.2 NVMe PCIe SSDs range from $97.99 for the 250 GB model to $159.99 for the 512 GB version.
Samsung and Western Digital Corp. are collaborating to help develop drive technologies for NVMe Zoned Namespaces, a developing specification by the NVM Express industry group. The measure divides NVMe SSDs into zoned names to which data is written sequentially to boost capacity and endurance.
Seagate has plans to ship the Nytro 5050 NVMe SSD Series, which ranges from 12.8 TB to 15.4 TB.
Korean drive maker SK Hynix Inc. does not publicly disclose pricing, but its PE9000 lineup of PCIe 4.0-enabled SSDs integrate its own application-specific integrated circuit that is available in M.2, U.2 and the emerging EDSFF drives.
Western Digital sells the WD_Black SN850X NVMe SSD with or without a heat sink that comes in 1 TB, 2 TB and 4 TB capacities, ranging in price from $59.99 to $299.99.
This was last updated in
June 2023
Continue Reading About PCIe SSD (Peripheral Component Interconnect Express solid-state drive)