Definition
SATA Express (SATAe)
SATA Express (SATAe or Serial ATA Express) is a bus interface to connect storage devices to a computer motherboard, supporting Serial ATA and PCI Express protocols simultaneously. It was defined in a section within the SATA v3.2 specification released in 2013.
The host connector supports up to two SATA ports or two PCI Express (PCIe) lanes. A separate signal, produced by the drive, tells the host if the device is SATA or PCIe. This allows the motherboard to have a single connector to support a current SATA or PCIe drive.
At the logical interface level, SATA Express supports the Advanced Host Controller Interface (AHCI), which enables a PCIe device to be compatible with SATA software environments. NVM Express (NVMe), which is architected for high-performance solid-state drives (SSDs), can be used as the logical device interface for attached PCIe storage devices.
The data transfer speed of the SATA connector standard has evolved from a maximum of 1.5 Gbps in SATA 1.0, to 3 Gbps in SATA 2.0, to 6 Gbps in the current SATA 3.0. With the release of the SATA 3.2 update and the addition of SATA Express, a SATA drive connecting via the PCIe bus could, in theory, operate at 12 Gbps. In comparison, a PCIe SSD under the current PCIe 3.0 standard could operate at 15.8 GBps.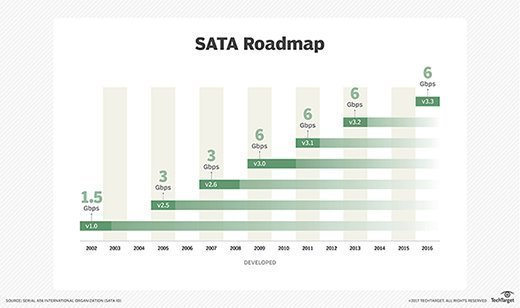 SATAe adoption
Despite these updates, SATA Express has had little penetration in the data storage industry marketplace. Intel Corp. chipsets, however, have supported the connector since 2014.
The Intel X99 chipset has supported both SATAe and the M.2 format based on the NVMe protocol since 2014. However, the much faster NVMe protocol eventually won out. There are no SSD manufacturers currently making a Serial ATA Express SSD.
If you have a motherboard with the SATAe connector, you can still connect SATA drives because the port is backward compatible. Because it is wide enough to accommodate the pin-out of PCIe, you can connect two SATA cables into the single SATAe connector.
SATA Express vs. M.2
SATAe and its AHCI protocol have lost dominance to M.2 and NVMe because of speed. A drive that uses the AHCI protocol across the PCIe bus will be faster than if it used the SATA bus, but the AHCI protocol will still bottleneck fast drives such as SSDs.
In addition, the AHCI command queue can hold up to 32 commands, but it can only process them one at a time since AHCI supports just one queue.
NVMe, on the other hand, has 65,536 command queues, each of which can hold 65,536 commands waiting to be processed.
This was last updated in
October 2017
Continue Reading About SATA Express (SATAe)
Dig Deeper on Primary storage devices