jules - Fotolia
Nimbus Data due to ship 100 TB SSD this summer
Nimbus Data claims the new ExaDrive DC100 will draw less power, improve endurance and provide balanced read and write performance compared with other enterprise SSDs.
Nimbus Data has unveiled a 100 TB SSD that will target capacity-sensitive data center and cloud infrastructure, scale-out file and object storage, and edge computing devices that generate large quantities of data.
The storage vendor claims its new ExaDrive DC100 solid-state drive will draw less power, offer greater endurance and provide equally balanced read and write performance in contrast to other enterprise SSDs in the market.
Nimbus Data CEO Tom Isakovich said the company, based in in Irvine, Calif., would sell its new 100 TB SSD as a stand-alone drive and offer it through partners and OEMs to be disclosed at a later date. Nimbus also plans to make available a new ExaDrive 50 TB SSD that, like the DC100, will supply 100,000 IOPS for both reads and writes.
The 3.5-inch ExaDrive DC100 and DC50 SSDs, which are due to ship this summer, will fit into the same drive bay and use the same SATA interface as hard disk drives in server and storage systems. The new SSDs use high-density, multi-level cell 3D NAND flash from SK Hynix and another supplier that Isakovich declined to disclose.
"We see 3.5-inch and SATA as the ideal interface for this class of SSD because it'll facilitate the migration from hard drives to SSDs," Isakovich said.
"When you look at the tiered storage landscape, on one end of the spectrum, you have NVMe [nonvolatile memory express] SSDs -- which can be 2.5-inch or M.2 or the new ruler form factor -- and they deliver extreme performance at a premium price and very high power consumption.
"On the other end of the spectrum, you have near-line hard drives at 7,200 rpm, 100 IOPS performance, very cheap. The gap in between those two is huge," he said. "The 10K and 15K hard drives don't meaningfully fill that gap. So, we see a capacity SSD as an emerging market opportunity that meets that meaty center of the bell curve."
The ExaDrive DC100 model doubles capacity and improves performance over the ExaDrive 50 TB SAS-based SSD, which Nimbus Data started offering last year with its highest-capacity ExaFlash C-series and D-series all-flash array models. Nimbus also licensed its software and hardware design to partners, such as Viking, which sells 50 TB SAS SSDs based on the ExaDrive technology.
Nimbus SAS vs. SATA SSD
Beyond the interfaces, the main differences between last year's 50 TB ExaDrive SAS SSD and this year's 50 TB and 100 TB SATA SSDs are flash type, performance and endurance. The SAS SSDs use two-dimensional, or planar, NAND flash, as opposed to the 3D NAND in the new SATA SSDs. The SATA-based ExaDrive DC100 and DC50 also offer five-times higher write IOPS and two-times higher read IOPS than the SAS-based SSDs, Isakovich said.
The new Nimbus Data ExaDrive 50 TB and 100 TB SSDs also carry an unlimited endurance guarantee for five years, with no drive-write-per-day restrictions, unlike other SSDs that may have restrictions. Multiple error-correction code engines and the "sheer amount of capacity" in the drive help to enable that level of endurance, according to Isakovich.
"A customer can run any workload they want on it for five years. And if for whatever reason they somehow miraculously manage to wear it out, it's a no-cost replacement for them," he said. "But we've done the math, and we can offer this because it's impossible to wear it out in five years."
Isakovich said the new Nimbus 50 TB and 100 TB SSDs use four controllers, instead of the typical single-controller design, to manage error-correction code and other flash management tasks. Nimbus Data's intellectual property also includes a field-programmable gate array that acts as a management processor to aggregate multiple pools of flash together as a single unit, he said.
According to Nimbus, power consumption can be as low as 0.1 watts per terabyte with the new ExaDrive DC100 and DC50. Embedded tantalum capacitors protect buffered data in the SSD's dynamic RAM in the event of a sudden power loss. The DC100 will have a mean time between failures of 2.5 million hours, according to Nimbus. Additional enterprise features in the new SSDs include encryption and secure erase.
Isakovich estimated the SATA-based Nimbus ExaDrive SSD could bring TCO savings of 42% over five years, compared with enterprise SSDs -- whether NVMe, SAS or some enterprise SATA drives. He also noted the ExaDrive DC100 SSD would offer a footprint advantage in data center racks, because server enclosures originally designed for 3.5-inch HDDs can pack drives more densely than enclosures designed for 2.5-inch SSDs.
Nimbus 100 TB SSD pricing
Pricing for the SATA-based ExaDrive 100 TB SSD is expected to fall closer to the low end of the current range of 50 cents to 90 cents per gigabyte, Isakovich said.
"It ain't cheap. Price will somewhat depend on availability of NAND," Jerome Wendt, president and lead analyst at DCIG, based in Austin, Texas, wrote in an email. "Big question: Is the market ready for a $50,000-plus price tag on a single SSD drive even if it does come with 100 TB of capacity?"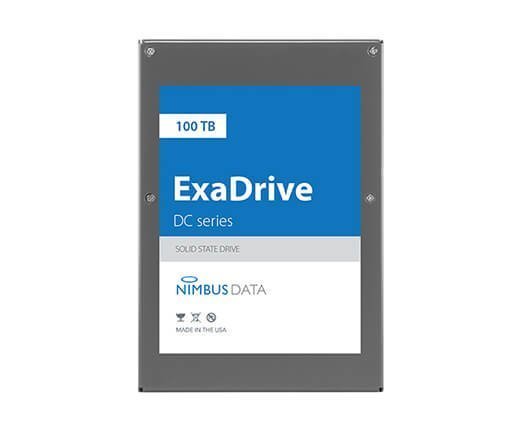 Eric Burgener, a research vice president for storage at IDC, said the price per gigabyte for the 100 TB SSD is much lower than the largest volume shipping SSDs to date: a 15.3 TB Samsung SSD. He noted that Samsung also announced a 30 TB SSD, and several vendors have discussed plans for 32 TB and 64 TB SSDs. He said the SATA interface would enable cost savings over NVMe-based SSDs.
"The 100 TB drive is about lowering the cost of using flash for capacity-sensitive secondary workloads, effectively replacing 10K and possibly even some 7.2K RPM HDDs," Burgener wrote in an email. "The 100 TB drive is not 2 cents a gigabyte like the cheapest 7.2K RPM HDDs, but it's a lot lower than any other flash drive. The biggest shipping HDDs to date are the 12 TB ones, so for a multi-petabyte data set, you need a lot of them; they draw a good amount of power, and you are dealing with the reliability profile of mechanical devices."
Wendt predicted the concept of the 100 TB SSD will be well-received, but adoption could be muted because of the source. He said the Nimbus 100 TB SSD is more likely to find a home with do-it-yourself shops such as managed service providers, web-scale companies and smaller competing flash providers. He noted Nimbus has some large-scale customers that exemplify the type of organizations that would want or need the product.
Nimbus Data claims to have more than 200 customers, including eBay, PayPal and Walt Disney. Isakovich said most customers have extensive internet or cloud infrastructure. Nimbus plans to demonstrate the new 100 TB SSD tomorrow at the Open Compute Project Summit in San Jose, Calif.
Given that NAND flash remains in tight supply, as it has for more than a year, Isakovich said Nimbus would communicate lead times to customers. "If a customer ordered 1,000 of these drives, they wouldn't have to wait a year to get them. It would probably be more like three to five months," he said.