jules - Fotolia
New enterprise SSDs launch from Intel, Micron, Toshiba
SSD manufacturers showing off new 3D NAND products at this year's Flash Memory Summit include Intel, Micron and Toshiba; Intel adds new SSD form factor and Optane options.
Vendors put the next wave of enterprise solid-state drives on display this week at the Flash Memory Summit, with...
Continue Reading This Article
Enjoy this article as well as all of our content, including E-Guides, news, tips and more.
3D NAND, Optane SSDs and NVMe-based drives leading the way.
Intel added a new solid-state drive (SSD) form factor, dual-ported 3D NAND and Optane SSDs, and updated SATA enterprise SSDs. Micron Technology unveiled 3D NAND non-volatile memory express (NVMe)-based PCI Express drives that, at 11 TB, are the vendor's highest-ever SSD capacity, and Toshiba previewed 64-layer 3D NAND SAS and NVMe-based PCIe SSDs.
Intel's new SSD form factor
Intel today introduced a new high-density, high-capacity SSD form factor called "ruler," named for its long, thin shape. The company claimed a ruler-based SSD can enable up to 1 PB of data storage in a 1U server using high-density 3D NAND flash. Intel said the ruler-based SSDs would also reduce power and cooling needs over legacy 2.5- and 3.5-inch SSDs and PCIe add-in cards.
In addition to flash-based drives, Intel also plans to offer the ruler form factor with its ultra-low latency Optane SSDs. The company said the ruler-based 3D NAND and Optane SSDs will become available in the "near future," but did not specify the timeframe.
Intel's latest dual-ported 3D NAND and Optane enterprise SSDs are designed for mission-critical applications that require redundancy and failover to enable high availability. They also boost IOPS and bandwidth and lower latency, Intel noted.
Intel is shipping the dual-ported Optane SSDs to select customers and plans to make them more widely available by the end of 2017. Dual-ported 3D NAND D4500, D4502 and D4600 Series PCIe SSDs are currently available.
Intel's second-generation triple-level cell (TLC) 3D NAND flash DC S4500 and S4600 SSDs use a new internally developed SATA controller, updated SATA firmware and denser 32-layer 3D NAND flash. The S4600 boosts mixed-workload performance by 30% over the prior generation, according to Intel. Capacity options start at 240 GB and go up to 1.92 TB with the S4600 and 3.84 TB with the S4500. A 7.68 TB S4500 option is due by year's end. The S4500 and S4600 SSDs are available now and carry a five-year warranty.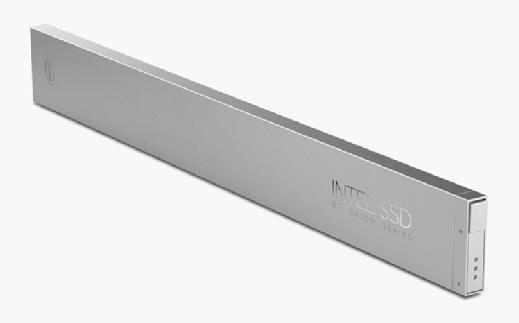 Micron
Micron's new 9200 Series of second-generation NVMe-based PCIe Gen 3 enterprise SSDs provide a significant capacity boost over the prior 9100 Series. The 11 TB option offers more than three times the capacity of the 9100's 3.2 TB maximum. The 9100 Series used multi-level cell planar NAND flash technology, whereas the new 9200 has higher-density 32-layer 3D NAND.
Micron plans to sell 9200 Eco, Pro and Max models in half-height, half-length (HHHL) and hot-pluggable U.2 form factors. The Eco model offers capacity options of 8 TB and 11 TB; the Pro ranges 1.92 to 7.68 TB; and the highest endurance Max starts at 1.6 TB and goes up to 6.4 TB.
The Max takes aim at write-intensive workloads and offers endurance of 8.6 PB to 34.7 PB of data written over the drive's life. The mixed-workload Pro model's endurance ranges from 3.5 PB to 13.7 PB, depending on the drive's capacity. And the Eco SSD is designed for read-intensive workloads, with endurance options of 11.4 PB and 15.7 PB.
Micron offers a Flex Capacity feature through free Storage Executive software to enable users to tune the endurance to meet their needs. For instance, a customer could take a low-endurance drive focused on read-intensive workloads and sacrifice capacity to increase the endurance and reuse the drive for write-intensive applications. The Micron software add-on, which is also available for other products, offers interactive graphical user interface and command-line interface options, according to Dan Florence, a product marketing manager of enterprise NVMe at Micron.
Micron's 9200 Series is due to become generally available on Aug. 31. Target use cases include application and database acceleration, real-time data analysis, high-frequency trading and high-performance computing. Micron also plans to use the 9200 SSDs in its SolidScale storage appliance, which supports NVMe over Fabrics (NVMe-oF) to speed data transfer.
Florence said updated controller technology, firmware and parallelism help to boost the performance by 5% to 10% over Micron's previous NVMe SSDs. Micron-supplied specifications showed a maximum large-block sequential read transfer speed of 4.6 Gbps and sequential write speed of 3.8 Gbps and a maximum small-block random read speed of 1 million IOPS across the 9200 Eco, Pro and Max models. The Max HHHL SSD offers a top random write speed of 270,000 IOPS. The Pro's maximum random write speed is 170,000 IOPS, while the Eco's is 110,000 IOPS.
Upcoming Toshiba SSDs
Toshiba revealed it is developing 64-layer 3D NAND CM5 NVMe SSDs and PM5 12 Gbps SAS SSDs. Select OEM customers are sampling the TLC 3D NAND SSDs, and Toshiba expects to complete the development by the end of 2017.
The dual-ported CM5 PCIe Gen 3 SSD supports latency-lowering NVMe and NVMe-oF and offers multi-namespace and multistream capabilities. Toshiba claims the CM5 can deliver up to 800,000 IOPS for random reads and 240,000 IOPS for random writes with the model that supports five drive writes per day (DWPD). The three DWPD model tested out at up to 220,000 IOPS for random writes, according to Toshiba.
With its CM5 drive, Toshiba is demonstrating Persistent Memory Region (PMR) technology that can bolster system memory with DRAM on the SSD as an alternative to non-volatile dual in-line memory modules (NV-DIMMs). The PMR technology can enable metadata operations such as logging, journaling and application staging to move to the SSD to save costs, Toshiba said.
Toshiba's PM5 SAS SSD series will offer a range of capacity and endurance options: 400 GB to 30.72 TB in a 2.5-inch form factor, and choices of one, two, three, five and 10 DWPD. Toshiba claims the PM5 SSD's four-port MultiLink SAS design enables performance close to PCIe-based SSDs, enabling SAS users to forgo a legacy infrastructure overhaul.
PM5 performance testing showed up to 3,350 MBps for sequential reads and 2,720 MBps for sequential writes in MultiLink mode, and up to 400,000 random-read IOPS in narrow dual or MultiLink mode, according to Toshiba. The PM5 SSDs also support multistream write technology to facilitate the grouping of data types to minimize write amplification and garbage collection and ultimately lower latency and boost endurance, performance and quality of service, according to Toshiba.