Klemsy - Fotolia
Micron's SATA-based QLC SSDs take aim at 10K HDDs
Micron targets 10,000 rpm HDDs in read-intensive enterprise workloads with new 5210 ION quad-level cell SSD that stores 33% more bits per cell than triple-level cell NAND flash.
Micron Technology took another step toward cheaper, denser NAND flash with the general availability release of its quad-level cell SSDs for the enterprise.
Micron began shipping the 5210 ION QLC SSDs to select customers five months ago but made the drives generally available last week. The Micron 5210 ION QLC SSDs use 64-layer 3D NAND flash and range in capacity from 1.92 TB to 7.68 TB. The QLC 3D NAND stores four bits of data per memory cell and enables a 33% bit density boost over triple-level cell 3D NAND.
But while Micron's 5210 ION QLC SSDs may be cutting-edge in density, they buck the industry trend toward non-volatile memory express (NVMe) technology. Micron uses a slower SATA interface instead of PCI Express (PCIe) with faster, latency-lowering NVMe.
Micron's 3D NAND flash joint development partner Intel in August unveiled 660p client and D5-P4320 data center NVMe-based PCIe QLC SSDs that offer maximum capacities of 2 TB and 8 TB, respectively. Intel said the higher capacity that QLC 3D NAND enables would make the SSDs a replacement candidate for slower HDDs.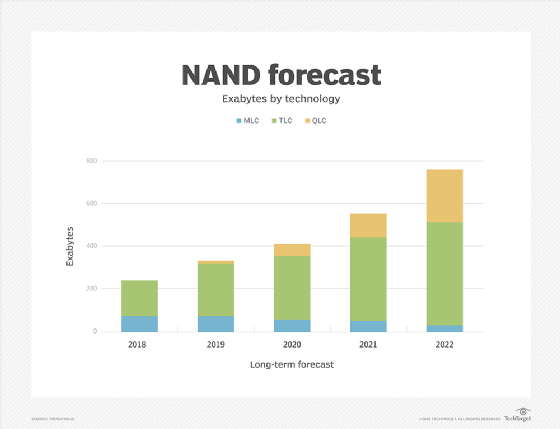 Seen as potential HDD replacement
Micron also envisions its SATA-based 5210 ION QLC SSDs challenging HDDs for read-intensive, performance-sensitive workloads. Steve Hanna, Micron senior product manager for enterprise SSDs, said the 5210 ION SSD's list price of about 20 cents per GB will be comparable to the cost of a 10,000 rpm HDD at a similar capacity point.
The SATA interface makes the most sense for the new QLC SSDs given that more than 70% of today's server sockets are SATA compatible, Hanna said. Customers also get a five-year warranty rather than the typical three-year warranty with HDDs, plus better quality of service, steady-state performance and latency, he added.
Don Jeanette, a vice president focusing on NAND and SSDs at Trendfocus, said Micron's success selling enterprise SATA SSDs makes QLC NAND a natural fit for the vendor.
"There's a large installed base of HDDs and SSDs utilizing the SATA interface. As a drop-in replacement, the QLC SATA SSD allows Micron and its customers to see where QLC fits for their storage needs," wrote Greg Wong, an analyst at Forward Insights, in an email.
Target workloads for QLC SSDs
Workloads that Micron envisions for the 5210 ION QLC SSDs include read-intensive artificial intelligence data lakes, machine and deep learning, real-time analytics, Ceph block and object stores, business intelligence on SQL Server, NoSQL databases and media streaming.
The 5210 ION QLC SSDs support less than one drive write per day, referring to how many times a user can expect to overwrite a drive's capacity before it becomes unreliable. Hanna said enterprise users can write 1 TB of data or more per day with every capacity option of the 5210 SSD, and many write less than that, making the QLC SSD a suitable option.
Workloads that wouldn't be a good fit for QLC SSDs include virtualization databases and online transaction processing applications that are I/O intensive with lots of random writes.
Trendfocus's Jeanette predicts that QLC SSDs will be a niche market into 2020. In addition to Micron and Intel, other vendors working on QLC products include Samsung, Toshiba and Western Digital.