jules - Fotolia
Micron starts shipping denser QLC SSD to select customers
Micron and Intel unleash QLC NAND flash that can store 4 bits per cell. Micron starts shipping a 2.5-inch QLC enterprise SATA SSD to select customers and targets fall for general availability.
Micron Technology Inc. has started shipping enterprise solid-state drives with new high-density QLC 3D NAND flash...
Continue Reading This Article
Enjoy this article as well as all of our content, including E-Guides, news, tips and more.
technology it jointly developed with Intel.
The new Micron 5210 ION quad-level cell (QLC) SSD, with a raw capacity up to 7.68 TB, uses 64-layer 3D NAND flash that can store 4 bits of data per memory cell. The QLC 3D NAND technology supplies a 33% boost in density over the triple-level cell (TLC) 3D NAND that is becoming pervasive across the industry, according to Micron.
The new QLC SSD is shipping to select customers now and is due to become generally available in the fall.
Micron and Intel claimed to be the first flash chipmakers to ship QLC NAND, although competitors have also been working on QLC technology. Toshiba Memory Corp. said in June 2017 it was sampling QLC 64-layer 3D NAND flash devices to SSD and SSD controller vendors. Toshiba's NAND partner, Western Digital, chimed in a month later with news about its technology on 3D NAND that stores 4 bits per cell.
"For the past year, there's been a lot of talk about it. We know that everybody's been sampling drives. But nobody's actually sold one and shipped a production-caliber product," said Steve Hanna, senior product marketing manager at Micron. "The 5210 ION SSD is the first drive that's being sold -- not sampled."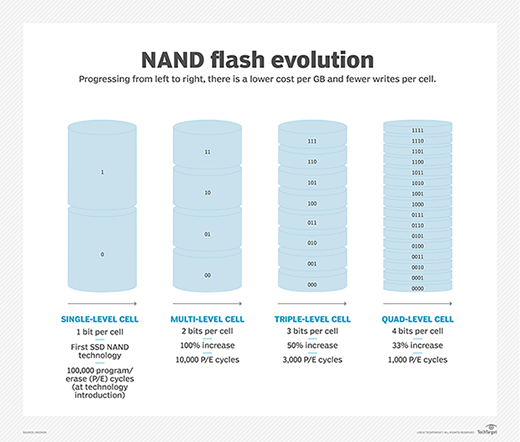 Intel mum on QLC SSD plans
Intel said it has started sampling QLC 3D NAND with a 1 Tb density per die with select customers. But the company declined to discuss its QLC SSD plans. An Intel spokesman said product news would be available later this year.
Hanna said Micron's "production-caliber" 5210 ION SSD is currently shipping to "early engagement customers," such as server and storage OEMs, cloud providers and enterprise customers. There may be changes to the SSD by the time it becomes generally available. Micron has released only scant specifications on the product and declined to discuss the SSD controller technology it is using.
"We're continuing to learn more and improve the product so that when the general availability date comes out, we may make even further improvements," Hanna said.
The 5210 ION is a 2.5-inch enterprise SSD, with a raw capacity range of 1.92 TB to 7.68 TB. Micron said the drive would support the company's Flex Capacity feature to enable customers to configure the drive's endurance and write performance. But the company declined to provide endurance and performance information until the fall.
"You'll see a bit of reduction in the write performance capabilities, similar to what we've seen in past [NAND flash] technology transitions. The endurance is also going to be a bit lower than what we've had in the past," said Jason Echols, a senior technical marketing manager at Micron. "But what it does is bump up the affordability. It bumps up the density. It gives you the read performance. It still gives you the reliability of an SSD, especially versus hard drives."
Micron designed the new 5210 ION SSD for use with read-intensive workloads, such as artificial intelligence, machine learning, real-time analytics, big data and media streaming. Hanna said the new QLC SSD product would provide "the most affordable way" in a long time for enterprises to shift performance-sensitive workloads from spinning disk to flash.
Micron opted for the slower SATA interface for its first QLC SSD over the higher-performance nonvolatile memory express (NVMe) options Hanna said competitors have been sampling and his company plans to use in the future. Hanna noted the majority of enterprise storage systems still use HDDs, and more than 70% of server sockets are SATA-compatible.
Plus, customers with highly read-intensive workloads could get an ample performance boost from SATA SSDs at a "more approachable price point" than NVMe SSDs, Hanna said.
Micron plans to market the 5210 ION SSD strictly for read-intensive workloads, because the QLC SSD has an endurance level of 1,000 program/erase (P/E) cycles, also known as write cycles, and could wear out faster than other types of flash. By contrast, single-level cell (SLC) flash storing 1 bit per cell can withstand up to 100,000 P/E cycles. Multi-level cell (MLC) flash, at 2 bits per cell, supports up to 10,000 write cycles. And TLC flash has an estimated endurance of 3,000 write cycles.
Micron and Intel said they are making progress on third-generation 96-tier 3D NAND, with a 50% increase in layers. The 64-layer QLC and 96-layer TLC flash technologies use complementary metal oxide semiconductor technology under the array to reduce the die size, read and write more cells in parallel, and improve performance, according to the vendors.
"QLC is going to augment TLC; it's not going to replace it. But it is going to supplement it and enable further growth of SSDs against hard drives," Hanna predicted.
Hanna said most of the market performs less than one drive write per day, and workload profiles often tend toward sequential writes that are gentler on SSDs than random writes. He claimed Micron's QLC SSD testing has shown "far greater endurance than I think people realized," but he declined to provide specifics. He said the 5210 SSD would carry the standard five-year warranty and support enterprise features, such as encryption, power-loss protection and data-path protection.
Joseph Unsworth, a Gartner research vice president, said QLC is a long-term imperative, as the flash industry confronts the challenges of scaling the technology and providing consistent cost reductions. He said Gartner estimated the price range for QLC could be about 15% lower than the equivalent TLC derivative.
Unsworth said he doesn't expect QLC to repeat the TLC trend and become pervasive. Gartner predicted about 20% of all the NAND flash bit output could be on QLC technology by 2021 and could hit 60% by 2025.
"MLC replaced SLC and pretty much killed SLC. TLC replaced MLC and pretty much killed MLC. But QLC is not going to kill TLC. QLC is going to become an alternative to TLC," said Tim Stammers, a senior analyst at 451 Research. "With QLC, you're going to get less endurance. You can write to it fewer times before it wears out. And it's going to be slower. Why would anyone want that? Because it's also going to be cheaper."
Next Steps
Frequently asked questions: QLC NAND edition