New enterprise SATA Micron SSDs use 64-layer 3D NAND flash
Micron launches new 5200 Series enterprise SATA SSDs with high-density 64-layer 3D NAND flash technology, offering similar performance to prior 32-layer 5100 Series.
While the industry buzzes about NVMe-based PCIe SSDs, Micron Technology is counting on a healthy enterprise SATA...
Continue Reading This Article
Enjoy this article as well as all of our content, including E-Guides, news, tips and more.
SSD market, too.
Micron this week launched a 5200 Series of enterprise SATA SSDs. The new 2.5-inch Micron SSDs use the latest 64-layer 3D triple-level cell NAND flash, a shift from the 32-layer technology built into the vendor's year-old 5100 Series. Higher density 64-layer 3D NAND will enable a reduction in the price per GB, according to Matt Shaine, the product manager for Micron's 5100 and 5200 SSDs.
The single-port 5200 SATA SSDs target enterprise servers running latency-sensitive, read-intensive virtualized workloads such as online transaction processing, virtual desktop infrastructure, media streaming and business intelligence and data-driven support systems.
"We absolutely see a market for SATA SSDs in the enterprise," Shaine said. "This year, next year and for the foreseeable future; there's no doubt the industry is making a transition to NVMe-class drives. But there's a tremendous amount of drive growth and, in general, bit growth in the industry. And we really see that growth is driving our SATA volumes that we're projecting out for the next several years."
Steve Hanna, a senior product marketing manager at Micron, said SSD market data shows the SATA drive interface is the most popular followed by SAS and NVMe PCI Express (PCIe). He said he expects the order to eventually shift to NVMe PCIe, SATA and SAS.
Industry analysts predict NVMe-based PCIe SSDs could reach price parity with SATA SSDs later this year, spurring greater adoption of the lower-latency, higher-performing NVMe drives. But Shaine said the projected date for price parity has been pushed out several times and Micron is betting on both SATA and NVMe moving forward.
Same architecture for 5100/5200 Micron SSDs
Micron's 5100 and 5200 enterprise SATA SSDs have few differences beyond the NAND flash technology. Shaine said the two Micron SSDs use the same controller and component hardware and 90% of the same firmware to ease the transition for OEM and cloud customers.
The new read-intensive Micron SSDs ship in two models: the 5200 PRO, rated at less than two drive writes per day, and the 5200 ECO, capable of less than one drive write per day. The 5200 PRO model offers capacity options of 960 GB and 1.92 TB, and the 5200 ECO model ranges from 480 GB to 7.68 TB.
IT managers can use Micron's Flex Capacity feature to adjust the drive's endurance, performance and capacity to suit their needs. Endurance options for the new 5200 Series range from 870 TB to 8.4 PB written with the 5200 ECO model and 2.27 PB to 5.95 PB written with the 5200 PRO.
Micron's 5200 Series is available only in a 2.5-inch drive form factor, whereas the 5100 Series also includes smaller M.2 SSD models. The capacity range for the 5100 Series is 240 GB to 7.68 TB, and the older Micron SSDs are available in ECO, PRO and MAX performance/endurance options.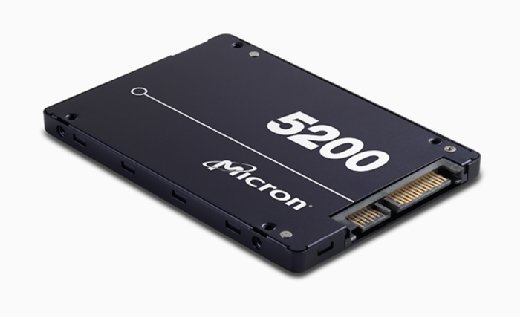 Performance: 5100 vs. 5200 Micron SSDs
Shaine said the performance levels are similar between the 5100 and 5200 drives, and Micron made enhancements to improve the performance consistency with the newer model. Micron claimed the 5200 SSDs could deliver up to 95,000 IOPS for random reads and 33,000 IOPS for random writes.
Gregory Wong, principal analyst at Forward Insights, pointed out that it is noteworthy for Micron to maintain the performance level of the 5100 Series while migrating the flash to 64-layer 3D NAND.
"Normally when you double the die density, the performance drops," Wong wrote in an email.
The list price for the new 64-layer 3D NAND Micron 5200 SSDs ranges from about 35 cents to 50 cents per GB, depending on the capacity, according to Micron. Shaine said when the 5100 model launched in December 2016, list prices ranged from 45 cents to 75 cents per GB..
On an industry-wide basis, Wong said the low street price in the fourth quarter of 2017 was 30 cents per GB for enterprise SATA SSDs, 39 cents per GB for enterprise NVMe PCIe, and 42 cents per GB for enterprise SAS SSDs. He said the comparison is based on the price of 2 TB enterprise SSDs. SATA currently accounts for 70% of enterprise SSD shipments, according to Wong.
The new Micron SSDs are available now to OEMs for qualification and through distributors such as ASI, Avnet, CDW, Ingram, Microland, Synnex and WPG-Americas for purchase.
Wong said he expects the 5200 Series to continue the momentum of the successful 5100, which doubled Micron's enterprise SSD market share. He said SATA SSDs would be sufficient for most enterprises, while hyperscale data centers make an earlier transition to NVMe-based SSDs.
Micron's enterprise SATA SSDs carry a five-year warranty and include enterprise features such as AES 256-bit encryption, power-loss protection, end-to-end data path protection, and hot-swap capabilities. They have a mean time to failure of 3 million device hours, compared to the 2 million hours often found in enterprise SATA SSDs.