yoshitaka272 - Fotolia
Nimbus adds cheaper 64 TB QLC SSDs to complement 100 TB SSD
New 3.5-inch 64 TB SSDs from Nimbus Data with QLC flash offer a higher-performance alternative to HDDs for enterprises trying to reduce power, cooling and rack space costs.
Nimbus Data is once again pushing the envelope in enterprise SSD capacity with the launch of a new 64 TB storage drive built with dense quad-level cell NAND flash.
The storage vendor, based in Irvine, Calif., got into the solid-state drive business two years ago with a 100 TB SSD that uses more expensive, high-endurance multi-level cell (MLC) flash capable of storing two bits of data per cell. The list price for the 100 TB ExaDrive DC drive is $40,000, or $400 per TB.
Nimbus Data's new ExaDrive NL 64 TB SSD stores four bits per cell and sells for less than half the cost, at $170 per TB, or $10,900 for the drive. Both the ExaDrive NL and DC models support SAS and SATA interfaces and can slot into the standard 3.5-inch server slots that spinning disks use.
The new 64 TB ExaDrive NL SSD is the latest example of the growing number of high-capacity storage options that enterprises have for workloads such as streaming media, analytics and object stores packed with unstructured data. Just a day earlier, Pure Storage unveiled its upcoming 49 TB QLC DirectFlash module. Earlier this year, IBM introduced a 38.4 TB FlashCore Module for its FlashSystem arrays
Unlike the Nimbus Data's SSD, the IBM and Pure Storage custom flash modules are available for use only in their storage systems and support PCI Express and NVMe for faster data transfer. Nimbus Data's ExaDrive NL SSDs are certified to work with servers from major vendors such as Dell EMC, Hewlett Packard Enterprise, Lenovo, Cisco and Supermicro.
Potential HDD replacement
Marc Staimer, president at Dragon Slayer Consulting in Beaverton, Ore., said enterprises could consider the ExaDrive NL SSD as a potential replacement for their hard disk drives (HDDs). He said that although the new ExaDrive NL SSDs would cost three to four times more per GB than an HDD, they would bring savings in power, cooling and rack space in addition to delivering better performance and durability.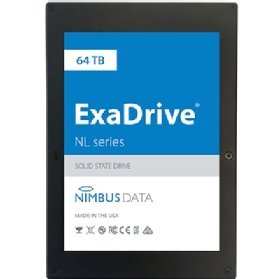 "Most people think hard disk drives are more durable than SSDs, and they're not. They're not even more durable than QLC SSDs," Staimer said. He pointed to Nimbus specifications showing that the QLC-based ExaDrive NL SSD can handle 0.2 to 0.6 drive writes per day (DWPD), in comparison to 0.1 or 0.08 for leading high-capacity HDDs.
Staimer said ExaDrive NL SSDs also weigh far less than HDDs, making maintenance and drive replacement considerably easier. Nimbus' NL SSDs are available at capacities of 16 TB and 32 TB, in addition to 64 TB.
The current high-capacity mark is 30.72 TB for a standard enterprise SSD from the leading manufacturers. Samsung and Kioxia have drives that use triple-level cell (TLC) NAND to get to 30 TB, in contrast to the denser four-bits-per-cell QLC that Nimbus, Pure and IBM are using.
Customers are receptive to QLC
Jim Handy, general director and semiconductor analyst at Objective Analysis in Los Gatos, Calif., said customers who once thought MLC and later TLC were not enterprise-worthy are now open to using QLC flash. He said concerns about migrating from one type of flash to another largely vanished as algorithms have grown more sophisticated for error correction, garbage collection and other flash management functions.
Handy said that as users have become increasingly sophisticated, they've started to care less about the number of DWPD and the time required to read the entire contents of a storage drive and more about how much data they can store in a box or rack unit.
"That's mostly because the system administrators now understand their workloads," Handy said. "Part of it is also because they have a way of dividing up their workloads so that those that require an awful lot of write traffic can actually be put somewhere else."
Handy said system administrators can now look at the lowest number of DWPD they can tolerate, and if they find similar figures with TLC and QLC, they'll go with the cheaper QLC SSDs.
QLC SSD adoption is still nascent, but interest is rising for read-intensive workloads such as databases, streaming content and analyzing real-time data for artificial intelligence and machine learning, according to Jeff Janukowicz, a research vice president at IDC.
With their legacy SAS and SATA interfaces, the ExaDrive NL SSDs are best suited to read-intensive workloads rather than the high-performance, IOPS-intensive use cases that faster PCIe-based NVMe SSDs can tackle. The 64 TB SATA SSD supports up to 114,000 IOPS for random reads and 105,000 IOPS for random writes at a 4 KB block size, and throughput of 500 MBps for reads and 460 MBps for writes.
"We're not trying to be the fastest. We're trying to provide the most efficient, high-capacity flash storage possible," said Nimbus Data CEO Tom Isakovich. "We don't need to have the same amount of endurance as a super high-performance SSD."
Isakovich noted the challenges Nimbus faced in enabling the controller, firmware and flash translation layer to handle 64 TB of capacity within the power constraints of a 3.5-inch hard drive. He said Nimbus engineers also had to design the outer case with sufficient ventilation to dissipate the heat that the drive generates.
Target customers for the ExaDrive NL SSDs include server manufacturers, object storage suppliers, scale-out NAS vendors, hyperscalers and content delivery networks, according to Isakovich.
Isakovich said the ExaDrive NL SSDs would stand out with their 3.5-inch form factor, with a target market of more than a billion 3.5-inch HDD slots in servers. Nimbus' SAS competition includes Samsung, Kioxia and Seagate, but none have 3.5-inch QLC SSDs, he said.