kran77 - Fotolia
Intel Optane SSD starts shipping to select customers
New Intel Optane SSDs based on long-awaited 3D XPoint technology ship to early customers, promising up to eight times the performance over NAND flash-based NVMe PCIe SSDs.
Intel's decade long work on high-performance 3D XPoint memory technology finally emerged in the form of an Optane SSD. Intel claims the new drive will deliver better response times than any data center SSD on the market, but analysts say it will require future technology advancements to fully unlock its performance.
The 375 GB Optane DC P4800X Series SSD launched March 19 is shipping to select customers, with broad availability expected in the second half of the year. Intel claims the new Optane SSD will boost throughput, lower latency, enhance quality of service and improve endurance to as much as 30 drive writes per day over its NAND flash-based DC P3700 SSD.
James Myers, director of nonvolatile memory express solution architecture at Intel, said the Optane SSD would enable customers to "break bottlenecks." Intel envisions the Optane SSD being used for high-performance storage and caching, as well as to extend or replace memory. Optane SSDs could enable users to increase a server's memory by as much as eight times, or to displace dynamic RAM (DRAM) at a ratio of as much as 10:1 for select workloads, according to Myers.
Myers said the most obvious way for customers to extend memory would be with the 3D XPoint-based DIMMs that Intel plans to release. But he provided no information on the DIMM release date.
Myers cited three ways to extend memory using Optane SSDs now:
Through an operating system paging mechanism;
Through optimized applications; or
Through Intel's Memory Drive Technology supported on Intel's Xeon processors.
Paging moves data out to the PCI Express-attached SSD if the DRAM fills for a workload. The Intel Memory Drive Technology software middleware boots before the OS and presents a pool of memory associated with the DRAM and Optane SSD, Myers said.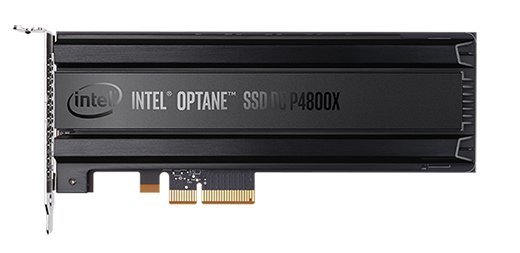 Optane SSD: Prelude to DIMMs
Industry analysts view Intel's Optane SSD as a prelude to the future DIMM-based products that could facilitate the breakthrough performance Intel originally promoted with the 3D XPoint technology.
From a performance and price standpoint, the 3D XPoint technology that Intel and Micron developed falls between ultra-fast but costly DRAM and cheaper but slower NAND flash. The vendors initially said the technology could be up to 1,000 times faster than flash.
According to the new Optane SSD product brief, the P4800X drive performs five to eight times faster than Intel's flash-based DC P3700 in internal tests at low queue depths using a mixed workload. Intel claimed the P4800X can reach as much as 500,000 IOPS -- or approximately 2 GBps -- at a queue depth of 11.
"The reason it's not as fast as they said it was going to be is not so much limited by the technology as it is limited by the bus," said Jack Gold, founder and principal analyst at J. Gold Associates LLC in Northborough, Mass. "When Optane will really shine is when you can actually get it into the high-speed connector."
Like Intel's flash-based P3700 SSD, the new Optane P4800X uses the PCI Express (PCIe) bus that is directly memory-mapped to the CPU, with a streamlined NVMe command set to transfer data. NVMe-based PCIe SSDs can deliver lower latency and higher performance than conventional SAS or SATA SSDs that must use an adapter to access data transferred via the SCSI or ATA command set.
"PCIe is really fast, but it's not fast enough for 3D XPoint," said Tim Stammers, a senior storage analyst at 451 Research. "PCIe drives are going to cripple the performance of 3D XPoint."
Stammers said 3D XPoint could ultimately turn out to be a "landmark moment in the history of IT" as the first new memory technology to ship in decades. But he said "real sales" probably wouldn't come until Intel releases the technology in nonvolatile DIMMs that fit into DRAM slots and use the double-data-rate bus.
"That's going to be the significant product," Stammers said.
There's an awful lot of beauty in this whole Optane and 3D XPoint story and putting another memory layer in.

Jim Handygeneral director and semiconductor analyst, Objective Analysis
Jim Handy, general director and semiconductor analyst at Objective Analysis in Los Gatos, Calif., said the 3D XPoint-based DIMMs could perform close to 1,000 times faster than NAND flash if the vendor's chip performance claims hold true. Until then, the Optane SSD's performance boost of five to eight times might appeal to enterprises with "cost-be-damned applications," such as high-frequency trading, he said.
"There's an awful lot of beauty in this whole Optane and 3D XPoint story and putting another memory layer in," Handy said. "That's going to work very much to Intel's advantage. But there is this cost bugaboo they have to get over -- being able to produce the thing in volume and take advantage of the economies of scale."
Handy predicted Intel might sell the Optane SSDs at a loss for as many as two years. But he said it would make sense for Intel to take the loss, because the Optane SSD customers would likely buy new higher-performance processors.
Optane pricing
Intel said the Optane P4800X add-in card lists at $1,520 at a capacity point of 375 GB, or $4.05 per gigabyte. Additional capacity points and form factors are expected to start rolling out in the second quarter. The list price for the 400 GB model of the flash-based NVMe PCIe P3700 SSD is $879, or about $2.20 per gigabyte.
Jeff Janukowicz, a research vice president in SSD and enabling technologies at IDC, said the price range for high-end NVMe PCIe SSDs is 80 cents to $1 per gigabyte out of the factory. But he said the NVMe PCIe SSD prices would likely be higher for end users purchasing them.
Charles King, principal analyst at Pund-IT Inc., said demand could be modest for the Optane SSD, as is the case with most new technologies. But he said he expects strong interest among vendors that focus on large-scale cluster environments; cloud and virtualization services; and memory-intensive workloads, such as artificial intelligence, machine learning and financial transactions.
"The additional $400 or so cost of the Intel Memory Drive Technology needed to use the drives in memory pools may cause some to hesitate until they are assured Optane can deliver its promised benefits," King added in an email.