Anterovium - Fotolia
Intel, Micron end 3D XPoint memory joint development
Micron and Intel plan to end their joint development of nonvolatile 3D XPoint memory next year, after finishing work on the second generation of the nonvolatile memory technology.
The declaration that Intel and Micron are ending their 3D XPoint joint development raises doubt over the future of the nonvolatile memory technology.
"Seeing this relationship go in separate ways casts a shadow on the future of 3D XPoint," said Jim Handy, general director and semiconductor analyst at Objective Analysis. "This would not be a confidence booster for anyone who would be buying it."
Intel and Micron position 3D XPoint memory as a new tier between dynamic RAM (DRAM) and NAND flash. They have developed 3D XPoint memory together, while working independently to deliver products based on the technology. But Micron has not shipped anything based on 3D XPoint memory yet, and industry analysts said Intel's 3D XPoint Optane products have produced little revenue.
Intel and Micron issued a press release this week, saying they would end their 3D XPoint partnership in 2019 after they complete work on the second generation of the technology.
The vendors said they would independently pursue any development beyond the second generation so they could optimize it for their respective product and business needs. Intel and Micron made a similar declaration earlier this year with respect to their joint development of 3D NAND flash technology. The vendors said they would work independently on flash after they complete third-generation 3D NAND.
3D XPoint advantages
Their 3D XPoint memory technology promises significantly lower latency and greater endurance than NAND flash memory, which has become prevalent in the data storage industry. But some analysts envision the key form factor for 3D XPoint could be dual in-line memory modules. DIMMS can better exploit the technology's performance advantage over NVMe-based SSDs that use a PCI Express bus.
This would not be a confidence booster for anyone who would be buying it.

Jim Handygeneral director and semiconductor analyst at Objective Analysis
However, Handy said Intel and Micron are behind schedule in introducing 3D XPoint DIMMs. Whether the delay is due to demand or technical issues, he said it is causing concern for those interested in the technology.
"I have always really loved the XPoint idea and how it fits into the computer architecture. It's a thing of great beauty, because it's faster than flash and cheaper than DRAM. It just comes down to whether or not it can be executed," Handy said.
Other analysts remain more optimistic about the technology's long-term success.
Jeff Janukowicz, a research vice president at IDC, said interest remains high for 3D XPoint memory in both nonvolatile memory express (NVMe) SSDs and DIMMs. Because of product delays, he said customer adoption so far has focused on niche applications. Still, IDC expects momentum to increase for 3D XPoint, with broader market acceptance still likely a year away.
Joseph Unsworth, a research vice president at Gartner, added in an email, "We do expect 3D XPoint to play an increasingly important role in 2020 and beyond."
Tim Stammers, a senior analyst at 451 Research, said the lack of market adoption of Intel Optane devices doesn't mean the technology has no chance of ever succeeding.
"Intel has said publicly that it expects 3D XPoint to sell better in NVDIMMs than in NVMe drives," Stammers said. "Those 3D XPoint NVDIMMs will not begin shipping until later this year. Also, price is key to any product. And if manufacturing volumes and yields increase, Intel could lower the price of 3D XPoint-powered devices."
Intel and Micron representatives declined requests for an interview. According to their press release, Intel and Micron expect to wrap up their joint development of second-generation 3D XPoint in the first half of 2019. The vendors indicated they will continue to manufacture memory chips based on the technology at the IM Flash Technologies facility in Lehi, Utah.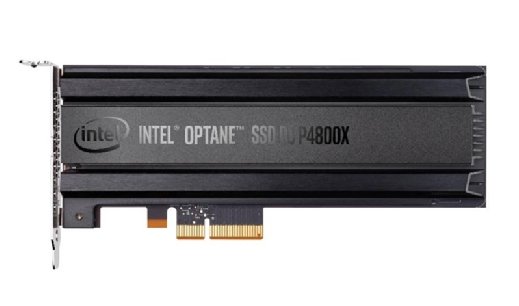 Intel struggles to sell Optane
This week's Intel-Micron news broke amid reports that Intel has struggled to sell its Optane products, according to a Wells Fargo Security research note. Micron CFO David Zinsner said during a June earnings call that his company had sold "very little" 3D XPoint to Intel and potentially might not sell any to its partner this quarter. On that same call, Micron CEO Sanjay Mehrotra claimed Micron is on track to introduce its first 3D XPoint memory product in late 2019, with "meaningful revenue" in 2020.
Handy said Intel must produce "an awful lot of product" to achieve its goal with 3D XPoint.
"They're in a lot of trouble from the standpoint of the economies of scale -- the thing that's going to cause their prices to go down to where they need to be," he said.
Intel unveiled its first product based on 3D XPoint in March 2017 under the Optane brand name. The 375 GB Optane P4800X is an NVMe-based PCIe add-in card designed for data center use, but the company promised additional capacities and form factors.
In October, Intel launched the first Optane SSD for desktop PC and workstations, claiming its 900P Series would boost 3D rendering, complex simulation and gaming applications. The company followed up in March of this year with the Optane SSD 800P in the M.2 form factor that supports the PCIe 3.0 interface. The 800P targets system boot, application loading and multitasking in desktop PCs and laptops.
On the memory front, Intel made available an Optane memory module last year as an add-in computer component at capacities of 16 GB and 32 GB. Intel said Dell's XPS and Alienware gaming desktop PCs with seventh-generation Intel core processors use Optane memory.
More recently, Intel began sampling Optane DC persistent memory to enable data center users to minimize latency by keeping data close to the processor. The company said Optane DC persistent memory would ship in late 2018 to select customers and become broadly available next year in capacities up to 512 GB per module.
Persistent memory modules have the potential to drive the sort of breakthrough performance that Intel and Micron originally envisioned for 3D XPoint technology. The vendors initially said the technology could be up to 1,000 times faster than NAND flash.
But Intel's Optane SSDs delivered a performance boost of only 5x to 8x over the company's standard NVMe-based PCIe SSDs. Many analysts, in turn, expressed skepticism that Optane SSDs would catch fire, given their price premium at the time and limited performance boost due to the PCIe bus choke point.
"3D XPoint's brightest future is in the data center," Gartner's Unsworth said.
"There's a role for a new nonvolatile memory tier, but to meet this need, it requires the ability to scale in order to come cheaper, industry support and application optimizations in order to fully exploit the advantages," he wrote in an email.
Dig Deeper on Storage architecture and strategy