beckmarkwith - Fotolia
Micron 3D XPoint SSD uses new controller to boost speed
Micron Technology's new X100 SSD will become the first competitor for Intel's Optane in the market for 3D XPoint's ultrafast solid-state storage drives.
Micron Technology is finally putting the finishing touches on a 3D XPoint challenger to the Optane-branded solid-state drives that Intel introduced in 2017 for ultrafast storage.
Micron claims its new NVMe-based X100 will be the "world's fastest SSD," delivering up to 2.5 million I/O per second for data reads and more than 9 GB per second of read and write throughput and latency at 8 microseconds (μs) or less. The X100 is due to sample with select customers by year's end and become generally available in 2020.
Next year, Intel plans to ship a faster, second generation of SSDs built on 3D XPoint technology, which the company brands as Optane. Intel claimed testing showed its upcoming Optane DC SSDs, code named Alder Stream, would sustain an average read I/O latency of about 10 μs up to a load of at least 800,000 IOPS. The company declined to specify how far beyond 800,000 IOPS the Alder Stream SSD could sustain that latency.
Intel and Micron are the only SSD makers in the nascent 3D XPoint space. They spent more than a decade co-developing the non-volatile technology to add a new memory tier between slower and cheaper NAND flash and faster, expensive DRAM. The vendors ended their joint development work this year with the completion of second-generation 3D XPoint, but Micron said it would continue to supply 3D XPoint wafers to Intel under a contractual agreement.
Micron expects to close this month on its $1.5 billion acquisition of Intel's interest in their IM Flash Technologies venture in Lehi, Utah. Intel recently opened an Optane technology development center in Rio Rancho, N.M.
New SSD controller design
Vinod Lakhani, vice president and general manager of Micron's emerging memory solutions business unit, declined to disclose whether Micron is using first- or second-generation 3D XPoint chips with its new X100 SSD. He said a "bottoms-up new controller design" was the key architectural innovation that would enable the X100 to bring out the performance of the 3D XPoint media.
Jim Handy, general director and semiconductor analyst at Objective Analysis, said he was surprised to see Micron announce a 3D XPoint product before Intel becomes profitable in the Optane market. But he said the speed and 16 PCI Express lanes would set Micron's X100 apart from the initial Intel Optane SSDs, which were based on four-lane PCIe technology.
Handy said Intel's two-year head start works significantly to Micron's advantage, because Micron doesn't need to copy Intel's many mistakes.
Underwhelming Optane SSD sales
Optane SSD sales have been sluggish since their 2017 introduction, according to industry analysts. Many questioned the price premium if the early Optane SSDs could deliver no more than 10 times higher IOPS than cheaper NVMe-based NAND flash drives. But the new wave of faster 3D XPoint SSDs could change that picture.
"Until Intel ships its Alder Stream Optane SSDs sometime next year, Micron is going to become the performance choice," said Steve McDowell, a senior analyst at Moor Insights and Strategy. He said the best target for 3D XPoint is serving as the hottest tier in a storage environment that uses NAND flash SSDs for everything else.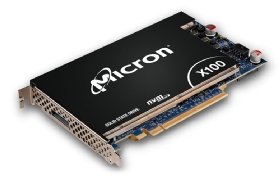 Because 3D XPoint-based SSDs cost more than NAND flash drives, their adoption tends to be limited to applications requiring low latency and high IOPS, including as databases, analytics and artificial intelligence workloads. Lakhani said the X100 would also target applications that need high endurance, since 3D XPoint offers a significant advantage over NAND flash. He added that he expects the X100 SSD would see use in servers and storage systems.
In addition to 3D XPoint-based SSDs, Intel sells Optane DC persistent memory modules. Lakhani said Micron decided on an SSD rather than a dual in-line memory module (DIMM) for its first 3D XPoint product because it thought it could offer a substantial performance improvement. The "strong ecosystem" on the storage side, with PCI Express and NVMe, would also enable Micron to attach to many more platforms than it could conveniently attach on the memory side with a DIMM, Lakhani said.
New NAND flash SSDs
Micron also has new flash-based NVMe and SATA SSDs in the pipeline. The new 7300 NVMe Series and 5300 SATA Series SSDs are built on Micron's densest 96-layer, triple-level cell 3D NAND that helps to drive down costs.
The 7300 Series of NVMe SSDs can deliver throughput of up to 3.0 GB per second for reads and 1.8 GB per second for writes and random write latency at 25 microseconds for typical workloads, according to Micron. The capacity range is 960 GB to 7.68 TB for the U.2 models and 400 GB to 3.84 TB for the M.2 SSDs. Micron plans to sell read-intensive and mixed-workload options when the drives become available for orders in December.
"The 7300 is a budget NVMe device that gives Micron an affordable play for applications that need that extra speed bump that NVMe provides but not necessarily at the high end of the SSD space," McDowell said. "Micron hasn't had a product that competed well in the low-power, low-cost NVMe drive space. This changes that."
As with the 7300, Micron will offer read-intensive and mixed-workload options for its 5300 series of SATA SSDs. The capacity range is 240 GB to 7.68 TB for the 2.5-inch SSDs and 240 GB to 1.92 TB for the 22-mm-by-80-mm M.2 model.
Micron held the largest share of the enterprise SATA SSD market in 2018, at 29%, followed by Intel and Samsung, both at 26%, according to Greg Wong, founder and principle analyst at Forward Insights.