Andrea Danti - Fotolia
Long-awaited Intel Optane DC persistent memory module debuts
Intel promises lots of speed from the Optane DC persistent memory module it took a long time delivering. It also rolled out a new dual-port Optane SSD and ultradense flash SSD.
Speed was the theme when Intel unveiled its long-awaited Optane persistent memory module, a dual-ported Optane SSD, and an ultradense flash drive while launching its second-generation Xeon Scalable processors.
The Intel Optane DC persistent memory and Optane SSD launched Tuesday use 3D XPoint non-volatile memory technology that required a decade of co-development by Intel and Micron. They feature lightning-fast performance, ultralow latency and greater endurance than the less expensive NAND flash memory that Intel's new quad-level cell (QLC) D5-P4326 SSD uses to boost capacity to 30.72 TB.
Although Optane SSDs are already available, industry experts predict the 3D XPoint technology will have its greatest effect in the DIMM form factor as a lower cost non-volatile alternative to dynamic RAM (DRAM). The 3D XPoint memory is designed to fill the performance gap between DRAM and NAND flash.
Intel Optane DC persistent memory capacity
Intel Optane DC persistent memory has a higher capacity than DRAM. Intel is shipping Optane DC DIMMs at 128 GB, 256 GB and 512 GB.
Jim Handy, semiconductor analyst at Objective Analysis, said the Optane density would be a significant benefit because the highest capacity DRAM DIMM is 128 GB and "wretchedly expensive." The Optane DIMM could be half the cost of a comparably sized DRAM DIMM, he said.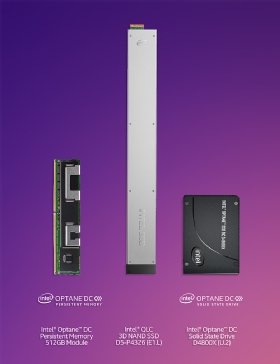 Intel expects system-level memory capacity will scale up to 4.5 TB per socket, or 36 TB in an eight-socket server system, when DC persistent memory is combined with traditional DRAM. Those options are three times larger than the maximum possible with first-generation Xeon Scalable processors, according to Navin Shenoy, executive vice president and general manager of Intel's Data Center Group.
"One of the biggest problems the industry has faced for decades is the problem where DRAM doesn't support the capacity that application developers need," Shenoy said. "It doesn't allow for persistence where the data continues to be stored when the power goes out. And NAND doesn't provide the speed that the data-centric world we live in today demands."
Optane DC persistent memory would not only enable larger capacities to reduce performance bottlenecks, but it would also "break through memory economic bottlenecks," Shenoy said.
"Remember that DRAM represents up to 60% of the total cost of a system," he said.
Optane DIMM limitations
One limitation of Intel's Optane DIMMs is they're designed to work only with Intel second-generation Xeon Scalable Cascade Lake processors. Optane DIMMs don't work with Intel processors or third-party options from vendors such as AMD or Nvidia. Optane DC persistent memory requires a new memory controller, and the first processor with the new controller is Cascade Lake, according to Intel.
"It would find other applications if it ran with Nvidia or AMD processors, but I don't see that as a big, big deal," Handy said. The larger issue could be the inability of Optane DIMMs to run on older Intel processors, hampering the company's ability to take advantage of the upgrade market, he said.
Although Handy said he's a fan of the Optane technology, he remains dubious about the economics. Intel has been losing money on 3D XPoint, he said, and management might question if it's a worthwhile endeavor unless it becomes profitable. Intel's Optane SSD products, launched in 2017, have hardly driven the sort of volume that could enable economies of scale to kick in, Handy added.
Intel's new dual-ported Optane SSD DC D4800X, due later this year, could hold more appeal for major storage vendors. Enterprise storage systems designed to run mission-critical applications typically use dual-ported SSDs for redundancy and failover purposes. Intel claims the D4800X would deliver up to nine times faster read latency than a dual-ported NAND flash SSD.
'Underwhelming' Optane SSD sales
"So far, Optane sales have been underwhelming because Optane has been too expensive," said Tim Stammers, a senior analyst at 451 Research. To be fair, he said, sales of NVMe flash storage systems haven't taken off yet either.
On the flash side, Intel promoted a new QLC 3D NAND SSD in the "ruler" form factor that targets read-intensive cloud workloads. The NVMe-based D5-P4326 PCIe SSD uses 64-layer 3D NAND that can store four bits of data per cell to boost density and lower costs. Shenoy said the QLC SSD would enable significant storage rack consolidation over systems that use hard disk drives, offering up to 1 PB of storage in a 1U design.
The D5-P4326 SSD complies with the Enterprise & Datacenter SSD Form Factor and offers a maximum capacity of 30.72 TB. A smaller 15.36 TB option is available in both the ruler and 2.5-inch U.2 form factors.
Intel Optane DC persistent memory as a DRAM alternative
Google's Bart Sano, vice president of platforms, said Optane provides a "credible" alternative to DRAM and should remove the need for customers to balance operational efficiency against cost. Google had early access last year to Intel Optane DC persistent memory and found it especially useful with SAP HANA and other in-memory database applications. He cited Optane's "sheer capacity" to have large data sets in memory, at memory speeds, and the module's data persistence to enable fast recovery from reboots or upgrades.
Also on Tuesday, Google unveiled new compute- and memory-optimized VM offerings that use Intel Cascade Lake processors. Sano said the compute-optimized VM instances provide more than a 40% improvement compared with prior generations of VM instances, and the memory-optimized VMs enable as much as 12 TB of memory capacity and 416 virtual processors to run any scale of application.
SAP also had early access to Optane DIMMs, and its data loading times dropped from 50 minutes to four minutes in a 6 TB system after optimizing its HANA 2.3 in-memory database for persistent memory, said Dirk Basenach, a senior vice president at the company.
"We are also seeing customers delivering more efficiency through consolidation of multiple systems into one system," Basenach said. In addition, customers are "innovating with disaster recovery consolidation, system replication and use cases that need more resource-intensive capacity like our built-in HANA machine learning and predictive analytics capabilities," he said.
Dig Deeper on Flash memory and storage