WavebreakmediaMicro - Fotolia
Micron SolidScale NVMe-oF-based storage architecture emerges
Micron Technology launched its SolidScale storage architecture based on NVMe-oF technologies, with plans for branded appliances to start shipping later this year.
Micron Technology Inc. is venturing beyond memory and solid-state drives.
The vendor, based in Boise, Idaho, last week unveiled its Micron SolidScale storage architecture designed to speed data transfer between servers and storage nodes using an infrastructure based on nonvolatile memory express over fabric (NVMe-oF).
Micron claims its SolidScale architecture would add an average of only five microseconds of latency to an application's data path in comparison to server-based NVMe SSDs connected to a local PCI Express bus. Micron SolidScale includes technology from Mellanox and Excelero. Micron is partnering with Mellanox for RDMA over converged Ethernet (RoCE) fabric adapters and startup Excelero for software that pools the NVMe-based storage.
Micron was a founding member of the nonprofit industry consortium that created the NVMe host controller interface and storage protocol. The group created NVMe to accelerate data transfer to and from fast storage media, such as flash-based SSDs. The industry group added NVMe-oF last year to extend NVMe's high-performance and low-latency advantages over the network fabric connecting servers and storage systems.
Andy Fisher, senior product line manager for Micron SolidScale, said because the NVMe-oF specification needs time to mature, Micron is "innovating ahead of the standard." Micron is demonstrating its SolidScale software-defined storage architecture and technology, and it expects to release products later this year, with volume ramp-up in early 2018, Fisher said.
Micron to sell full appliances
Fisher said Micron will sell full appliances, "integrated and wired and ready to go," if customers want them. Micron last week launched an early access program for key customers and partners.
The Micron SolidScale version 1 system in testing consists of a 2U x86 server with six Micron NVMe SSDs per CPU, according to Fisher. He said the server could support up to 24 NVMe drives, or 12 per CPU, and can scale in 24U server rack enclosures. Micron selected server hardware with a built-in PCIe switch between the CPU and the SSDs to enable higher capacities, Fisher said.
The server allows each CPU to have its own dedicated Mellanox ConnectX-4 100 Gb RoCE adapter, according to Fisher. The SolidScale platform uses a 100 Gb RoCE fabric to connect storage nodes. Fisher declined to name the server partner.
"This is just an architecture we're unveiling," said Jason Echols, a technical marketing manager for storage at Micron. "The components of it may change over time, especially as we go to market. But this is the first demonstration platform."
The SolidScale system is designed to scale to more than 1,000 nodes connected through a high-speed RoCE fabric. Micron claimed that end-to-end latency would be less than 200 microseconds, and the minimum configuration of three 2U SolidScale nodes achieved 10.9 million IOPS in company tests. A software layer aggregates the nodes, Fisher said.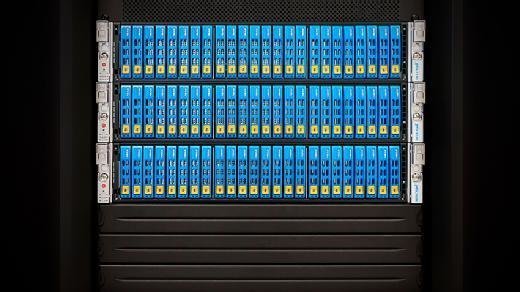 "It's moving away from the typical controller architecture, which has been challenging to scale, and really brings a lot of this native NVMe capability to the servers, but with a lot of the benefits of scalability that you get with centrally managed storage," Fisher said.
Excelero provides pooling software for Micron SolidScale
Fisher said Micron uses Excelero software to pool the NVMe storage and give users the ability to create logical volumes. It also provides a core set of data services, such as replication, on top of the lightweight NVMe-oF implementation. Users can choose to layer on a file system, such as XFS, Lustre or the General Parallel File System, according to Fisher.
Fisher said the SolidScale nodes could be storage- or compute-centric, "where you run applications on the individual server nodes while you share the NVMe capacity."
Target use cases for Micron SolidScale include online transaction processing, high-performance databases, analytics, machine learning, financial services applications, high-performance computing and virtual platforms that require exceptionally high performance and low latency.
Echols said the number of organizations that needs "performance at any cost" has been small historically, but that could start to charge. He listed the emergence of intelligent software-defined storage running on standard x86 servers and the increasing need for real-time insight into data as drivers of this type of performance.
The whole market will eventually evolve to NVMe-oF in the long run, over the next decade.

Laura DuBoisgroup vice president for enterprise storage, IDC
"The whole market will eventually evolve to NVMe-oF in the long run, over the next decade" or more, Laura DuBois, group vice president for enterprise storage at IDC, wrote in an email.
DuBois said she sees Micron transforming into a strategic adviser and systems supplier to users and partners from its traditional role as a memory and storage component supplier. Micron sells NAND, DRAM and flash memory and SSDs to server and storage system OEMs.
Micron's competition in end-to-end NVMe designs includes emerging companies or startups, such as Apeiron Data Systems, E8 and Pavilion. Dell EMC discontinued its early-to-market DSSD product due to high costs associated with custom host drivers, cards and software, missing functionality, and "finding customers that need IOPS and sub-200-microsecond latencies," DuBois said.
David Floyer, co-founder and CTO at Wikibon in Marlborough, Mass., said the high-performance NVMe-oF-based storage architecture that Micron is pursuing is "where the world is going" for high-performance applications that "require an awful lot of data."
"Now, you have an architecture which truly can spread the data and get blazingly fast processing and really drive for the first time a very, very high-throughput bandwidth through that system," Floyer said. "It's a systems game-changer for high-performance applications."
Floyer said he would not be surprised if other chip vendors, such as Samsung, Toshiba or Western Digital, followed Micron into this area. But he said success is far from guaranteed.
"The track record of people in that is not exactly fantastic," he said. "You've got people like LSI who tried it and didn't really do much. There's a lot of work to create an enterprise storage architecture, however it's done."