Getty Images/iStockphoto
Micron's 9400 U.3 SSD aimed at AI, ML workloads
Micron has expanded its NVMe SSD portfolio with the 9400 U.3, a TLC drive designed to provide high-performance storage for high-performance use cases.
Micron released a new enterprise U.3 SSD with the performance and density aimed at artificial intelligence, machine learning and HPC workloads.
Available now, the Micron 9400 NVMe SSD houses up to 30 TB in a U.3 footprint and uses the PCIe Gen 4 interface. The 9400 roughly doubles the performance and capacity of its predecessor, the 9300, according to the vendor. It also utilizes Micron's 176-layer NAND, which was released last year and is said to bring better quality of service and more predictable latency. The 9400 comes in a Pro, or read-intensive, version and Max, or mixed-use, version.
Jeff Janukowicz, an analyst at IDC, said Micron's 9400 is an example of a storage trend in NVMe of divergence of drive offerings based on performance capabilities.
"What we are starting to see is segmentation between high-performance and mainstream NVMe drives," he said. Competitors including Samsung and Kioxia also offer high performing NVMe SSDs like Samsung's PM1733 and Kioxia's CD8 compared to more mainstream PM983 and CM7.
The Micron 9400 is in the high performance NVMe drive segment and aimed at workloads such as AI; high-performance databases, such as RocksDB; and online transaction processing, such as high frequency trading, he said. This would compete against similar high-performing NVMe drives from Samsung and Kioxia.
New performance highs
The 9400 has a maximum throughput of 1.6 million IOPS and a bandwidth of 7 GB/s. It provides 940K IOPS in mixed random 70% read/30% write workloads, according to the vendor.
Micron's new SSD provides high performance and low latency -- qualities AI and ML use cases require and come at a premium, according to Joseph Unsworth, an analyst at Gartner. But he added that certain customers are willing to pay the price.
"[The 9400] is not just for sustained, consistent performance, but it is also robust from a reliability [perspective]," Unsworth said.
Micron didn't provide cost details. But Janukowicz said powerful drives like the 9400 come with special firmware loads and have more advanced controllers, which come at a premium.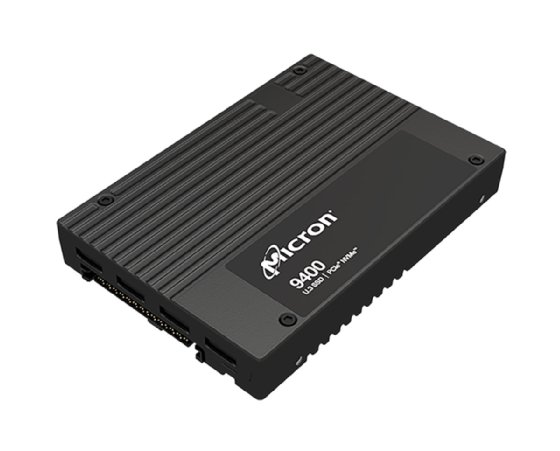 Higher density and efficiency
The increased density translates up to 368 TB per rack unit. That means a customer could use less arrays to serve their workloads, reducing power and maintenance costs.
What we are starting to see is segmentation between high-performance and mainstream NVMe drives.

Jeff JanukowiczAnalyst, IDC
The 9400 ranges in capacity from 6.4 TB to 30.72 TB of TLC NAND, which Micron stated has better power efficiency for its performance than the 9300.
Power costs are becoming more important to customers going forward, Janukowicz said.
"Outside of the normal cost and performance metrics people look at, power consumption has certainly been growing in importance," he said.
Not only are energy costs higher in certain parts of the world, but customers have also been focusing more on sustainability initiatives, Janukowicz said.
Common form factor
More vendors have been releasing and utilizing enterprise and data center form factor (EDSFF), including Micron, but the 9400 uses U.3, a common form factor widely used by hyperscalers, Unsworth said.
"With higher performance, vendors need to be mindful of signal integrity, plus power and thermal," Unsworth said. He added that higher performance can generate more heat and use more power than EDSFF drives such as E1.L and E3.
But form factor isn't as important as capability. Micron's use of U.3 form factor may restrict some adoption among customers looking to use EDSFF, he said. But that is a smaller number of customers overall, with most still using 2.5-inch form factors like U.3.
Adam Armstrong is a TechTarget Editorial news writer covering file and block storage hardware and private clouds. He previously worked at StorageReview.com.