Getty Images
Micron first to bring 232 layers to mainstream SSDs
The 7500, Micron's latest SSD, uses the company's 232-layer NAND technology to support a broad set of use cases at a lower price point than its high-end counterparts.
Micron introduced the first 200-plus layer mainstream SSD for storage-intensive workloads such as AI, virtualization and real-time analytics.
Released Monday, the Micron 7500 NVMe SSD is a follow-up to the 7450 as a mainstream or read-intensive data center drive for use cases where PCIe flash performance is needed, but doesn't have to be top of the line. At 232 layers, it currently has the highest count of vertically stacked memory cells of any mainstream SSD on the market. The drive is offered in a Pro read-intensive option and a Max mixed-use option, with drive writes per day and capacity being different due to overprovisioning.
This is an evolutionary -- not revolutionary -- step for Micron in that the 7500 offers good quoted performance for where it's positioned, according to Joseph Unsworth, an analyst at Gartner.
"It is a higher-quality drive based on its 232 layers ... that comes with a more sustainable price point," Unsworth said.
Mainstream when high performance isn't needed
The 7500 can run as high as 7 GBps and more than 1 million IOPS for reads, and up to 5.9 GBps and 400,000 IOPS for mixed writes, according to Micron. These numbers are lower than the vendor's high-end 9400 series, a 176-layer enterprise SSD released earlier this year that has more than 1.6 million IOPS for random reads and 940,000 IOPS in mixed write speeds.
Products such as the 7500 are a reflection of the PCIe market, according to Jeff Janukowicz, an analyst at IDC. When NVMe first came out, the promise of performance increases was a big driver. But the price tag for such drives is high, and not all applications need top-tier read and write speeds, which has paved the way for mainstream drives that offer a more conservative approach between performance and price.
What we've seen is the development of this mainstream class of product, which is more cost-effective and delivers fantastic performance.

Jeff JanukowiczAnalyst, IDC
"What we've seen is the development of this mainstream class of product, which is more cost-effective and delivers fantastic performance," he said.
The 7500 targets most storage use cases in the enterprise and in clouds, according to Janukowicz.
U.3 only
Micron is releasing the 7500 as U.3 15 mm PCIe 4.0 only. Customers are now focused on adopting PCIe 4.0 as 3.0 devices are being refreshed, according to Micron.
PCIe 4.0 provides an increase in drive performance over 3.0. This is where the storage market is at in terms of SSD storage, Unsworth said. Mainstream storage such as Micron's new 7500 series is also where the hyperconverged infrastructure (HCI) market is at.
"HCI doesn't need screaming performance. It's looking for a price-to-performance ratio," Unsworth said.
HCI vendors still use HDDs, an indication that price is more important than performance, he said. But mainstream SSDs can compete with HDDs for use cases that require more performance and for customers willing to pay more to get it.
Eventual competitive pricing
The price of the 7500 series will be on par with the 176-layer 7450 SSDs, according to Micron, but the overall NAND market price is still in flux. Raising the layer count increases the cost-effectiveness to Micron, Janukowicz said.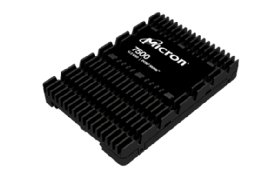 "[NAND] pricing is unique right now," he said in reference to the underperforming NAND market in 2023, as seen in Micron's recent earnings.
But the NAND market is turning around, and the prices will start to come back up, Unsworth said. Micron's 232 layers give it a competitive but sustainable price point compared with other NAND vendors.
"This allows [Micron] to raise prices [as the market rebounds], but not as high as other vendors, and still get a reasonable margin," he said.
Adam Armstrong is a TechTarget Editorial news writer covering file and block storage hardware and private clouds. He previously worked at StorageReview.com.