New Micron SSD series provides faster access and response
The new series is the third generation of the non-volatile memory express solid-state drives from Micron, and offers capacities up to 15.36 TB.
Micron Technology Inc.'s newly released series of high-performance solid-state drives is designed to provide near-real-time access to data, enable sustained performance time of 3.5 GB per second for both reads and writes, and is offered in capacities up to 15.36 TB.
The new 9300 series is the third generation of NVMe SSDs from Micron. The company said its goal is to provide storage at higher capacities to cloud and enterprise computing markets and enable companies with data-intensive applications to quickly access and process data.
According to Micron, businesses are transitioning primary storage from Serial Advanced Technology Attachment-based SSDs to NVMe in order to store, retrieve, process and analyze massive amounts of data. Other vendors providing SSDs geared for NVMe include Hewlett Packard Enterprise and Intel.
Micron states that the Micron SSD 9300 series consumes 28% less power than previous NVMe generations, which helps reduce operational costs. Micron also claims that its drives perform almost nine times faster than leading enterprise SATA SSDs and are 35% more efficient.
The Micron SSD 9300 series also features 850,000 read and 310,000 write I/O operations per second, data-path protection, power-loss protection for in-flight and at-rest data, and sanitize crypto erase.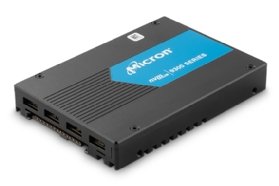 The Micron 9300 series of NVMe SSDs is available in two versions. The 9300 Pro series is designed for read-intensive workloads and is offered in capacities of 3.84 TB, 7.68 TB and 15.36 TB. The 9300 Max is designed for mixed-use applications and is offered in capacities of 3.2 TB, 6.4 TB and 12.8 TB.
Both the Pro and Max versions are available in 2.5-inch form factor, support PCle Gen3 x4 NVMe, and are rated for a mean time of two million hours between failures.
The series is currently available. Pricing information is not available.