Getty Images
Kioxia releases PCIe Gen 5 SSD for data centers
Kioxia's CD8, its second-generation PCIe Gen 5 SSDs, provides increased performance and a 2.5 inch form factor that make it much more data center-friendly than the CD7.
Kioxia's second-generation PCIe Gen 5 SSD comes in a traditional form factor with added performance that's aimed at data center use cases.
The Kioxia CD8, released last week, is a follow-on to its first PCIe Gen 5 NVMe SSD, the CD7, which debuted last fall and comes in an Enterprise and Data Center SSD Form Factor (EDSFF). With the release of the CD8, the company brings the latest interface to a 2.5 inch, 15 mm form factor more common in data centers. The CD8 is based on fifth-generation BiCS Flash 3D NAND technology.
Jeff Janukowicz, an analyst at IDC, said PCIe SSD drives are becoming more prevalent in enterprise data centers. While they initially saw adoption from large cloud service providers, the drives have proven beneficial to server and storage array performance as well.
"PCIe Gen 5 SSDs, like Kioxia's new drive, bring a new set of advancements, and users will see increased speed and higher bandwidth, which will help boost performance for those data-intensive workloads," Janukowicz said.
Gen 5 aimed at Gen 4's market
While the CD8 is a PCIe Gen 5 product, the market demand and the hardware support for PCIe Gen 5 such as CPUs and motherboards aren't widely available yet, according to Ilya Cherkasov, senior product manager of the enterprise SSD division at Kioxia America, Inc.
"This drive does support Gen 5, but it's optimized around the Gen 4 x 4 performance level," Cherkasov said. The drives will support PCIe Gen 5 upon release, but, given the current lack of infrastructure for Gen 5, are currently best suited for Gen 4 with four lanes for data transfer.
PCIe Gen 5 technology will see more support from hardware vendors later this year, according to Cherkasov. Most customers are using PCIe Gen 3 today, with Gen 4 adoption starting to ramp up, he said. But Kioxia is preparing for the future of Gen 5, which it believes will start at the end of 2022 and potentially increase in 2023.
PCIe Gen 5 adoption is on the roadmap for all OEMs offering SSD technology, according to Don Jeanette, vice president at Trendfocus. Companies already offering PCIe Gen 4 will take advantage of advances such as CD8's added performance and begin to transition to the updated interface.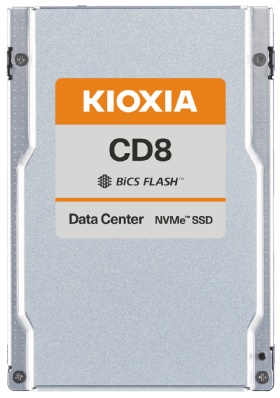 "It may not be a massive, all at once transition, but it nonetheless will happen," he said.
Mass adoption of Gen 5 is still a ways off, Jeanette said, "but it never hurts to have a solution already announced and ready."
Familiar form factor, preferable performance
Kioxia's CD7, its previous PCIe Gen 5 SSD, came in EDSFF, which provided higher storage density and different pinouts with a better signal integrity than current connectors. Kioxia used the CD7 as a vehicle to bring new SSD technology to market, Cherkasov said, but the CD8 is Kioxia's push to offer the PCIe Gen 5 technology more broadly by using a common form factor.
"[With the EDSFF] there's a whole ecosystem that needs to be brought up. We expect to see EDSFF start to ramp in 2023. But [the CD8] is designed to service the needs of the market now in 2022," he said.
The CD8 is the only 2.5 inch form factor PCIe Gen 5 SSD. It comes with the common SFF-8639 connector used in enterprise data centers where the SSDs can be used as a drop-in replacement for SSDs currently in use. The drives are designed for those looking to get more performance out of their data center SSDs such as server-attached markets, Cherkasov said.
The CD8 uses the latest BiCS Flash technology, this time being a 112-layer NAND up from 96-layer in the fourth generation.
Kioxia claims performance of up to 7.2 GBps sequential throughput and 1.25 million IOPS random read, an improvement over the CD7's 6.45 GBps throughput and 1 million IOPS.
Kioxia's CD8 comes with features such as seventh-generation flash die failure protection, power loss protection and data security options that include sanitize instant erase and self-encrypting drives. The SSD line is offered in read-intensive and mixed-use endurance options.