frenta - Fotolia
Nimbus Data ExaDrive tunes into OEM channel
Nimbus Data claims ExaDrive can replace traditional disk in data centers. The 3.5-inch SSDs package flash and intelligent software, including data features in multiple ASICs.
Nimbus Data, an all-flash array pioneer that failed to make it big, now has its sights set on supplying custom flash drives to OEMs.
Nimbus, maker of the ExaFlash all-flash array, has waded into the OEM supply chain with its ExaDrive solid-state drive reference design aimed at drive and server vendors. ExaDrive foregoes traditional SSD architectures that are based on a single monolithic chip. The multiprocessor ExaDrive SSD packages NAND flash and software intelligence internally in 3.5-inch form factor.
ExaDrive uses a distributed parallel architecture to incorporate data features and functionality in a grid of application-specific integrated circuits (ASICs). The drives offload error correction and flash management to a series of embedded microcontrollers. An intelligent processor delegates capacity management and wear leveling across the multiple ASICs.
The processor presents all the flash capacity to a host as a dual-ported enterprise SAS SSD that can fit into disk-based storage environments. Nimbus Data buys its NAND flash from chipmaker SK Hynix under a supplier agreement the companies signed last year.
ExaDrive SSDs are the same solid-state drives used in several of Nimbus Data's ExaFlash all-flash arrays that launched in August 2016. ExaDrive SSDs are available in 25 TB and 50 TB capacities, making them a better fit for archiving than high-performing primary storage, where flash usually shows up.
Nimbus Data's goal is still to replace hard disk drives with flash; although, the approach is different.
"The adoption of flash in the data center is very much in its infancy," said Tom Isakovich, CEO of Nimbus, based in Irvine, Calif. "There are 40 million units of 3.5-inch hard disk drives still shipping per year. It's an enormous market. Our goal is to bring flash into that market and begin eating away [at disk sales.]"
Viking Technology, a division of publicly held Sanmina Corp., started shipments of its UHC-Silo SSDs based on ExaDrive technology in July. Smart Modular Technologies this month became the second OEM to introduce branded ExaDrive SSDs. Smart Modular's Osmium family incorporates multi-level cell NAND.
"The Nimbus product is really a plug-and-play replacement for existing hard drives. We have been asked by our customers to supply larger capacity drives, and the partnership with Nimbus will help us build out the product line," said Victor Tsai, director of marketing for Smart Modular's flash products.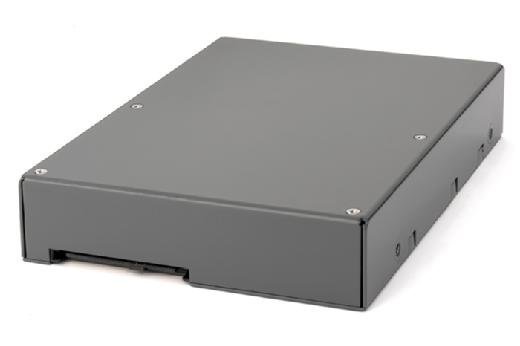 Nimbus Data: ExaDrive 'reinvents' SSD design
ExaDrive SSDs are the same SSDs used in Nimbus Data's ExaFlash C-series and D-series all-flash arrays. ExaFlash C-series is geared toward cloud service providers, while the dense ExaFlash D line packs up to 4.5 PB of raw flash in a single rack.
ExaDrive SSD also will be marketed to cloud service providers and enterprises that run high-capacity flash in standard servers; although, Isakovich said Nimbus does not plan to market its own branded SSDs directly to end users.
Nimbus Data claims a 50 TB ExaDrive consumes 0.14 watts of power per terabyte. A standard rack packed with ExaDrive SSDs provides 52 PB of raw capacity. The drives have an implied life span of 10 years and promise data retention up to six months. The capacity and scale, if achieved, would represent a dramatic improvement over SSDs currently available from legacy drive manufacturers.
Dennis Martin, president of computer analyst firm Demartek LLC in Golden, Colo., whose lab ran performance tests on ExaDrive SSDs, said hyperscale data centers have started placing more data on flash "because it's the only thing that can keep up."
"I wrote an article [in 2013] called 'Horses, Buggies and SSDs,' in which I [predicted] we would see flash getting used as an archive device. That's sort of what ExaDrive is going for," Martin said. "The performance isn't superfast, but it's competitive. The big thing is the capacity. This is a standard 12 gigabit per second SAS drive, but it's a 3.5-inch SSD with 50 TB."
Flash storage offers performance and latency improvements over spinning disk. All-flash arrays concentrate management intelligence either in an operating system or inside array controllers. But even flash systems struggle to keep pace with soaring data growth and the accompanying demand for increased computational power to deliver inline data services.
Nimbus has run lean and eschewed outside investments, other than a $2 million angel round at its inception in 2007. The ExaDrive project is part of a corporate reboot. Although an early entrant in the all-flash array market -- it launched its Gemini product line in 2010 -- Nimbus Data quickly got overshadowed by venture-funded competitors with larger marketing and sales budgets. The company slipped out of view in 2014, leading some in the industry to assume it had ceased operations. The vendor returned a year ago with the ExaFlash, and it went quiet again until last week's ExaDrive revelation.
Isakovich said the original goal of the ExaDrive project was to develop an exabyte-scale array and bring it to market by 2020, but that plan was foiled by the limitations of existing SSD designs. Instead, he developed ExaDrive in tandem with the ExaFlash nodes unveiled in 2016.
"There was no way to build it using off-the-shelf SSDs. We set out to reinvent everything about the way SSDs are built," Isakovich said.
Dig Deeper on Flash memory and storage