yoshitaka272 - Fotolia
Nimbus Data shows off flashy OS upgrades with ExaFlash One
Customers can size and order Nimbus Data ExaFlash One arrays online for flat $10,000 one-time cost. Nimbus Tectonic license costs $10,000 annually and includes controller upgrades and all software licenses.
Nimbus Data plans to re-emerge from the sidelines with a revamped storage operating system and dense new ExaFlash all-flash array.
The Nimbus Data AFX OS and ExaFlash One unified storage mark the culmination of five years of engineering work, Nimbus CEO Tom Isakovich said. ExaFlash One is Nimbus' first new array since 2016, although the vendor did launch 100 TB ExaDrive SSDs two years ago. Isakovich said Nimbus Data also received an undisclosed amount of new funding from private investors.
The new arrays are available with Nimbus Data Tectonic, a support licensing model that includes all software, free controller upgrades and a "no exceptions" 60-day money-back guarantee.
The AFX operating system provides one platform for block, file and object protocols. Data center users can choose standard SSDs or newer NVMe media and storage class memory targets, as well as Amazon Web Services S3 object storage. Isakovich said a big part of AFX is the way Nimbus Data engineered quad-level cell NAND SSDs to boost write endurance at a low cost per gigabyte.
AFX gives customers three options for tuning quality of service. Intelligent Mode QoS encompasses data management and data reduction, including deduplication, compression, checksums, encryption, snapshots/clones and replication. Ludicrous Mode QoS provides only RAID data protection, while an option for bare metal allows direct access to SSDs for the lowest latency.
Nimbus Data ExaFlash One is a modular rackmount system block with active-active controllers for high availability. The array includes the baseline redundancy features seen on most arrays, including hot-pluggable fans and power supplies and no single point of failure. When fully populated with SSDs, Nimbus Data claims ExaFlash scales to 768 TB of raw storage, or all-flash capacity.
Nimbus also introduced a transparent pricing model. An ExaFlash array costs $10,000 with no drives. Customers can buy their own SSDs or get the Nimbus arrays populated with drives at $250 per TB. There are no extra fees -- besides all software and full redundancy, the $10,000 includes eight Ethernet, Fibre Channel or InfiniBand network ports.
The Nimbus Tectonic support program costs $10,000 per year. It includes 24 by 7 by 365 support, all AFX software upgrades, free non-disruptive controller upgrades every three years and a full hardware warranty.
The all-flash market has evolved since Nimbus Data arrived on the scene in 2010 as one of the early vendors in the field. That was before products with NVMe flash and in-memory storage, and cloud consumption of data services and storage was in its infancy.
Nimbus Data started selling Gemini all-flash arrays around the time other all-flash startups came out with competing storage systems. But Nimbus Data was overshadowed by better-funded startups such as Pure Storage and Violin, and legacy vendors that retrofitted disk arrays with solid-state media.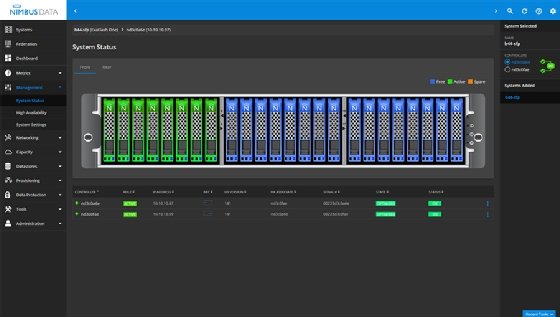 Nimbus Data pulled back in 2014 to rewrite its flash architecture for first-generation ExaFlash arrays, which aggregate multiple systems as a logical storage pool. The vendor also sells Nimbus ExaDrive, a solid-state device with a maximum capacity of 100 TB for organizations that need dense storage but not low latency. The 3.5-inch ExaDrive product is sold directly to customers by Nimbus Data and select resellers, and is not supported in the ExaFlash arrays, which use 2.5-inch drives.
Isakovich claims Nimbus Data has about 600 customers across numerous industry verticals, including education, digital media, government, high-performance computing and manufacturing. He said his company was profitable in 2019. The AFX code was specifically written to broaden all-flash storage use cases.
"When I started this company in 2003, I remember when even the idea of needing a terabyte or two of storage was considered outrageous. Now, pretty much every active-active workload is moving from hard disk to flash. That means you need a flash architecture that can handle whatever workloads you throw at it," Isakovich said.
Could Nimbus take share from Pure?
Nimbus Data ExaFlash is not sold through channel partners and has limited direct sales. The vendor relies on a self-service model in which data centers can size and order ExaFlash storage online.
"They've crafted a small-scale, profitable all-flash array business. They're getting closer to having 1,000 customers, and they seem to be adding a few every month," said Eric Burgener, a research vice president of storage at IT analyst firm IDC.
Isakovich said he wants to seize market share from Pure Storage. Burgener said Nimbus Data ExaFlash One has a chance to compete with Pure Storage for certain workloads on price and capacity scaling, but the SCSI-based array does not deliver the extreme low latency of Pure's NVMe-based FlashArray systems.
"It's a special value proposition. The Nimbus Data ExaFlash arrays are for the customer that says, 'Look, I don't care about fancy white-glove support. Just ship me a storage device that gives me sub-millisecond latency at the lowest possible price," Burgener said.
Media and entertainment company WWE was first exposed to Nimbus Data when it added a 100 TB ExaDrive SSD to a previous storage system. Nick Smith, WWE's director of remote IT and broadcast engineering, said WWE added ExaFlash arrays later as it migrated off disk storage. He said the Nimbus storage provides more consistent performance than its previous storage.
WWE uses ExaFlash One for its remote crew that travels to its pro wrestling shows.
"Before we got the Nimbus Data storage, we were unable to do consistent uploads and downloads at the same time. We couldn't write and read from our own storage at the same time. In the world we live in, where everybody wants everything now, the Nimbus storage has allowed us to write data at 10 Gpbs and read data at 10 Gpbs, no problem. And it literally took five minutes to integrate it," Smith said.