jules - Fotolia
New 12 Gbps single-port Toshiba SAS SSD takes aim at SATA
Toshiba designed a new single-ported 12 Gbps RM5 SAS SSD to replace slower 6 Gbps SATA SSDs in servers until faster NVMe-based PCIe SSDs are ready for wider market adoption.
Toshiba is preparing for life after SATA with the launch of a single-ported 12 Gbps SAS solid-state drive that's...
Continue Reading This Article
Enjoy this article as well as all of our content, including E-Guides, news, tips and more.
designed to replace slower SATA drives for server-based applications.
The Serial ATA International Organization has long stated that there are no plans to increase SATA bandwidth beyond the current 6 Gbps data transfer rate. The new 12 Gbps Toshiba SAS SSD aims to fill the gap.
"With the SATA roadmap basically not having any future, we see this as life after SATA," said Cameron Brett, director of marketing for SSD and storage solutions at Toshiba. "There may be a few feature tweaks here and there, but there is no 12 [Gb] on the roadmap."
Using 12 Gbps SAS, Toshiba's new 2.5-inch RM5 SSD can offer better I/O consistency and higher mixed workload performance than typical SATA SSDs, according to Steve Garceau, director of enterprise SSD marketing at Toshiba. He said mixed workload performance is especially critical for online transaction processing, financial transactions, email servers and virtual workloads.
"Many SATA SSDs are deployed in servers with SAS expanders due to cost reasons," Greg Wong, principal analyst at Forward Insights in North York, Ont., wrote in an email. "SATA SSD performance does not scale, especially in the higher capacities, so RM5 offers a way to increase capacity and performance of the drive."
New Toshiba SAS SSD capacity
Garceau said the capacity range for the new Toshiba RM5 SSD -- ranging from 960 GB to 7.68 TB -- is higher than typical SATA SSDs . The RM5 uses the same triple-level cell, 64-layer 3D NAND flash technology as Toshiba's higher-end, dual-ported, NVMe-based PCIe and enterprise SAS drives.
Garceau noted that SATA has been the dominant SSD interface in servers to date, primarily due to its lower cost. But he said analysts predicted SATA SSD use will decline over time, as higher-performance, NVMe-based SSDs start to claim more of the market.
"A natural question is, 'Hey, if I'm going to leave SATA, why don't I just go to NVMe [nonvolatile memory express]?' The short answer is they will eventually," Garceau said. "When we're looking five years and beyond, these servers will have enough PCIe lanes in them to support a robust array of NVMe drives. But, today, lanes are rather limited in most server motherboards, and so the average NVMe-capable server costs more than the average SAS-capable server."
Garceau said the new single-port Toshiba SAS SSD "slots in nicely" in the "near term" -- for perhaps two to four years -- for legacy SAS-enabled systems. He declined to specify the price range for the RM5 SAS SSD other than to say it would be "close" to the cost of a SATA SSD .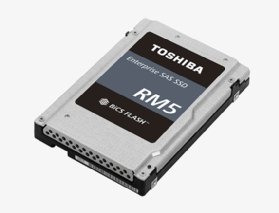 Toshiba SAS SSD pricing
Howard Marks, founder and chief scientist at DeepStorage LLC, said he expects the RM5 SAS SSD will be less than a 5% price differential compared with SATA SSDs.
"Because it's an OEM product, the real question there is how much HPE [Hewlett Packard Enterprise] and Dell and the like mark it up," he said.
Marks said the most cost-sensitive customers would likely stick with SATA in the short term. But he said he expects the new single-port Toshiba SAS SSD would hold appeal as a capacity tier in software-defined storage and hyper-converged infrastructure systems, especially if vendors such as VMware, Nutanix and Qumulo start to recommend SAS SSDs. He said, beyond bandwidth, SAS advantages over SATA include a more sophisticated and deeper queueing system and data integrity.
"Ultimately, NVMe wins. The question is, does that happen at the end of the next server release cycle, which is three to four years from now? Or, does it happen five to seven years from now? I don't have a bet," Marks said.
Jim Handy, general director and semiconductor analyst at Objective Analysis, said Toshiba is taking advantage of the fact that 12 Gbps SAS sockets are plentiful in servers by offering the less expensive single-port SAS SSD option before users start to move to NVMe. He said he expects other vendors would follow Toshiba's lead with single-port SAS SSDs. But Handy predicted it could be 10 years before NVMe SSDs take over the market.
Toshiba has been showcasing its new RM5 SAS SSD at this week's HPE Discover show in Las Vegas. The vendor refers to the single-ported RM5 SSD as "value SAS," in contrast to its dual-ported enterprise PM5 SSDs that are designed for storage arrays equipped with dual controllers for high availability. Toshiba expects to continue to produce both the dual-ported enterprise SAS PM5 SSDs in addition to the single-ported RM5 SSD, according to Garceau.
Dig Deeper on Flash memory and storage