jules - Fotolia
New Seagate Nytro SSD line uses Toshiba 3D NAND chips
Seagate shows off its first triple-level cell, 64-layer 3D NAND Nytro SSDs since investing in Toshiba NAND. Analysts wonder if the HDD giant waited too long to get serious about flash.
Seagate Technology has new NVMe-based PCIe and SATA enterprise solid-state drives that use denser 3D NAND flash technology thanks to its investment in a Bain-Capital-led consortium's June purchase of Toshiba's memory business.
The new Seagate Nytro SSD models, demonstrated at the Flash Memory Summit last week, are the company's first products to use triple-level cell, 64-layer 3D NAND chips from Toshiba Memory Corp. The Nytro 5020 NVMe-based PCIe SSD and Nytro 1351 and 1551 SATA SSDs double the maximum raw capacity and improve performance over prior models that used two-dimensional, multilevel cell NAND flash from another chipmaker.
"We improved the controller, and the NAND geometry helps as well," said Tony Afshary, director of product management for SSD storage products at Seagate. "We can put more NAND down, so we have more bits to work with to improve latency and performance."
A dominant player in HDDs, Seagate has struggled to achieve a similar level of success in the enterprise SSD market. Seagate, based in Cupertino, Calif., trails market leaders such as Samsung, Toshiba and Western Digital (WD) that all manufacture NAND flash chips, as well as SSDs. But Afshary claimed the company is finally making the "right investments" to grow SSD sales.
Tough row to hoe
Howard Marks, founder and chief scientist at DeepStorage LLC, an independent test lab in Santa Fe, N.M., said Seagate faces a "tough row to hoe" on a long-term basis. All of the top enterprise SSD vendors own their own flash foundries, and HDD archrival WD closed on its SanDisk acquisition in 2016 to gain a significant piece of Toshiba's memory business, he said. Toshiba and WD's SanDisk have a NAND flash manufacturing partnership.
Seagate acquired SandForce controller software from LSI in 2014 and struck a deal with Micron in 2015 for NAND supply. But, Marks said, Seagate got only a small piece of Toshiba's memory business when the Bain-Capital-led consortium closed on the estimated $18 billion acquisition. Seagate listed its investment at about $1.27 billion in cash.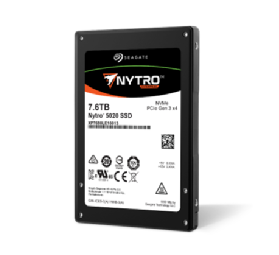 Jim Handy, general director and semiconductor analyst at Objective Analysis, a research firm in Los Gatos, Calif., thinks flash supply is the least of Seagate's worries. The company needs to beef up its marketing efforts and put together programs and incentives for its sales team to sign as many SSD orders as possible, he said.
"Seagate could be a top SSD player if they put their hearts and souls into the effort, but for whatever reason they have not," Handy said. "They didn't do what they should have done and used their ownership of the enterprise hard drive market to parlay that into ownership of the SSD market. They could have done that. They should have done that."
Lack of focus
Seagate has a low percentage of the enterprise SATA, SAS and NVMe-based PCIe enterprise SSD markets, according to Don Jeanette, a vice president at Trendfocus, based in Cupertino, Calif. He attributed Seagate's SSD woes to a lack of focus, the high number of products the company supports, and its cost structure for SSDs. But Jeanette thinks Seagate's access to Toshiba's NAND flash supply could help.
"They have done very well over the decades with enterprise HDDs and their customers. Having those customer relationships and protocol expertise with SATA and SAS should also help them," Jeanette wrote in an email. "Also, having both HDD and SSD offerings should also help them with certain customers. There are two main components within every SSD -- one is the controller, and the other is the NAND. NAND is the largest percentage of cost within any SSD."
Dennis Martin, president and founder of Demartek LLC, a research firm in Golden, Colo., said Seagate stands a chance if it can get a good supply of NAND flash chips and stay competitive on price. "SSDs are close to being a commodity, so price is very important. You have to drive down the cost to get up in the same league as WD, Toshiba, Samsung or anybody else making SSDs," Martin said.
Seagate Nytro SSD features
Features that Afshary claimed make the Seagate Nytro SSD stand out from the competition include the DuraWrite compression and compacting technology acquired from SandForce and the ability to deliver maximum performance at a low level of power consumption, Afshary said.
The new NVMe-based PCIe Nytro 5020 SSD supports 21,000 IOPS per watt in the 1.5 drive write per day (DWPD) model and improves the maximum random read performance to 400,000 IOPS, Afshary said. The maximum random write performance is 100,000 IOPS, according to Seagate's website.
The Nytro 5020 is available in 2.5-inch U.2 and 22-mm-by-110-mm M.2 form factors. Capacity ranges from 1.6 TB to 7.6 TB in the U.2 model and 800 GB to 3.8 TB in the M.2 SSD. Endurance options are 1.5 DWPD and 0.3 DWPD in the M.2 SSD, but the U.2 model is available only at 1.5 DWPD.
SATA-based Seagate Nytro SSD options
The new SATA-based Seagate Nytro SSD options are one DWPD for the read-intensive 1351 model and three DWPD for the 1551 model targeting mixed database, virtual desktop infrastructure and cloud use cases. Seagate previously offered only one DWPD SATA SSDs, but added the higher endurance three DWPD option in response to customer requests, Afshary said.
Capacity ranges from 240 GB to 3.84 TB for both the Nytro 1351 and 1551 models. The maximum performance is 94,000 IOPS for random reads and 55,000 IOPS for random writes, according to Seagate's website.
As the industry starts to shift to faster NVMe SSDs, Afshary said, Seagate continues to sell slower 6 Gbps SATA drives because projections show more than 50 million SATA SSDs in the enterprise for at least the next four or five years. "We still see life out there in hyperscale in some array business," he said, "and very predominantly in the server market and the channel and OEM markets."