freshidea - Fotolia
New enterprise 14 TB HDD options cater to cloud-scale users
Enterprise-class 14 TB HDDs from Seagate, Toshiba and Western Digital target cloud-scale users in need of economical, high-density storage to cope with exponential data growth.
The latest wave of helium-based 14 TB hard disk drives shows there's still innovative life in the storage media, mainly for cloud-scale users in need of economical, high-density drives.
Seagate Technology this week launched its new 14 TB helium hard drive portfolio. It includes the 12 Gbps SAS- and 6 Gbps SATA-based Exos X14 designed for hyperscale data centers and SATA-based IronWolf for NAS, SkyHawk for surveillance systems and BarraCuda Pro for desktop workstations and DAS.
Toshiba recently disclosed that it's sampling 14 TB and 12 TB helium-sealed 7,200 rpm SAS HDDs with 12 Gbps data transfer rates. They join Toshiba's previous helium-based 14 TB HDD that uses the 6 Gbps SATA interface.
Earlier this year, Western Digital began shipping helium-based 12 Gbps SAS- and 6 Gbps SATA-based 14 TB HDD models to select hyperscale cloud customers. China-based internet service provider Tencent, a customer of Western Digital's 12 TB HelioSeal HDDs, confirmed it was qualifying the latest 14 TB Ultrastar DC HC530 drives.
The 14 TB HDD models use helium instead of air to reduce aerodynamic drag and turbulence inside the drives. Helium-based HDDs require less power and enable manufacturers to use thinner disks and squeeze in more tracks to store more data per HDD.
Shingled magnetic recording
In June, Western Digital disclosed Dropbox as a customer for its 3.5-inch helium-based 14 TB Ultrastar DC HC620 HDD. The drive -- formerly called the Ultrastar Hs14 -- uses host-managed shingled magnetic recording (SMR) technology, in contrast to the two-dimensional magnetic recording the Ultrastar DC HC530 uses.
Dropbox qualified and deployed Western Digital's SMR-based HC620 HDD for its custom-built Magic Pocket storage infrastructure. A Dropbox blog noted the SMR HDDs offer higher bit density and lower cost per GB than HDDs that use conventional perpendicular magnetic recording technology, which aligns bits vertically rather than horizontally.
Conventional magnetic recording enables random data writes across the entire disk, whereas SMR is best suited to writing data in sequential mode. Dropbox chose the host-managed SMR HDDs for the Magic Pocket workload because its storage architecture is geared for sequential writes.
But the Dropbox scenario is not the norm at this point. John Rydning, an IDC analyst who focuses on HDDs, said demand is low for SMR technology because customers would need to tweak their systems in order to use drives designed for sequential rather than random writes.
"With SMR, tracks on the disk are partially overwritten intentionally -- like shingles on a roof -- to increase the number of tracks on the disk and increase the storage capacity per disk," Rydning wrote in an email. "Yet, it's difficult to change or modify data once it's written to the disk.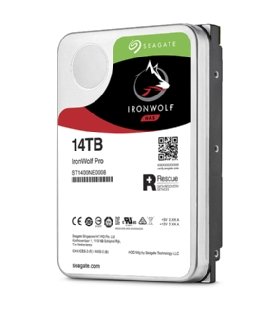 "Think of what it's like to change a shingle in the middle of a roof. You have to peel off a few rows to change one shingle. Similar for SMR HDDs. To change data already written to the disk, you have to read several tracks to cache, modify the data in cache, then rewrite to the disk."
Rydning said the competition for 14 TB HDD market share in the near term will center on drives that use conventional magnetic recording rather than SMR technology.
Additional high-density HDD technologies in the works include heat-assisted magnetic recording and microwave-assisted magnetic recording (MAMR), but those options have yet to emerge in commercially shipping products. Western Digital said last year that it expects to begin shipping ultra-high capacity MAMR HDDs in 2019 and claimed that MAMR has the potential to enable HDDs of 40 TB and beyond by 2025.
Toshiba's nine-platter 14 TB HDD
In the conventional magnetic recording space, Toshiba's new MG07SCA 14 TB HDD uses a nine-platter helium-sealed mechanical design unlike the eight-disk 14 TB options from rivals Seagate and Western Digital. Toshiba uses eight platters with its helium-based 12 TB MG07 model, after using seven platters with its traditional air-based MG06 10 TB generation, said Scott Wright, the company's director of HDD marketing.
Toshiba lagged competitors on previous product generations with 8 TB, 10 TB and 12 TB HDDs, IDC's Rydning said. The company is now time-to-market competitive with Western Digital and Seagate with 14 TB HDDs for cloud-scale customers and positions itself well for higher capacities in the future, he said.
But Toshiba's nine-platter 14 TB HDDs carry a higher manufacturing cost per drive for the extra disk and two heads than the eight-platter 14 TB HDDs from Western Digital and Seagate, Rydning said. "On the other hand, given that Western Digital and Seagate are using the higher areal density heads and disk, they may encounter production yield challenges in the first one or two quarters of production," he said.
Toshiba didn't disclose retail pricing for the MG07SCA 14 TB HDDs.
Enterprise HDD market leaders
Seagate and Western Digital lead the market in nearline enterprise-class 7,200 rpm SAS and SATA HDDs, according to Trendfocus vice president John Chen. Seagate has the edge in units shipped, and Western Digital leads in exabytes shipped, Chen said. SATA is the dominant interface for nearline HDDs, with SAS at only about 20% unit share, he said.
SATA HDDs are single ported, but Toshiba's Wright said there's still demand for dual-ported SAS HDDs among users who want to map redundant paths to each storage device for high availability. He said some customers want to be able to support SSDs and HDDs in a common architecture, with the same 12 GBs data transfer rate.
Wright doesn't expect the new wave of upcoming 3D NAND flash-based SSDs that store four bits of data per cell -- known as quadruple-level cell (QLC) -- to eat into the nearline enterprise HDD market that is "all about cost of capacity."
"Where we see solid state challenging HDD is in very low capacities, at the lower end of the notebook PC market, and then also, of course, on performance at the high end of the enterprise market where some SSDs are being used in place of the traditional 15,000 rpm types of high-performance [hard disk] drives," Wright said.