Anna Khomulo - Fotolia
Toshiba set to launch 16 TB HDD for cloud-scale users
Toshiba will try to get a jump on rivals Seagate and Western Digital with a new 16 TB hard disk drive that targets cloud-scale users in need of low-cost, high-density storage.
Toshiba's newly disclosed 16 TB hard disk drives may not be the only 16 TB HDDs launched in 2019, but they will likely be the first with "good, old-fashioned" drive technology.
On Monday, Toshiba said it will begin sampling a 7,200 rpm MG08 Series 16 TB HDD this year. It will target cloud service providers and hyperscale customers trying to reduce their data center footprints and lower costs by deploying ultrahigh-density, power-efficient storage drives.
Cloud-scale users should have a few options this year, because Toshiba is not the only vendor with a 16 TB HDD in the works. In December, Seagate claimed internal test units achieved 16 TB of capacity using its heat-assisted magnetic recording (HAMR) technology. Western Digital also disclosed plans to launch a 16 TB HDD that uses microwave-assisted magnetic recording (MAMR) technology.
Unlike its rivals, Toshiba is not using energy-assisted technology to produce the nearline MG08 Series HDD. Scott Wright, director of HDD product marketing at Toshiba, said Toshiba's 16 TB drive will use "good, old-fashioned" conventional magnetic recording (CMR) technology.
Until the 16 TB HDDs ship, the highest-capacity drive in the market is Western Digital's 15 TB HDD that uses shingled magnetic recording (SMR) technology. SMR-based HDDs are best suited to sequential data writes, in contrast to CMR HDDs that enable random writes across the entire disk. SMR HDD adoption has been limited, because users need to make host-side adjustments to deploy them.
Designed for tier-two storage use cases
Toshiba's new 7,200 rpm 16 TB HDD is designed for tier-two storage use cases -- mainly file- and object-based workloads -- in servers equipped with storage drives.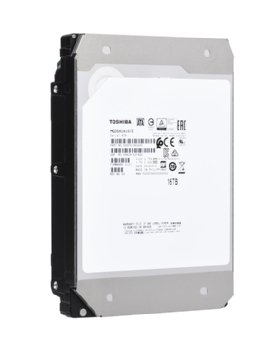 The new Toshiba MG08 Series 16 TB HDD supports 12 Gbps SAS and 6 Gbps SATA, but Wright said he expects the SATA interface to dominate. The drives carry a workload rating of 550 TB per year and a mean-time-to-failure rating of 2.5 million hours.
Wright said improvements to the design of the magnetic recording head will help to boost the performance of the 16 TB HDD over its current 14 TB model. He said the sustained data transfer rate is up 4%, and write IOPS will improve by 7% with the SAS model and crack double digits with the SATA HDD.
Wright expects the cost per terabyte of the Toshiba MG08 Series 16 TB HDD to remain flat in comparison to the 14 TB model.
Helium-sealed design
Wright said Toshiba plans to use MAMR and is researching HAMR technology for future drives. But, in the meantime, the MG08 Series 16 TB HDD will use the same nine-platter, helium-sealed mechanical design that Toshiba introduced with its prior 14 TB HDD. Helium helps to minimize internal aerodynamic drag and turbulence and enable the use of thinner disks to boost density.
John Rydning, a research vice president at IDC, said using the nine-disk product strategy with proven CMR technology should help Toshiba improve time-to-market competitiveness. He said Toshiba lagged Seagate and Western Digital with previous generations of 3.5-inch 8 TB, 10 TB, 12 TB and 14 TB HDDs.
Toshiba runs a distant third to Seagate and Western Digital in capacity-optimized HDDs. IDC's third-quarter unit shipment statistics for those 2.5-inch and 3.5-inch hard disks show Seagate in the lead at 48.9%, Western Digital at 41.4% and Toshiba at 9.7%.
Toshiba has a chance to be first to market with its 16 TB HDD, though. Wright estimated general availability for the MG08 Series could be midyear, with volume shipments in the second half of 2019. Seagate and Western Digital have not disclosed timetables beyond saying they expect to ship 16 TB HDDs this year.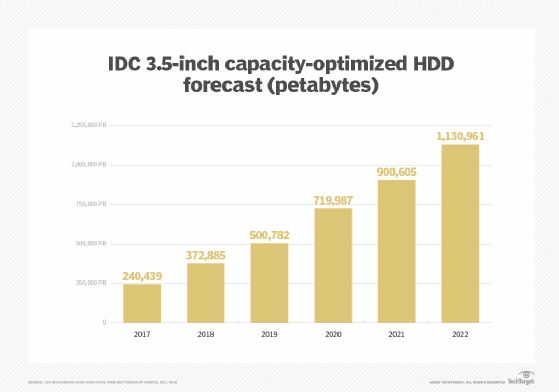 Seagate, WD prep 16 TB HDDs
Seagate and Western Digital used eight disks with their helium-based 14 TB HDDs. WD confirmed last month that its MAMR-based 16 TB HDD will also have eight platters. A Seagate spokesperson said shipments of its HAMR-based 16 TB HDDs -- which analysts said likely use eight platters -- are planned for late 2019.
John Chen, a vice president at Trendfocus, said whether a 16 TB HDD uses eight or nine disks and conventional or energy-assisted technology should not matter to end users if they can meet their performance, power and price needs. He said the costs of a nine-disk 16 HDD will be roughly equivalent to an eight-platter 16 TB MAMR drive.
Chen added that manufacturing costs for HAMR-based HDDs could initially be higher than the alternatives, but he expects they will decline over time as the technology matures and volume shipments ramp.