ludodesign - Fotolia
Rollout of 16 TB HDDs targets hyperscale data centers
The drive to 16 TB HDDs is underway. Seagate kicked it off with three new hard disk drives, and Toshiba and Western Digital are poised to follow in 2019.
The high-capacity point for hard disk drives officially hit 16 TB this week with Seagate Technology's product launch that targets hyperscale, cloud and NAS customers with rapidly expanding storage requirements.
Seagate brought out a helium-sealed, 7,200 rpm Exos 16 TB HDD for hyperscale data centers and IronWolf and IronWolf Pro 16 TB HDDs for high-capacity NAS use cases in SMBs.
Earlier this year, Toshiba forecasted its 7,200 rpm helium-based MG08 Series 16 TB HDD would become available midyear, although the company has yet to confirm a ship date. Western Digital is expected to ship 16 TB HDDs in 2019 based on conventional magnetic recording (CMR) technology.
Lowering total cost
With SSDs taking over performance use cases, HDDs are largely deployed in systems focused on capacity. Using the highest available capacity is especially important to cloud and enterprise customers with explosively growing volumes of data, as they try to minimize their storage footprint and lower costs. Helium-sealed HDDs help because they enable manufacturers to use thinner platters to pack in more data per HDD and require less power than air-filled drives.
"Time to market is extremely critical given that customers -- including hyperscale/cloud customers -- have limited resources available to qualify new HDD products," John Rydning, a research vice president at IDC, noted via email.
Rydning said hyperscale/cloud customers would be first to use the 16 TB HDDs because they have the architecture and software stack to deploy them without diminishing overall system performance. The highest capacity HDDs have lower IOPS per terabyte, he noted.
Sinan Sahin, a principal product manager at Seagate, said the vendor has shipped more than 20,000 test units of its 3.5-inch 16 TB HDDs to hyperscale customers such as Tencent and Google and NAS vendors such as QNAP Systems and Synology.
Toshiba began shipping 16 TB HDDs to customers for qualification slightly after Seagate, and Western Digital has yet to do so, according to Rydning, who tracks the HDD market.
"Cloud customers generally will migrate to the highest available capacity, especially if there is a two- to three-quarter gap before the next capacity is qualified and ramped up in volume," John Chen, a vice president at Trendfocus, wrote in an email.
Horse race for shift to 16 TB
Chen expects 14 TB CMR HDDs to ramp up in volume in the second half of this year at hyperscale companies. "And it is essentially a horse race between the three suppliers to determine if the transition to 16 TB can be pulled in earlier than the second quarter of 2020," he added.
Seagate's Exos schedule shows how the timeline could play out. The 7,200 rpm nearline 12 TB HDD was Seagate's highest selling enterprise product in the first quarter. Seagate launched its 14 TB Exos HDDs late last year and this spring with only a limited set of customers because the Exos X16 development was running ahead of schedule, according to Sahin.
"We wanted to make sure that we did not have the two products in the channel at the same time," Sahin said.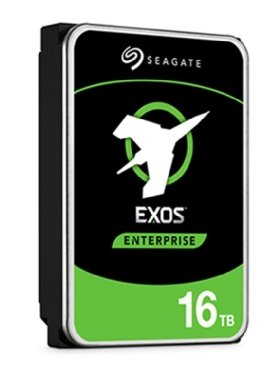 Seagate CEO Dave Mosley said during a recent earnings call that he expects Seagate to begin ramping to high volume this year, with the 16 TB HDDs set to become the highest revenue producer by next spring.
List pricing for Seagate's 6 Gbps SATA-based Exos X16 HDD is $629. The IronWolf 16 TB HDD lists at $609.99, and the IronWolf Pro, which offers a higher sustained data rate, is $664.99.
Seagate's new Exos X16, IronWolf and IronWolf Pro 16 TB HDDs use a nine-platter design to boost areal density. Chen said other manufacturers will also use a nine-disk design -- and potentially even more platters in the future -- for enterprise capacity-optimized nearline HDDs.
But CMR HDDs aren't the only option for hyperscalers seeking high-capacity storage. Seagate, Toshiba and Western Digital are also working on new HDDs that use shingled magnetic recording (SMR) technology, with tracks that overlap like the shingles on a roof to increase areal density.
SMR HDD use is typically restricted to workloads that write data sequentially, such as video surveillance and the internet of things. CMR drives write data randomly across the entire disk. SMR adoption has been low because users generally have to make host-side adjustments to use the HDDs without a performance hit. But industry initiatives could start to make it easier for customers to deploy SMR HDDs in the future.
The highest capacity SMR HDD today is 15 TB. Western Digital began shipping qualification samples of its Ultrastar DC HC620 host-managed SMR HDD last October. Seagate has also sampled an enterprise SMR-based 15 TB HDD, but it hasn't launched it commercially, according to Sahin. He said Seagate plans to make available a 17 TB SMR HDD, based on the CMR-based Exos X16, later this year. Toshiba did not respond to requests for comment on its SMR HDD plans.
Even higher HDD capacities could hit the market when manufacturers start to ship drives that use heat-assisted magnetic recording (HAMR) and microwave-assisted magnetic recording (MAMR) technologies. Sahin said Seagate expects to make available HAMR-based 20 TB HDDs in late 2020. Toshiba hasn't specified its roadmap but outlined plans to use MAMR and explore the use of HAMR technology.
Western Digital plans to introduce "energy-assisted" 16 TB CMR HDDs and 18 TB SMR HDDs later this year, according to Mike Cordano, the company's president and COO. Cordano claimed during the company's most recent earnings call that the new energy-assisted HDDs would contain fewer disks and heads than competitors' options. Western Digital late last year had said that its MAMR-based 16 TB HDD would have eight platters.
IDC's 2018 market statistics for 2.5-inch and 3.5-inch capacity-optimized HDDs showed Seagate in the lead with 47.8% of the unit shipments. Western Digital was next at 22.4% and Toshiba trailed at 9.8%. IDC's overall HDD unit shipment statistics for 2018 had Seagate in the lead at 40.0%, Western Digital second at 37.2% and Toshiba at 22.8%.
All three vendors make available a wide range of client and enterprise HDDs, including mission-critical enterprise drives that spin at 10,000 rpm and 15,000 rpm.