Getty Images/iStockphoto
New Seagate Exos storage uses self-healing drive technology
Seagate's Exos Corvault petabyte-scale storage array introduces self-healing HDD capabilities to ease maintenance and adds erasure coding to protect data at lower overhead.
Solid-state devices may command most of the headlines in enterprise storage drive technology, but Seagate Technology continues to come up with new capabilities for age-old spinning disks.
The Seagate Exos Corvault petabyte-scale block storage array, due to ship in July, adds autonomous drive regeneration (ADR) technology that the company claims can bring most failing hard disks back into service without a manual drive swap. The ADR-based system can reconfigure the hard disk drive (HDD) to bypass the errant components.
Although the self-healing technology can't provide a fix for every type of HDD problem -- such as failures involving the drive's interface or the system on a chip -- it would address a bad drive head, one of the top causes of HDD failures, according to Ted Oade, director of global product marketing at Seagate.
"If a head goes bad in a conventional RAID array, that drive must be replaced. So, that's what we're avoiding," Oade said.
When an ADR-capable Seagate Exos X18 HDD posts an error, the storage controller receives an alert, offloads data to other drives and removes the problem drive from the logical volume. The HDD and controller work together to diagnose the problem, bypass the failed component and regenerate the HDD's usable platters. The system then rebalances the volume and restores the storage array to full functionality.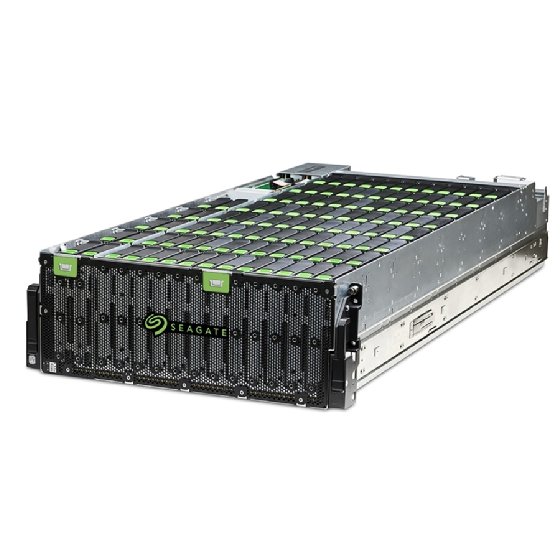 Reduces maintenance, e-waste
Oade said Seagate studies show the regenerated drive has as much life left as any of the system's other Exos X18 HDDs. So, in the long run, the ADR technology could help Exos Corvault users save on administrative costs and reduce their electronic waste, since they won't have to discard the failed drives.
The Exos Corvault array is the first Seagate product to incorporate ADR, although Oade said the self-healing technology is not new. He said the Seagate Advanced Technology Group pioneered the self-healing technology and licensed a different, early implementation to Xiotech, which changed its name to X-IO Technologies in 2011 and later split into Axellio and X-IO Storage divisions, before Violin Systems acquired the latter in 2018. ADR ultimately could see use broader use beyond Seagate, since the company has submitted the technology for standards consideration.
ADR works in tandem with Seagate's Advanced Distributed Autonomic Protection Technology (ADAPT), based on erasure coding, to give customers more usable capacity than RAID for data protection. The ADAPT algorithm spreads the data across every drive in the system and speeds rebuilds without significant impact to performance, according to Seagate.
Another new component in the Exos Corvault is Seagate's sixth-generation VelosCT chip to power the system's dual redundant storage controllers and optimize the HDD actuators in parallel to improve performance. The Exos Corvault provides 14 GB per second of sequential read throughput, 12 GB per second of sequential write throughput and 17,680 IOPS, according to the product specification sheet.
It's not meant to be a competitor of any array that you can find from a primary storage vendor.

Enrico SignorettiResearch analyst, GigaOm
Seagate Exos targets mass-capacity needs
But the performance figures for disk-based storage pale in comparison to flash storage arrays. Enrico Signoretti, a research analyst at GigaOm, pointed out that a single solid-state drive can supply more than 17,000 IOPS. He said the Seagate Exos Corvault is designed strictly for organizations that have huge capacity needs and want a good dollar-per-GB price.
"It's not meant to be a competitor of any array that you can find from a primary storage vendor," Signoretti said.
Signoretti said potential customers should view the resilient, low-maintenance Seagate Exos Corvault as a component -- "like a huge hard drive" -- for secondary data in a multi-tier storage environment. Potential use cases include backups, archives, software-defined storage, object stores, big-data analytics and AI, he said.
Seagate cited other possible uses as storage building blocks in private and public cloud environments, virtual data infrastructure, digital content workloads in the media and entertainment industry, video surveillance and high-performance computing. Target customers for the Exos Corvault include system OEMs, cloud service providers and enterprises, Oade said.
"If you look across all of the cloud service providers, on average, about 92% to 93% of their capacity is disk-based. So, there's still a tremendous amount of disk out there, and there will be for quite some time," Oade said. "And everybody's leaving some room for us to operate in a space where we can innovate around disk."
Each 4U Exos Corvault chassis can hold up to 106 Exos X18 self-encrypting SAS HDDs for 1.9 PB of raw system capacity. The array supports 99.999% availability and nondisruptive upgrades and offers "one-button configuration" and on-board diagnostics, according to Seagate.
Seagate does not currently offer the new ADR capability in any drives other than the Exos 18 TB drives. But Oade said ADR would be available in the future with other HDDs, such as Seagate's HAMR HDDs when they start to ship in volume.
Carol Sliwa is a TechTarget senior writer covering storage arrays and drives, flash and memory technologies, and enterprise architecture.