by_adr - Fotolia
Western Digital will package new NVMe SSD into NVMe-oF JBOF
Western Digital is prepping a new NVMe over Fabrics-based JBOF storage device that will bundle its highest-performance Ultrastar SN840 NVMe SSDs and RapidFlex network adapters.
New NVMe SSD releases are hardly out of the ordinary for Western Digital. Adding a high-performance JBOF (Just a Bunch of Flash) enclosure with fabric adapters to let servers share the storage drives via NVMe over Fabrics is a first for the company.
Western Digital unveiled the JBOF, called OpenFlex Data24 NVMe-oF Storage Platform, last week in tandem with a new dual-port Ultrastar Data Center (DC) SN840 NVMe SSD. The SN840, which is due to ship in July, will become Western Digital's highest-performing flash drive for cloud and mission-critical workloads such as real-time analytics, high-frequency trading and genomics research.
The OpenFlex Data24 JBOF can enable compute nodes to share the bandwidth of up to 24 hot-swappable NVMe SSDs as if the drives are locally attached to the PCIe bus of the x86 servers, according to Western Digital. The JBOF, which will become available in the fall, offers up to 368 TB of storage capacity in a 2U form factor. The JBOF will be sold through Western Digital channel partners and OEMs.
No switch needed
Customers can directly connect six compute nodes, or three servers with dual-path connections, to the OpenFlex Data24 JBOF without an external switch. Each JBOF contains up to six of the newly rebranded RapidFlex NVMe-oF network adapters that Western Digital got through its 2019 acquisition of Kazan Networks. Western Digital said the OpenFlex Data 24 would enable 100 Gb Ethernet connectivity over an RDMA-over-Converged-Ethernet (ROCE) v.2 fabric, with the potential for sub-500 nanosecond latency, 13 million IOPS and 70 GBps of throughput.
Western Digital plans to support ROCE v2 with the initial OpenFlex Data24 product because customers want the highest performance and lowest latency, according to Scott Hamilton, the company's senior director of product management for data center platforms. He said Western Digital plans to add support for NVMe over TCP.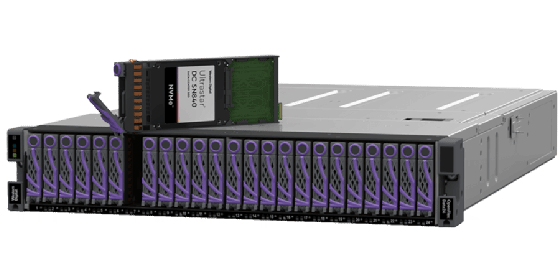 "TCP is of interest because of its ubiquity," Hamilton said. "But you do sacrifice some additional latency with TCP versus ROCE v2."
Customers who want to connect more than six compute nodes, or three dual-path servers, to the OpenFlex Data24 JBOF can use an Ethernet switch to do so.
SAS JBOF replacement
Hamilton said the OpenFlex Data24 would be "the natural replacement" for the SAS JBOF that Western Digital released just over three years ago. He said the OpenFlex Data24 JBOF is comparable in price to the SAS JBOF and improves the IOPS by about four times and the bandwidth by close to three times.
The 2U OpenFlex Data24 is compatible with Western Digital's 3U OpenFlex E3000 enclosure that can hold 10 of Western Digital's NVMe-based F3100 Series Fabric Devices, offering more than 600 TB of total capacity. Hamilton referred to the new OpenFlex Data24 as the "little-brother counterpart" to the E3000/F3100.
Although Western Digital designed the new OpenFlex Data24 for use with it new Ultrastar DC SN840 SSDs, customers could also use the JBOF with other Western Digital SSDs or potentially even other vendors' SSDs, according to Hamilton.
Tom Coughlin, president of Coughlin Associates, noted that vendors such as AIC, Supermicro and Wiwynn already make NVMe-based JBOFs. But he said Western Digital could offer potential advantages in performance, latency and price because it makes the flash, the SSDs, the network adapters and the JBOF. Customers don't have to put together Western Digital's NVMe-oF-based storage in piecemeal fashion.
"If you just want fast and you don't need the SAN [storage features] or fancy management, then JBOF's the way to go to save some money," said Jim Handy, general director and semiconductor analyst at Objective Analysis. "Western Digital has a dual-port NVMe SSD and JBOF that not only supports extremely high bandwidth but also has no single point of failure. That's something laudatory."
Western Digital uses its 96-layer triple-level cell (TLC) 3D NAND, controller and firmware technology in the new Ultrastar DC SN840 SSD, which offers a capacity range of 1.6 TB to 15.36 TB in a 2.5-inch U.2 form factor. The NVMe SSD gives customers the option of one or three drive writes per day and can deliver up to 775,000 IOPS for random reads, according to Western Digital.
PCIe support
While vendors such as Intel, Kioxia and Samsung are launching enterprise SSDs that support PCIe 4.0, Western Digital elected to support PCIe 3.1 with its new dual-port SN840 NVMe flash drive. Bandwidth-doubling PCIe Gen 4 is still at an early stage, with AMD offering CPU support but Intel yet to follow suit.
"We'll get to PCIe Gen 4 offerings as the ecosystem evolves and the demand comes out," said Swapna Yasarapu, senior director of SSD product marketing for Western Digital's data center devices. "But today our focus is to make sure that we are getting customers what they need from an NVMe perspective, and Gen 3 is getting that capability."
Yasarapu said many customers are still using SAS and SATA SSDs, and the transition to NVMe-based PCIe 3 SSDs can give them a 2x to 5x performance improvement.